220 Exchange Invest Weekly Podcast November 18th, 2023
This week in the parish of bourses and market structure: ADX Joins The ICE Network, Calcutta Reborn, LME Raises Prices, Excellence At MOEX Amongst Other Results, As PLY Lands In Almaty, Kazakhstan To Celebrate The 30th Anniversary of KASE (Kazakhstan Stock Exchange)
Transcript:
This week in the parish of bourses and market structure:
ADX Joins The ICE Network
Calcutta Reborn
LME Raises Prices
Excellence At MOEX Amongst Other Results
As PLY Lands In Almaty, Kazakhstan To Celebrate The 30th Anniversary of KASE (Kazakhstan Stock Exchange)

Welcome to the Bourse Business Weekly Digest
It's the Exchange Invest Weekly Podcast Episode 220
Good day, ladies and gentlemen, this is a very brief reduction of highlights amongst the key headlines from the week in market structure. All the analysis of the many events and happenings from the past 7 days can be found in Exchange Invest Daily subscriber newsletter, the unique guide to the bourse business sent daily to your inbox.
More details at ExchangeInvest.com
Over in Bitcarnage: is it Tom To The Rescue?
It transpires Tom Farley is bullish: the Former New York Stock Exchange President Is In Talks To Reboot The FTX Exchange according to the Wall Street Journal. That's both a new corporate style for the NYSE President, but also his opinion of the prospects for FTX, seems bullish I mean.
A year ago last week, FTX had suspended the onboarding of new clients as well as withdrawals until further notice. Bitcarnage did not exist then but if you were reading our parent publication "Exchange Invest" you would have been aware that FTX had been perceptibly in less than rude health for some time, and indeed was in a death spiral sometime before the inevitable suspension of new accounts.
If you enjoyed this excerpt you may be interested to know that you can read Bitcarnage every day in Exchange Invest. Alternatively, if you want to follow Bitcarnage, the daily update and happenings in the world of crypto and digital assets, you can find Bitcarnage as a standalone on Substack.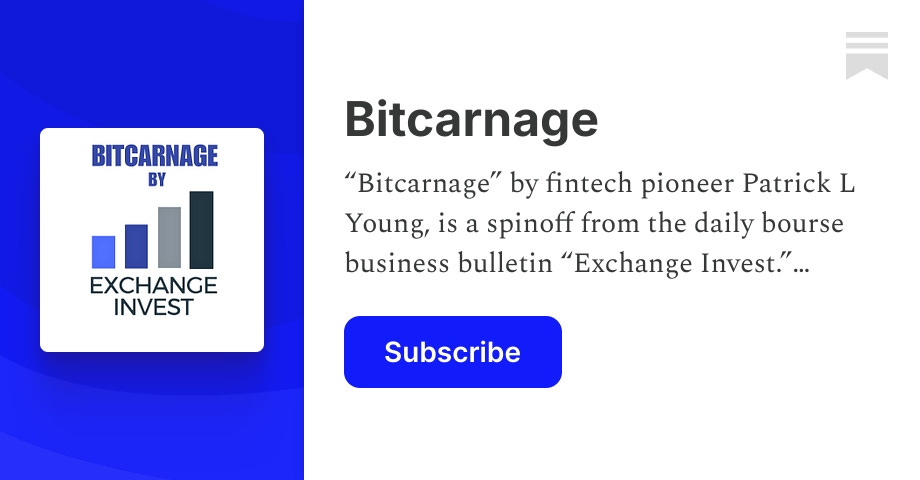 In the mainstream exchange news of the week, leading stories, the London Metals Exchange is going to be hiking fees by 13% in January due to UK inflation.
Abu Dhabi Securities Exchange (ADX) are leveraging the ICE global network to offer direct market access to their global investors.
Miami Exchanges Group has inked a lease in the trendy Wynwood arts district. That's going to be a move away from their more downtown headquarters presumably the extra space is for the new floor to be launched at the end of next year.
Over in Ireland, the Dublin bourse Euronext is seeking stamp duty relief for the market aimed at dual Irish-US listings. Seems to be a case of Bolted, Horse. Cart repo. If you want to wrench those in a well known phrase or sentence Euronext bought the Irish stock exchange for the bonds and mega listing franchise. Ireland's economy? Well unfortunately the governing class did little or nothing in Ireland to help when they could with the independent Irish Stock Exchange.
Meanwhile, we have a new Lord Mayor of London, Lord Mayor of London Michael Mainelli is number 695 in the pantheon of the greats who lead the corporation of London.
For a second time in to fortnight, thanks to an interview with Bloomberg ,and the new Lord Mayor, I heard concept of space debris markets being mentioned - by unrelated parties. Both of them are genius thinkers mentioning it by the way. It's a fascinating time for the City of London and Michael Mainelli is ideal for the job. Indeed, I should offer here some full disclosure, he's a friend of PLY but his ability to execute is considerable and hence I'm super optimistic about his year in office.
Note that last Saturday's Exchange Invest Weekend Edition which you can still read free online by ExchangeInvest.com was devoted to the City of London to commemorate Michael's inauguration as Lord Mayor 695. And meanwhile, PLY and Mrs. PLY delighted to be able to attend both the Lord Mayor's show as VIP guests as well as the wonderment of the Lord Mayor's banquet inaugurating the new Lord Mayor in office.
Less healthy news for the London Stock Exchange Group, they had a bit of an embarrassing outlet fall over indeed when the system for their FX trading fell over during the course of last week.
Back at the LME, they've got new rules requiring warehouses to report off-warrant LME-branded stocks.
And finally great news, we have not so much a new market as a market reborn, the Calcutta Stock Exchange hopes to resume market operations during the course of March-April 2024.
In results, it was an absolutely frantic week for results in the parish all the details were in Exchange Invest Daily, the newsletter no person can afford to be without in capital markets and market structure. For the sake of this podcast, we'll look at a couple of edited highlights.
Euronext net income +119% marking for quite a spectacular time of course, there were a few bits of revisions and other corporate transactions so adjusted net income was only about 13.2% up but nonetheless double digit growth will take that very happily.
BSE, on the other hand, the Bombay Stock Exchange their Q2 results were spectacular as well, revenue +59% which is a very healthy number.
Unfortunately, the same cannot be said of the MCX of course, the MCX having shot themselves in the foot and the head simultaneously with their completely catastrophic upgrade of technology, which now appears to have been finally completed to the TCS platform late and vastly over budget well, strangely enough, and their EBITDA -131%. Shameful.
One highlight of the week as well despite sanctions, despite flood demand invading Ukraine at all. Nonetheless, the Moscow Exchange has done significantly, their net profit +64%.
In new markets this week, a lot of excitement, over the new Ethiopian Stock Exchange which is coming soon.
Zimbabwe's Victoria Falls dollar bourse are planning a commodity and electricity exchange.
JSE ventures an arm of the Johannesburg Stock Exchange has launched South Africa's first carbon market amidst high hopes.
Indonesia will launch a central counterparty clearing house in 2024. That's the ultimate highlight from the week in new markets.
Over in deals, Intercontinental Exchange has commenced some private offerings and Consent Solicitation for Black Knight InfoServe outstanding at 3.625% senior notes in a buyback.
At the same time the Nigerian commodities market AFEX is aiming to raise $50 million.
It's not so much deal news, it's just news about generally around catastrophically bad management, the MCX (Multi Commodities Exchange) say they're gonna get major cost saving from the TCS deal with the annual fee being significantly less than was being paid to the legacy provider FTIL.
Of course, that's come after a horribly painful period of time when they've managed to spend multiple tens of millions on returning FTIL after telling them their contract was dead in the water but of course TCS couldn't deliver on time.
If you're trying to make sense of what's going on in the world of technology, financial markets, and the epicenter of those new-fangled things such as a blockchain cryptocurrency et al, you might want to pick up a copy of my most recent book "Victory or Death?" Blockchain, Cryptocurrency, and the FinTech World which is published by DV Books and distributed by Ingram worldwide.
While you're waiting for your copy of "Victory or Death?" to arrive, check out our LiveStream Tuesday 6pm London, 1 o'clock New York time - the IPO Video live show.
You can catch the back episodes on Linkedin, Youtube, and Facebook by searching "IPO-Vid".
Meanwhile, in our "Finance Book of the Week" we picked a brace of books this week in line with our special weekend edition which you can subscribe to for free being devoted last weekend to no less than the City of London itself and the day of the Lord Mayor show for Lord Mayor 695 Michael Mainelli.
David Kynaston City of London: The History and at the same time the City of London: Secrets of the Square Mile by Paul Jagger are worth reading.
David Kynaston brings 'The Square Mile' to life, taking us from the railway boom of the 1830s to the 'Golden Age' when the legendary gold standard reigned supreme.
Meanwhile, Paul Jagger's City of London: Secrets of the Square Mile is a guidebook exploring the Square Mile of London revealing the secrets hidden in its rich treasure trove of history on every street corner, every square, and indeed every back alleyway.
Don't forget if you want all the news on the bourse business sent daily to your inbox subscribe to Exchange Invest at ExchangeInvest.com - it's only $349 per annum to join the 'exchange of information'.
If you'd like a free read, then sign up for our Exchange Invest Weekend Edition where you can also learn firsthand what is our new 'Book of the Week".
Product news this week, Comdaq Metals has launched four Physical Lithium Trading Platforms. Those are for lithium carbonate and lithium hydroxide, covering recognized delivery locations all across their successful online platform.
India's NCDEX are launching sunoil futures amid volatile prices.
The Egyptian Exchange is going to launch Sharia-compliant index which will be a new era for the Egyptian financial market.
Zagreb Bourse has made some extraordinary representations of their indices, which is very good news for the simple reason that the revision has been triggered by a significant recent share capital increase by the enormous Zagreb based shipping company Atlantska Plovidba.
Technology news this week, there's a management buyout at CQG. Founder Tim Mather is presumably retiring having founded the company in 1980, and now sailing out a very interesting new chapter begins for CQG, which got its first break by being the best system for Steidlmeyer's Market Profile trading during the 1980s.
At the same time, there's considerable concern over the LSEG not only did their FX systems fall over last week, as I mentioned earlier, but also FTSE Russell suffered a 40-minute outage Friday a week ago, the second technical failure to strike the LSEG in less than a month, disrupting trades in the UK, Italy, and South Africa.
Career path this a week, a CBOE's Natan Tiefenbrun, has taken on extended role. He's now going to be President of North American and European Equities. Congratulations to Natan on this very significant elevation.
Same time the LME Group has appointed a new Chief Technological Officer Alistair Baldwin will join the group on January 15th 2024 succeeding Mario Quonils who has decided to relocate back to Germany.
If you're looking for a job finally, this week in career paths as a chief financial officer, why not consider the gig at MarketAxess? Their CFO Christopher Gerosa is going to be leaving in early 2024 and they're now looking for a new chief financial officer.
I mentioned earlier at the top of the program all about the City of London and indeed ladies and gentlemen, think about this from a BigWorld perspective, while the office of the Lord Mayor dates back to 1189 AD, it was only formally recognized some years later in 1215 AD when the enfeebled King John enabled some autonomy to the already cosmopolitan commercial hub of London, permitting it to choose a Mayor annually rather than the traditional Sheriff appointed by the monarch.
Months before the Magna Carta, a great tradition was enshrined, which remains to this day. That was the Lord Mayor's Show, which was originally a path where the proclamation of the King requested that the newly elected Mayor must leave the safety of the city, travel up river to Westminster and swear loyalty to the monarch. And that's why ladies and gentlemen, we have to this day, the Lord Mayor's show, which has been featured in Shakespeare, the diaries of Peyps, and even in Fleming's James Bond books. It was my honor to be a guest amongst the many VIPs for the latest Lord Mayor Michael Mainelli, Lord Mayor 695.
And it has to be said, ladies and gentlemen, if you believe the City of London is in decline, then you should attend some of these great events of states such as the Lord Mayor's Show, because it will prove the fact that well look at the logistics, one piece of logistics alone, for how retain considerable confidence in a financial center, which is sufficiently coherent as to manage the Lord Mayor's State coach, first used in 1757, for this massive event. Yes, indeed, that coach has been running for 266 years, just one of many facets of the incredibly multifaceted history and dynamic offering of the London financial center.
…And on that mysterious and magnificent note, ladies and gentlemen, my name is Patrick L. Young signing off from the unique vantage point of my hotel room, the Ritz-Carlton overlooking the incredible mountain islands that surround Almaty in Kazakhstan.
I wish you all a great week in life and markets.
LINKS:
LME Says To Hike Fees By 13% In January Due To Inflation
Nasdaq
LME To Hike Fees By Average 13% In January Due To Inflation
Reuters
Abu Dhabi Securities Exchange (ADX) Leverages ICE Global Network To Offer Direct Market Access To Global Investors
ICE
MIAX Inks Lease At Wynwood Office In Miami
CommercialCafe
Dublin Bourse Seeks Stamp Duty Relief For Market Aimed At Dual Irish-US Listings
The Irish Times
London Lord Mayor Michael Mainelli Eyes Exotic Trading Floors for Growth
Bloomberg
LSEG Says FX System Briefly Impacted By Technical Glitch, It Is Investigating
Reuters
New LME Rules To Require Warehouses To Report Off-Warrant LME-Branded Stocks
Reuters
Calcutta Stock Exchange Hopes On Resuming Operations In March-April 2024: Official
The Hindu
Euronext Publishes Q3 2023 Results
Euronext
BSE Q2 Results: Net Profits Surges Four-Fold To Rs 118.41 Crore
Moneycontrol
MCX Q2 Results: Net loss At ₹19 Crore, Revenue Rises 30%
Mint
Moscow Exchange Announces Results For Q3 Of 2023
MOEX
Ethiopia : Abiy's Dream Team Prepares For Stock Exchange Launch
Africa Intelligence
Zimbabwe's Victoria Falls Dollar Bourse Plans Commodity, Electricity Exchange
Bloomberg
JSE Ventures Launches South Africa's First Carbon Market Amid High Hopes
The Africa Report
Indonesia To Launch Central Counterparty Clearing House In 2024
The Business Times
Intercontinental Exchange, Inc. Commences Private Exchange Offer And Consent Solicitation For Black Knight InfoServ LLC's Outstanding 3.625% Senior Notes Due 2028
ICE
Nigeria : Private Nigerian Commodities Market AFEX Aims To Raise $50m
Africa Intelligence
MCX Set For A Major Cost Saving In TCS Deal, Annual Fee May Be Less Than ₹10 Crore, Sources
CNBCTV18
Comdaq Metals Launches Four Physical Lithium Trading Platforms
Comdaq Metals
India's NCDEX To Launch Sunoil Futures Amid Volatile Prices
MarketScreener
Egyptian Exchange To Launch Sharia-Compliant Index: A New Era For Egypt's Financial Market
BNN Breaking
Zagreb Bourse To Make Extraordinary Revision Of Indices
SeeNews
CQG Enters Into Agreement On Acquisition By Group Of Its Senior Executives
CQG
Second Outage In A Month Adds To London Exchange's Recent Woes
Yahoo Finance
Cboe's Natan Tiefenbrun Takes On Newly Expanded Role As President Of North American And European Equities
The TRADE
LME Group Appoints New Chief Technology Officer
LME
MarketAxess CFO Christopher Gerosa To Leave In Early 2024
Seeking Alpha