213 Exchange Invest Weekly Podcast September 30th, 2023
This week in the parish of bourses and market structure: Crypto Goes E2E if Not ESueE, As JPEX Implodes Amidst A Growing Hong Kong Clampdown, And Is There A Fat Lady Aria For London? As the UK Blob Launches Blamestormers Anonymous,
Transcript:
This week in the parish of bourses and market structure:
Crypto Goes E2E if Not ESueE
As JPEX Implodes Amidst A Growing Hong Kong Clampdown
And Is There A Fat Lady Aria For London?
As the UK Blob Launches Blamestormers Anonymous

My name is Patrick L. Young
Welcome to the Bourse Business Weekly Digest
It's the Exchange Invest Weekly Podcast Episode 213
Good day, ladies and gentlemen, this is a very brief reduction of highlights amongst the key headlines from the week in market structure. All the analysis of the many events and happenings from the past 7 days can be found in Exchange Invest Daily subscriber newsletter, the unique guide to the bourse business sent daily to your inbox.
More details at ExchangeInvest.com
In Bitcarnage this week, the world of crypto has gone for a whole new paradigm shifting model -E2E or preferably: EsueE, the point at which literally everybody in the business sues everybody else.
Indeed what we were waiting for this week was news that presumably, SBF is going to end up suing his parents.
Meanwhile, the JPEX collapse may have sucked up $182 million and growing as we record this podcast. Now that's still barely more than the $157 million that FTX liquidators are seeking from their former FTX Hong Kong affiliate alone. But this latest Hong Kong crisis will impact crypto V1.0 globally. The regulatory noose is going to get more serious, even in jurisdictions which has never heard of the Hong Kong starlets and influencers who got respectively "Tom Brady'd" & "Giselled" in JPEX but it's a similar pattern / tale, it seems. A dozen folk had already been arrested from the JPEX management but as we recorded this podcast, with more ringleaders still being sought.
Hong Kong is pro innovation, but it's anti crime - as Singapore and those have been the front running jurisdictions trying to tame crypto in Southeast Asia. JPEX shows crypto is still feral, and that means more showdowns and that for example, in the USA the GOP's crypto advocates are on the wrong side right now.
The tide remains with Gary Gensler's SEC.
Meanwhile, ahead of the SBF trial, there's much talk about how - hilariously the Fried - Bankman - Bankman Fried unit of self identifying model socialist family, appears to have behaved like the greedy capitalist caricatures they have been seeking to work against in their political actions, the selflessness of these effective altruists!
If you enjoyed this excerpt, you may be interested to know that you can read Bitcarnage every day in Exchange Invest, the holistic guide to market infrastructure the world over, the exchange of information.
Alternatively, if you want to follow Bitcarnage and the doings, happenings, suings and followings of crypto and digital asset market structure, you can find Bitcarnage as a standalone on Substack.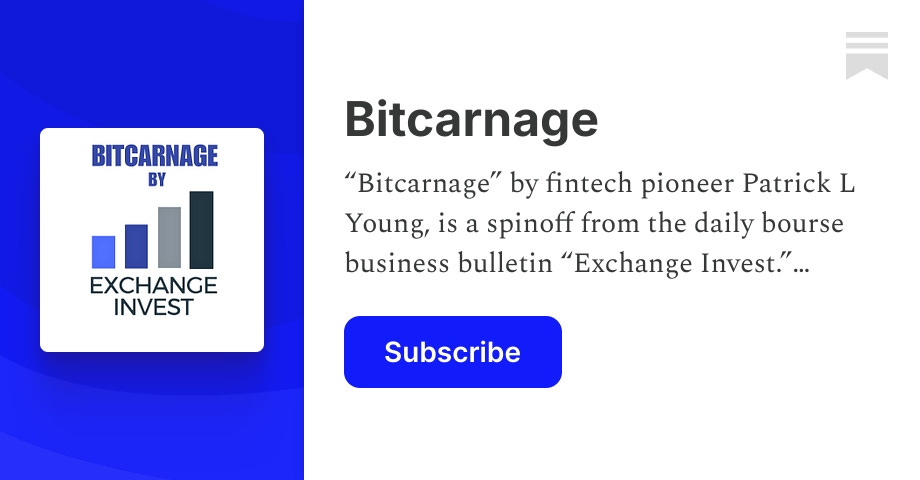 The tributes rolled in last week, and it appears a lot of Chicago bros were in shock but at the end of the first wave of reporting on this affair, that Tilly Dally at CBOE, or formerly at CBOE showed the board willing to make hard decisions when faced with evidence they have yet to share with the rest of us.
A lot of the emotion appeared to center upon the fact that Ed Tilly appeared naturally harmless, so most talking heads liked him. I can't disagree: Ed is both likable and harmless. However, we're interested in improving the bottom line of exchanges, so we don't necessarily warm to just a nice-ability, while 'harmless' is a liability when it comes to developing a business.
Over in the City of London, Out of His Depth Dave, Dave Shermer, the Group CEO hit a right nerve, but the LSEG couldn't hold a narrative together. Out of His Depth Dave complaining about 'Clickbait' Criticism Of The City but the trouble is his data Tourette's syndrome means he isn't doing anything to help push this coherently, other than via, er, clickbait stories. London itself (especially the execrable UK Government) is incapable of thinking beyond LSE / LSEG where the exchanges pushing progress or the likes of Aquis and CBOE to name but two in cash equities.
As the Telegraph headline noted last week: Complacency Of London's Stock Exchange Boss Leaves The City In Deep Trouble, which raised the ongoing question about the ODD one, is he indeed complacent, or just so staggeringly out of his depth… well at the amounts too much the same thing but the LSEG's blinkered 'go to deals' board of greed has landed the company in this mess where everybody wants easy money utility profits leveraged by more M&A when the basic plumbing is being ignored. It is, I suppose, a tragic parable of modern Britain as a whole.
Elsewhere we had clickbait headlines like LSE boss warns UK firms of risk to value by listing in US. This wasn't the LSEG boss, this was the LSE boss elope same difference in terms of general levels of competence and confidence.
Ultimately, the LSE boss and the FCA decided to blamestorm everybody else at a conference which was rather shameful. It appears the issuers, media and anybody except the regulators and the key market operator are to blame for any current London equity malaise.
The piteous negativity of the blamestormers from the FCA and the LSEG is a clear indication of their unfitness to be in a roles. Companies list outside London because they see a stick in the mud blancmangeof status quo, which is threaded together by secretive and seemingly dubious if not downright shady policing of the markets by all parties without there being a coherent positive plan to push Britain or British capital markets forward. The point where the FCA have blamed the UK media is laughable - the media have been shaped in the image of the FCA and LSE's own vast prevarications.
Elsewhere, there was a great headline in the Financial Times: How The US Is Crushing Europe's Domestic Exchanges backed up with unbelievable statistics, which shows that essentially, the LSEG is the tail on the dog and the other stock exchanges of Europe are pretty much the fleas that might hope to inherit a bit of the very, very far end of that tail.
Presumably, Out Of His Depth dave of reckoning that was clickbait too.
Down under ASIC, they sued a crypto exchange alleging design and distribution failures.
Of course, we covered that in full in Bitcarnage but it raised a fascinating question for the legacy parish when it comes to "design and distribution failures" is this not also a culpable feeling of, well, we could mention certain major Australian monopolists legacy exchange group (who struggled with "new new thing" tech?) at a cost of $250 million of shareholders funds recently #AskingForAFriend.
In the Bahamas, the very sad story is going to be the conclusion of the ArawakX story by the look of it. We still gotta wait for 13th of October for some sort of a hearing at the Supreme Court but nonetheless, it looks as if that exchange is going to die. The Securities Commission of the Bahamas has identified negative $213,000 of working capital, which of course means that there was obviously also absolutely no sign of regulatory capital within the organization from what we understand. Very, very sad state of affairs to see an exchange go down like this. But alas, it does look as if it has been grievously mismanaged by the executive.
Elsewhere, the BISX in the Bahamas, they're aiming to 'revive' the small listings facility. Presumably, they're trying to find a way to create value from the markets that the ill-fated ArawakX had targeted, albeit to date at ArawakX had only been doing pure crowdfunding. The issue is given BISX management was there all along, during the course of the possibilities ArawakX what has changed that they can achieve an SME market this time around?
One piece of key results this week, Aquis interim for the six months of the year ended 30th of June. Net revenue +17% which is very encouraging, EBITDA +26%, and net profits leaping to still modest £1.1 million ($1.4 million) but nonetheless leaping +64%. Aquis were making sound progress in profits despite this being heavy, wheather for stock markets and particularly UK SMEs, where they are in a periodic torpor.
One key new market this week, welcome Indonesia's first carbon credit exchange.
In deals news, two snippets, first of all IEX (Indian Energy Exchange) divested a 4.93 equity stake in their gas exchange platform to Indian oil and Deutsche Börse have announced the preliminary tender results for their takeover of SimCorp. No surprises from the tender 94% excluding SimCorp treasury shares have been tendered - the deal proceeds towards completion and the mopping up of the outstanding shareholders.
If you want to understand what's happening in the world of markets at the moment and that structure as a whole whether it be on the blockchain, off the blockchain in the legacy exchanges or indeed In the world of crypto assets, why don't you pick up a copy of my most recent book "Victory or Death?" Blockchain, Cryptocurrency, and the FinTech World. It's published by DV Books and distributed by Ingram worldwide. While you're waiting for your copy of "Victory or Death?" to arrive, check out our live stream Tuesday at 6pm London time, 1 o'clock New York time. It's the IPO Video live show.
Catch the back episodes of IPO-Vid on Linkedin and Youtube and search for "IPO-Vid".
Our most recent show was a gripping one, we were talking about Trade Finance As An Asset Class with the excellent Andreas Schweitzer. A super expert on the field.
Speaking of super experts, next week, we got a really, really interesting show. The former, actually, she was the woman who founded the International Office of the CFTC (Commodity Futures Trading Commission) in the United States of America Andrea Corcoran is going to be our guest for IPO-Vid #119 Going Global, The Birth Of The CFTC next Tuesday at 6 o'clock London, 1 o'clock New York time.
Our "Finance Book Of The Week" this week is by another alumni from the IPO Video series. This book written by Elliott Wave International Head of Global Research and was our IPO video guest in Episode #009 Murray Gun.
Trading Regime Analysis is a groundbreaking work on how markets behave, driven by human nature. Regardless of whether you prefer fundamental or technical analysis, the ebb of flow of volatility is the undeniable fulcrum of market pricing. By understanding cycles of volatility - the manifestation of human psychology as the ultimate driver of markets and volatility - all investors can profit.
Our next "Book Of The Week" will be unveiled on Saturday in the EI Weekend Edition.
You can get the EI Weekend Edition absolutely free by the way if you sign up at the ExchangeInvest.com website. Don't forget also if you want all the news on the bourse business, the exchange of information no less, then you can get that sent to your inbox Monday through Friday via ExchangeInvest.com and it's only $349 per annum to join.
Product news this week, Tradeweb announced a JSCC clearing in Japan for MTF and SEF Yen swap transactions. An interesting angle given previous attempts by the Bank of Japan to force Yen clearing into JSCC.
In Egypt, the Egyptian Financial Regulatory Authority (FRA) is launching futures contract trading in derivatives markets. At the same time as Egypt has moved its secondary market for debt securities over to the stock exchange.
ICE (Intercontinental Exchange) are going to launch CORSIA (Carbon Offsetting and Reduction Scheme for International Aviation) Carbon Credit features. Those are to help manage emission exposures from airlines.
Technology news this week, it's almost unbelievable, can it really be true MCX say they're going to go live finally on the TCS platform from October 1st breaking away from their original finders technology platform at 63 Moons.
This has been a total farago, which has damaged MCX's reputation and emulated TCS as a credible vendor…Finally, a transition may happen and Jignesh Shah's software will no longer be used in his original mega successful revolutionary and commodities exchange.
Exegy has selected BMLL for historical data and analytics in a partnership. That's an interesting deal for both partners.
European trading firms are set to expand derivatives trading in APAC, according to a new trading technology sponsored Acuiti report LSEG's Refinitiv Eikon Platform Sees Outage In Europe. Presumably that will coincide with an increase in Refinitiv fees or perhaps ODD will just tell us that that actually happens to be clickbait.
Regulation news this week, very dispiriting story from the CFTC. The CFTC has disapproved KalshiEX LLC's congressional control contracts. Frankly, the CFTC stumbles from bad to worse. Albeit this looks like the standard CFTC problem of being craven to a certain major incumbent while loathing innovation lessons by somebody in short trousers, at which stage the discredited Chairman Behnam is weak at the knees with excitement.
The latest refusal to permit Kalshi products marks a chasm with CME who can open binary products through their self-regulatory avenue and the CFTC looks on impotent to prevent them even as CME oil contracts have plunged negative and destroyed the the whole parish.
Secondly, the lack of awareness of a CFTC which blithers about crypto and blockchain tech which just may not suit ETD, remains colossal.
Like box office futures and onions, there is no reason to avoid derivatives and political outcome and indeed in the dangerous gerontocracy, discrediting America as a political system, there is every reason to permit as many risk transfer moves as possible so we can reduce our exposures to the US political force, which is Washington DC's blob.
It remains a bizarre scenario where a year ago the hapless Chairman Behnam was apparently complicity willing to enable FTX gambling the whole financial system. Now his administration bans the rest of us from a modicum of risk transfer across the sorry cesspool, which proposed him as a worthy regulator in the first place.
Career news this week, SIX's interesting and exciting move, they're appointing the head of NASDAQ's European Markets Bjørn Sibbern as the Global Head of exchanges and a member of the Executive Board. Very exciting to see Bjørn Sibbern, EVP of European Trading Services (ETS) moving across to the SIX Group. All the very best Bjørn. After a 15 year tenure with NASDAQ (and of course with OMX prior to that from 2004) he has been a marked success throughout his career with the OMX and later Nasdaq OMX and NASDAQ groups stepping up as head of European Trading Services where Bjørn played a critical role in driving unified strategy in support of NASDAQ's European trading, listings, and marketplace business, is Roland Chai, the current EVP of Marketplace Technology.
All the very best to both on their exciting moves beyond Bjørn was of course an early IPO-Vid Alumni having been our guest on PO-VID 005: The View From Nasdaq's European HQ.
Quick snippet from the LSEG, Douglas Steenland has stepped down as non executive director of the LSEG board, but actually that's just a case of he's had the stock which he sold off the Refinitiv deal, and therefore is saying "Abyssinia!" to the board.
The word on the street (though there's no press release…but this is the LSEG which can of course stop selling exchange technology and managed not to announce it)...is telling us that the LSEG's internal comms are pointing to Brigitte Trafford departing LSEG, where she held the post of Chief Corporate Affairs and Marketing Officer. Perhaps she was just embarrassed by the shambles she has observed in recent years. Clearly, our intel is wrong, however, the memo claims something to the effect of La Trafford is leaving "Now the brand transformation is complete."
Unless of course that means the LSEG brand has indeed been transformed under ODD and greedy board. Albeit that transition is from a competent market structure company with a broad store of department store operations into a business riven with data Tourettes, no clear focus, run by the ludicrous linear ex-Reuters workshy schemers, who will always put internal politics before profit, managing via Orwellian obsession with anonymous Zoom calls while the business has largely forgotten about the core markets, which was their business for centuries.
Who knows? Maybe branding has just gone post modern?
And finally, this week, some fun facts from BigWorld worth considering when another dinner party bore without a clue talks about the end of US Dollar hegemony thanks to the new BRICS currency/payment system that's been proposed.
So BRICS currencies vs the US dollar over 10 years have performance look a bit off in the case of China while all the rest look resolutely dire.
The Chinese yuan is -14% against the US greenback over the course of the last decade, the Brazilian real -55%, the Russian ruble -68%, the Indian rupee, not exactly impressive, but still only - 35% of the original core BRICS members.
Amongst the newbie members, it's a bloodbath with of course the 2 conspicuous exceptions of Saudi Arabia and the UAE dirham because they're pegged to the US dollar. But nonetheless, the Argentine peso has -98% against the US dollar, the Egyptian pound -78%, the Ethiopian birr -68%, the Iranian rial -90%.
Call me old fashioned but I think the US Dollar, despite many issues, might just hang in there with its exorbitant privilege for a while yet…
…And on that mysterious and magnificent note, my name is Patrick L. Young, creator of marketplaces and exchanges the world over and publisher of the bulletin of the bourse business the exchange of information itself, Exchange Invest.
I wish you all a great week in life and markets.

LINKS:
LSE Boss Warns UK Firms Of Risk To Value By Listing In US
Yahoo Finance
How The US Is Crushing Europe's Domestic Exchanges
Financial Times
ASIC Sues Crypto Exchange Alleging Design And Distribution Failures
ASIC
ArawakX Winding Up Proceedings Begin
ZNS Network
Affidavit Of Christina Rolle On ArawakX
SCB
BISX Aims To 'Revive' Small Listings Facility
The Tribune
Aquis Interim Results For The 6m Ended 30 June 2023
Aquis - Half Year Results 2023 - Highlights
Aquis
Indonesia Launches First Carbon Exchange
The Jakarta Post
IEX Divests 4.93% Equity Stake In Gas Exchange Platform To Indian Oil
ET Auto
Tradeweb Announces JSCC Clearing For MTF And SEF Yen Swap Transactions
Tradeweb
FRA (Egypt) To Launch Futures Contract Trading In Derivatives Market
Business News - Crast.net
Egypt Shifts Secondary Market For Debt Securities To Stock Exchange
Nasdaq
ICE To Launch CORSIA Carbon Credit Futures Market To Manage Emissions Exposure From Airlines
ICE
MCX Set To Go Live On TCS From October 1, Finally Breaking Away From 63 Moons
Inventiva
Exegy Selects BMLL For Historical Data & Analytics Partnership
BMLL
European Trading Firms Set To Expand Derivatives Trading In APAC
TT
LSEG's Refinitiv Eikon Platform Sees Outage In Europe
RTE
LSEG's Refinitiv Eikon Platform Suffers Outage In Europe
Reuters
CFTC Disapproves KalshiEX LLC's Congressional Control Contracts
CFTC
SIX Appoints Bjørn Sibbern As Global Head Exchanges And Member Of The Executive Board
SIX
Douglas Steenland Steps Down As Non-Exec Director Of LSEG Board
FX News Group