212 Exchange Invest Weekly Podcast September 23th, 2023
This week in the parish of bourses and market structure: CSR Whodunnit?, MIAX Exudes SPIKES Appeal, And Farewell To Ed Tilly,
Transcript:
This week in the parish of bourses and market structure:
CSR Whodunnit?
MIAX Exudes SPIKES Appeal
And Farewell To Ed Tilly
My name is Patrick L. Young
Welcome to the Bourse Business Weekly Digest
It's the Exchange Invest Weekly Podcast Episode 212
Good day, ladies and gentlemen, this is a very brief reduction of highlights amongst the key headlines from the week in market structure. All the analysis of the many events and happenings from the past 7 days can be found in Exchange Invest Daily subscriber newsletter, the unique guide to the bourse business sent daily to your inbox.
More details at ExchangeInvest.com
This week in Bitcarnage, the first stars rolled over and sought to pay back their FTX endorsement fees just as Ma and Pa SBF found themselves sued for the stuff which includes items like $16 million Bahamian properties they once claim had arrived in their names by accident.
The Binance net recruitment drive during 2023 faced a slew of setbacks as a number of the US C-suite resigned, amongst them, strangely enough, lots of regulatory and compliance stuff, and a vast chunk of the Binance US workforce were made redundant.
However, the major own goal of the Binance week was their Moroccan earthquake donation. As the FT headline ran: Binance Criticised For 'Cynical' Crypto Donations After Morocco Earthquake
Even in the beyond Kardashian crass world of crypto V1.0 this is impressively gauche. As some poor Moroccan family viewed their decimated home - one of 50,000 - of the interior mulched under the fallen stone…The good news is: 'just download this wallet to access $100 of free crypto." What on earth is "Has anyone seen the internet router amongst the rubble? And do you have any charge, my cell battery is flat" in Darija Arabic? Binance manages another GUBU albeit these are the people who used to make headlines with their donation promises and according to Maltese charities amongst others, left the country without coughing up the cash (or even some tokens).
Of course, there was also that famous FTX foundation - where they had to photograph SBF in creative ways away from the models to mask his vertically challenged physique but that's a whole different chapter.
Of course, all this in a week when the FT reported skepticism about the utility of blockchain is rising too.
If you enjoyed this excerpt, you may be interested to know that you can read Bitcarnage every day in Exchange Invest. Alternatively, if you want full a Bitcarnage, the daily update and happenings in the world of crypto and digital assets, then you can find Bitcarnage as a Substack standalone.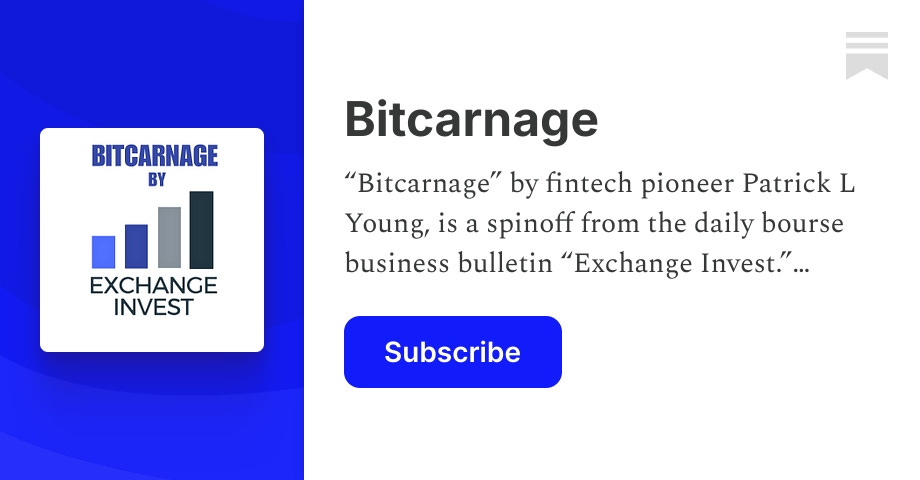 Back in the world of legacy exchanges, Bloomberg has a boring headline: Consultation On The Proposed Cessation Of The Bloomberg Short-Term Bank Yield Index ("BSBY") is quite explosive.
IOSCO would appear to have killed credit sensitive interest rates, after their summer encyclical warned that they did not like such things reported on July 31st in Exchange Invest newsletter EI2723. The ICE Bank Yield Index was the forerunner here, directly killed off by the FCA previously. Then bank ostensibly copied the product produced and placed it in the USA where it is now, apparently… uncommercial? Of course, the Bloomberg communication says the product looks commercially unviable, but that is due to the existing subscribers or is it because somebody has suggested it will soon be highly unviable due to prohibition?
Whatever the reality of this whodunnit, the realpolitik is that IOSCO has I think, hugely blundered with an ill-considered intervention in the interest rate arena, restricting product innovation in a way which suggests there exists a monoglot credit risk amongst every form of counterparty. This is utterly fallacious. What next, in the spirit of these primary schools where everybody gets a medal for school sports day, will IOSCO decree every corporate rating must be AAA? However, that would leave out individuals, can they be AAA too?
Seriously, what might the ramifications be of all this?
Perhaps IOSCO can show us the data to support their previous communique? Without it, we have simply daft diktats disturbing the process of evolving risk transfer.
Also note, there was a great article this week by GARP (Global Association of Risk Professionals). They were interviewing the new leadership of the AFX (American Futures Exchange) and of course, they're the last man standing these days because their Ameribor is a credit-sensitive interest rate. How will long will that be allowed to continue, I wonder?
Meanwhile, NASDAQ has launched a study showing legacy technology and regulation is preventing financial institutions from capturing growth opportunities.
It's a fascinating study all together with a vast opportunity evident across the market structure business. I could not agree more.
Stockholm Stock Exchange was raided by police in the market abuse probe.
"The Nordic region's largest exchange, which is owned and operated by NASDAQ was targeted because there was a need for information from the exchange through kind of enforcement action," strikes me as all a bit heavy-handed.
One great piece of news for the parish in personnel terms, NYSE executive John Tuttle is going to stay a while longer at New York Stock Exchange to champion capitalism and free markets. Great news that he's not running for Michigan's GOP Senate nomination, at least from the parish's perspective.
Not such good news, the fate of ArawakX (that's the troubled Bahamian crowdfunding platform) is now in the hands of the Supreme Court.
Will it be a final showdown on ArawakX? It's hard to believe from the position of our exchange advisory business which are not insignificant creditors to ArawakX, that the platform is actually solvent but we cannot speak to the holistic picture of their funding, perhaps we've just been unlucky in not being paid.
Anyway, October 13th will be the showdown at the Supreme Court between the Securities Commission of the Bahamas who are seeking to close ArawakX down on the basis of solvency.
Brexit news, the European Union states are apparently considering easing the post Brexit derivatives clearing power plan.
The curse of compromise could of course be the epitaph of the EU. In essence, some loopy idealogue floated off a daft plan and then after some shock on various parts, a process of compromise refining takes place until an asinine agreement emerges after a zillion iterations, which leaves everybody somewhat unhappy.
That process seems to be entirely at play here under the Spanish presidency.
In results news this week, Singapore Exchange Group (SGX), reported a net profit of 503 million Singapore Dollars, that gives them an EBITDA of 8.5%. Overall, not bad numbers given the listings drought, particularly in bonds, but also a drop in equities too.
Deal news this week, Intercontinental Exchange (ICE) has completed the sale of Optimal Blue and Empower LOS businesses to Constellation Software Inc.
Thus, the final tranche of shelf sell-offs are complete to assuage the US FTC as agreed in the post close Black Knight deal.
If you're trying to understand why you would want to acquire Black Knight or much more, you ought to be reading a copy of "Victory or Death?" Blockchain, Cryptocurrency, and the FinTech World my most recent book. It's published by DV Books and distributed by Ingram worldwide.
While you're waiting for your copy of"Victory or Death?" to arrive, check out our Live Stream Tuesday 6pm London, 1 o'clock New York time - it's the IPO video live show. Catch the back episodes on Linkedin and Youtube via "IPO-Vid".
This week we had an epic show with Councilman of the City of London Corporation Mark Wheatley discussing From the City To Space.
Next week, coming on Tuesday we are going to have a show September 26th IPO-Vid #118 will be with Andreas Schweitzer and his title is going to be "Trade Finance As An Asset Class".
This week's Finance Book of the Week, it's 6th birthday and thus I have to say I played no role in this, but my wonderful staff team has decided that The World's Most Influential People In Market Structure: The Exchange Invest 1000 is our "Book of the Week" this week.
The EI 1000 serves as an index showcasing the world's most influential figures in market structure, encompassing exchanges and clearing houses along with the publication of 30 sub-lists, covering various categories like regional leaders, women, experts "Dealmakers," "Visionaries," "Blockchain," "FinTech," and much more.
Don't forget if you want to get ahead of the pack and find out what our new book of the week is, you can catch that by subscribing to our free weekend newsletter EI weekend. You can sign up to that on the ExchangeInvest.com homepage. And of course, you can also start a free trial to the exchange of information of the business of bourses unique publication, Exchange Invest the daily newsletter of the bourse business.
Product news this week, the London Metal Exchange (LME), they're announcing an evolution of the closing price methodology.
Shanghai Exchange is exploring potential LME Nickel rival products.
The big news of the week, Miami International Holdings announces that MGEX (Minneapolis Green Exchange) has filed a petition for the rehearing following the court's decision to vacate the SEC's Exemptive Order related to the SPIKES volatility index futures.
This is magnificent news ladies and gentlemen. The notion CBOE had any form of right to be the only volatility index in the parish having been in any case, the second movers, at least in the product field of volatility indexes, struck many particularly in the Exchange Invest inbox this week as being an egregious fallacy. The original judgment incidentally was discussed in Exchange Invest 2752, which was published on September 4th
Technology news this week, fabulous news Advancing Data Democratisation: The Partnership Between BMLL And Snowflake was announced. With Snowflake in fact, investing in the company. Great news from Paul Humphrey and the BMLL team which gains an investor, a very influential investor in fact on a fascinating big data relationship with snowflake to add to the BMLL's vast data lake.
Career paths this week, very hot news several interesting pieces, one good, one bad, and one sad.
Singapore Exchange has named Michael Syn as president.
Excellent and deserved move, as Michael Syn becomes the SGX president and Head of the Global Markets Division, which essentially means he runs everything except indices under the new group structure. Michael has been on our radar for many years as his performance has been consistently excellent despite many issues and hurdles thrown his way - the GIFT debacle where for example, India, de facto forced Nifty futures out of Singapore and into India, for example. Likewise, he weathered the audacious Hong Kong Exchanges index swoop where they took a vast swathe of MSCI derivative straight to Hong Kong. Michael is a huge talent within SGX and his promotion is a welcome move for the parish.
Sad news this week, the NGX Group (Nigerian Exchange) is mourning Pa Akintola Williams.
A remarkable man, he was the last surviving signatory to the original Memorandum and Articles of the Association of the Nigerian Stock Exchange at the funding of the NSE on September 15th 1960. He passed away just days short of the 63rd anniversary of the Nigerian Exchange being founded. RIP, a remarkable centenarian.
And then we come to the bad news, sad news of the week. It really is a rather sad and sorry affair.
"Former TD Ameritrade Holding Corporation President and CEO Fredric J. Tomczyk has been appointed CEO.
At the same time the job which was previously a joint one of chairman and CEO has been split apart.
"William M. Farrow III, currently the Lead Director is going to be named non-executive Chairman of the Board of Directors of CBOE Global Markets".
Why is this? Well, apparently, outgoing CEO Ed Tilly has been ousted because he did not disclose personal relationships with colleagues which violated CBOE's policies standing in stark contrast to the company's valuesm, according to a CBOE statement. CBOE has said that the conduct was not related to and does not impact the company's strategy, financial performance, technology and market operations reporting, or internal controls.
I actually fear I beg to differ with the CBOE board of directors spin on things but alas, that was something that took quite a long time to explain during the course of the week in Exchange Invest. For now, it's time to reflect on the departure of Ed Tilly, a man who frankly was stupefied to realize had been CEO of CBOE for over a decade, such where his relative lack of influence or successes in the parish in many ways.
He essentially entered high office as Exchange Invest was born and this newsletterand summarily failed to learn anything much about how the marketplace changed in the subsequent decade. Then again, he didn't read Exchange Invest and that is the single best benchmark for predicting failure that I know of in the parish of exchanges.
To understand more about the flaws of Ed Tilly's CBOE tenure as CEO, you need to read Exchange Invest. Sign up for your free trial today in ExchangeInvest.com and you'll be able to access the archives to read this story.
Meanwhile, in BigWorld, ladies and gentlemen Coco Gauff completed a magnificent run to her maiden Grand Slam tennis tournament at the US Open last weekend resplendent in a fabulous pure play 'Barbiecore' outfit which she donned to celebrate the prize giving.
Which allows me a final warning, we've been talking about this in Exchange Invest for a number of weeks now: A topic that while actually only in Exchange Invest Newsletter has been tackling but it's the biggest commodity squeeze we're gonna see this year. In a little over a month the global 'pink' squeeze will be writ large ahead of Halloween. When the cupboards go pinkless panic will rebound across global suburbia. Mark my words, all those parishioners with daughters girlfriends, female partners and wives need to be acutely aware this is not just a classic commodity exchange, this commodity shortage will come complete with a full on indoor human hurricane alert. Tantrums with excessive wind shear and speeds of category 5 hurricanes are anticipated even to make landfall whether you live nowhere near a coast or panhandle.
We give you the first 'pink' squeeze warning in Exchange Invest on August 18th, more than enough time to actually order something all the way from China and AliExpress.
…And on that mysterious and magnificent note, ladies and gentlemen, my name is Patrick L. Young builder of marketplaces the world over, advisor to exchanges and market structures. And also, of course, the publisher of Exchange Invest the exchange of information, the daily bourse bulletin.
I wish you all a great week in life and markets. Catch you again next weekend for Episode 213 of our weekly podcast.
LINKS:
Binance Criticised For 'Cynical' Crypto Donations After Morocco Earthquake
FT
Binance Donates $3 Million For Morocco Earthquake Relief
Binance
Consultation On The Proposed Cessation Of The Bloomberg Short-Term Bank Yield Index ("BSBY")
Bloomberg
Nasdaq Study Shows Legacy Technology And Regulation Preventing Financial Institutions From Capturing Growth Opportunities
Nasdaq
Stockholm's Stock Exchange Raided By Police In Market Abuse Probe
Bloomberg
NYSE Exec Won't Run For Michigan's GOP Senate Nomination
Politico
ArawakX's Fate Now In Supreme Court Hands
The Tribune 242
EU States Consider Easing Post-Brexit Derivatives Clearing Plan
Reuters
SGX Group Reports FY2023 Net Profit Of S$503 million
SGX
Intercontinental Exchange Completes Sale Of Optimal Blue And Empower LOS Businesses To Constellation Software Inc.
ICE
LME Announces Evolution Of Closing Price Methodology
LME
Shanghai Exchange Exploring Potential LME Nickel Rival
Nasdaq
Miami International Holdings Announces that MGEX has Filed a Petition for Rehearing Following Court's Decision to Vacate SEC's Exemptive Order Related To SPIKES Volatility Index Futures
PR Newswire
Advancing Data Democratisation: The Partnership Between BMLL And Snowflake
BMLL
Singapore Exchange Names Michael Syn As President
Reuters
Singapore Exchange Names Michael Syn As President
MarketScreener
NGX Group Mourns Pa Akintola Williams
NGX