211 Exchange Invest Weekly Podcast September 16th, 2023
This week in the parish of bourses and market structure: Competition In Australia, Sebi To T+0, ICE Makes Mortgages Work, Is Gary Gensler - Finance's Kardashian?, And Elizabeth Sam Dies.
Transcript:
This week in the parish of bourses and market structure:
Competition In Australia
Sebi To T+0
ICE Makes Mortgages Work
Is Gary Gensler - Finance's Kardashian?
And Elizabeth Sam Dies.
My name is Patrick L. Young
Welcome to the Bourse Business Weekly Digest
It's the Exchange Invest Weekly Podcast Episode 211
Good day, ladies and gentlemen, this is a very brief reduction of highlights amongst the key headlines from the week in market structure. All the analysis of the many events and happenings from the past 7 days can be found in Exchange Invest Daily subscriber newsletter, the unique guide to the bourse business sent daily to your inbox.
More details at ExchangeInvest.com
We start with some unfortunate news from ASEA, the African parish association who have been forced to cancel their upcoming annual conference in Cairo (November 6-8), with the letter to members noting:
"This decision was not made lightly, and the ASEA President has explored every possible avenue to proceed with the conference as planned. However, several factors beyond our control, including the exit of Mr. Rami El Dokany, former Chairman of Egyptian Stock Exchange, have led us to this difficult conclusion."
It's a great shame and hopefully, the next event can take place smoothly in 2024.
One place where it's anything but smooth was of course Bitcarnage.
In Bitcarnage this week, Binance said everything was even more cushy than usual despite an outage, some resignations and so forth - and who are we to disbelieve them?
Elsewhere in the crypto community, there was a mixture of whingeing as usual in most parts with many emulating Violet Elizabeth Bott from the Just William Books of childhood with her catchphrase "I'll thcream and thcream 'till I'm thick"
The big news of the week lisps aside that was that the CFTC pre-empted IOSCO with a move which effectively kills DeFi. Not that you've seen it being headlined as such yet, then again, we've said this was inevitable for years.
Meanwhile, it's now 4 against one in the SBF trial as Ryan Salame forfeited a vast swathe of tony Airbnb haven Lenox Massachusetts plus a Porsche etc., and has pleaded guilty.
Meanwhile, the headline of the week was the 11,196 year sentence for fraud handed down to former Thodex CEO Faruk Fatih Özer. Some might say he was lucky and only getting 11,196 years, prosecutors wanted him to serve 40,562 years.
If you enjoyed this excerpt, you may be interested to know that you can read Bitcarnage everyday in Exchange Invest. Alternatively, if you want to follow Bitcarnage the daily update on the happenings in the world of crypto and digital assets, you can find Bitcarnage as a standalone on Substack.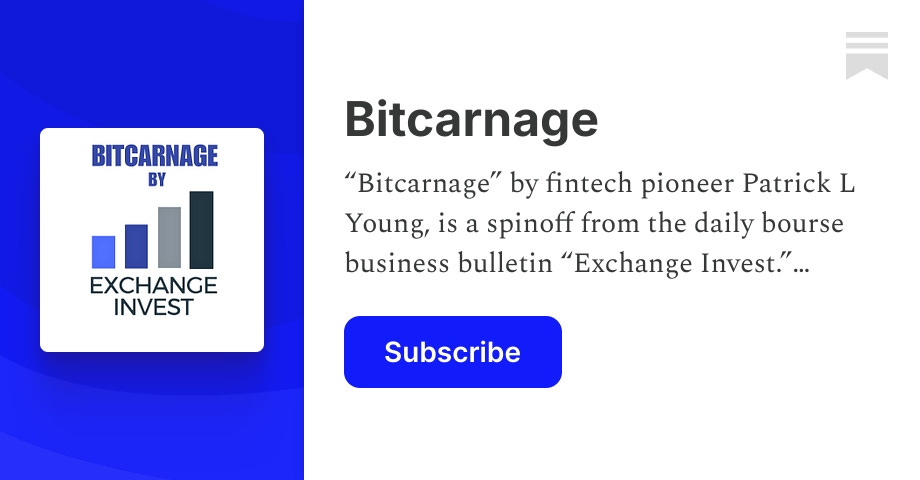 ICE made headlines last week of course with the closing of their magnificent deal for Black Knight. The man who bought the NYSE just made $11.9 billion bet that he can fast-track your fortune for less than you're paying now. Far less indeed the headline ran.
It was a great summary in Fortune magazine of the ICE play for the clunky mortgage processing market which is now more comprehensive as an offering that I think even qualified as comprehensive in the home loan biz just a few years ago.
This is a brilliant article which breaks down the egregious cost - $8,000 per application…which ICE can surely reduce to basis points and still profit handsomely. The resulting vertical is most impressive post acquisition of Black Knight and as we know, ICE integration is always state of the art, for any sector, not just the exchange parish.
Down under, Australia has passed a law to encourage competition for the main market operator.
Equally, ASX's new CHESS oversight group has been put on notice by ASIC's Greg Medcalf.
…It's more of a marker than a serious revolution but at least in Canberra, they opted to pass some legislation pushing towards more competition, clearing and settlement beyond the ludicrously flawed and seemingly at the moment according to ASX's incapacity - irreplaceable - CHESS monopoly.
In New York, NASDAQ has relaunched their reimagined market site. More TV studio space, a live CNBC studio, and more are the highlights.
Elsewhere SGX they're reorganizing their business model to strengthen their position as a multi-asset exchange.
And there are big moves afoot in the clearing and settlement department, the Philippine Stock Exchange, Manila has now moved to T+2 days having been T+3 until just the other day in fact.
But in India where they managed to achieve T+1 settlement in January, it now looks as if they might be seeking T+ an hour to come in by the end of October 2024. Incredible progress from T+ forever to T+0 in barely a generation.
Johannesburg Stock Exchange is teaming up with Eskom, the power generator to figure out how they can manage to finance the expansion of the grid massive problems of course in South Africa where once upon a time it had second-to-none infrastructure but nowadays is sorely lacking even within Europe.
Sad news, the real estate stock exchange IPSX is going to be winding down its operations. Not clear what's going to happen to the license there but it looks as if it's going to be closed.
The SEC charge alternative investment platform YieldStreet for misleading investors.
Just one set of results this week in the parish, TISE (The International Stock Exchange) which is really the Channel Islands Stock Exchange with bells and whistles added on around the edges. They announced record turnover £5.2 million and profit after tax improved by +15.8% to £2.4 million (that's roughly $3 million). First half listings declined from 487 to 375 in a difficult market, but that still vastly outpaces the rest of the world via the TISE specialist niche.
New markets this week, welcome to NuamX!
Nuam Exchange is the new brand for the merged exchanges of Santiago, Lima and Colombia. I like it…Besides amalgamating the first syllable of either of the cities or the nations merging generally leads to a brand akin to a medicine featured on primetime US TV news advertisement. The concept of a new American exchange is encapsulated elegantly in Nuamx. Good luck to CEO JP Cordoba and the Nuamx team.
In Bangladesh, their securities and exchange commission are finalizing rules to set up a commodity exchange.
Iran's Free Zones High Council is looking to launch an international stock exchange, albeit possibly not as international as it might be given them any nations that have sanctions on Iran.
Deal news this week, just one story there at the London Stock Exchange. Am I alone in finding this richly amusing, the LSEG is such a magnet for the trading of stock and the epicenter of capital. That it had a massive shareholding group last week selling stakes off market? Doesn't that rather undermine the bit in your brand that goes between London…and…Group?
If you're trying to grapple with where the future of exchanges is going to be, then consider a copy of my book "Victory or Death?" Blockchain, Cryptocurrency, and the FinTech World. It's published by DV Publishing and it is available via Ingram worldwide.
Meanwhile, while you're waiting for your copy of "Victory or Death?" to ariive via DV Books and Ingram worldwide, check out our live stream Tuesday 6 o'clock London time in the evening, 1 o'clock New York lunchtime - the IPO-Vid live show. Catch the back episodes on Linkedin and Youtube via "IPO-Vid".
We had a spectacular show last Tuesday as we returned on the 12th IPO -Vid #116 with Rainer Zitelmann, a returning guest he was discussing his fantastic study book, a bestseller indeed, The Wealth Elite.
Our next show coming up on the 19th of September, we're going to have city panjandrum that city of London panjandrum, Mark Wheatley, and we're going to be discussing From the City To Space.
That brings us elegantly to have some space for a "Finance Book of the Week" as we build out a bookshelf of interesting tomes pertaining to exchanges and markets investment et al. For this week, we've chosen a book written by former EUREX Chief Innovation Officer and IPO-Vid #85 guest Brandon Bradley.
"ESG Investing For Dummies" provides a user-accessible guide to investing in a more sustainable world.
According to the blurb "This book will allow us to hit this new investing landscape running," - albeit presumably that will be a sustainably violent hitting the landscape running.
If you're seeking measurable ways to factor ESG into company performance, this is an excellent starting point.
You can find links to the book if you need them on our website ExchangeInvest.com.
Product news this week, banks and investors step up opposition to EU derivatives plan, says the Financial Times. That's the sort of financial story that once upon a time the Financial Times used to do very very well but nowadays of course it is the Brussels Bugle.
Nonetheless, it's fascinating that the Brussels Bugle is obviously considerably concerned about the activities of its subscriber base in the Belgian capital which is of course also the European Union's capital sending that faithful Brussels subscriber base truth also known as a message they don't want to hear. Reality is hitting home on to the realists in Brussels, only seven years on from the first waves of daft post referendum agitprop when it came to Brexit. At some future juncture, this might reach the left /green parties and even those zealots who are just upset at Brexit, rather than rational / sanguine about how to make the EU better per se.
Between Chicago and New York, the CME Group and DTCC have received regulatory approval for enhanced treasury cross margining arrangements which will launch in January 2024.
Equally, the CME is continuing its retail shift and its core product. They are launching options on micro gold futures.
The NSE (National Stock Exchange) of India they've got Sebi nod to launch options on NYMEX WTI Crude Oil and Natural Gas futures.
While Aquis are changing their proprietary rules and going to ally in formally aggressive proprietary flow you will have the option to trade with it if you're a market maker on Aquis.
The Swiss Stock Exchange are proposing big index changes. They're looking at for example, increasing the number of members of its benchmark SMI by a third.
Technology news this week, NASDAQ called the SEC nod for the first exchange AI-driven order type.
Meanwhile, various financial developers have been mocking McKinsey's monitoring metrics.
That criticism included "immensely naive" towards McKinsey in an article on the eFinancialCareers. It reminded me of "the Equity Gap" perhaps the worst piece of research in the history of the exchange parish, which was also a McKinsey project. On the other hand, it was a good news because it was one of the catalysts for me to start Exchange Invest so that people would actually better understand what went on in exchanges, rather than succumbing to the mindless blether of big consultancies.
Meanwhile, FESE (the European Securities Exchange Federation) has helped set up EuroCTP, the company which has been established by European exchanges for the provision of a consolidated tape in the European Union.
They've elected Jorge Yzaguirre Scharfhausen as the newly elected Chair of EuroCTP supervisory board, is SIX Security Services Deputy Head and is a welcome board overseer for this initiative seeking to build a consolidated tape by the European exchanges across the EU. Good work by FESE and the exchanges themselves.
Regulation news this week, the Wall Street Journal ran a story: Gary Gensler's Plan To Control Information.
Given the fact that the whole of Bitcarnage seems to be endlessly Gary Gensler of other word being threatened, accused, abused and so on. The fact that the mainstream media has finally woken up to the ridiculous and egregious expansion that he's trying to affect from what was the relatively simple metrics by which the original Securities Exchange Act established the SEC.
I'm minded to wonder at what stage Gary Gensler became a kind of Kardashian figure and finance. Everywhere you look, he's in the headlines and at the same time, the quality of media coverage is often so dismally poor. It feels like those who are following the Kardashian clan, or indeed Gary Gensler are doing so unthinkingly.
The SEC meanwhile, has approved funding amendments to the national market system plan governing the consolidated audit trail, which is very, very well welcome.
In career paths this week, a bit of a crisis in Zurich, the Swiss financial regulator FINMA, their CEO has quit in the wake of the collapse of Credit Suisse.
"Urban Angehrn will step down at the end of September 2023, FINMA said in a statement on Wednesday. Angehrn who has led the regulator since November 2021, said he was quitting for health reasons."
I do hope his health is okay. It has been an incredibly stressful time for the Swiss regulator over the course of the last two years, and particularly during the course of the last year as Credit Suisse imploded.
Japan Stock Exchange's board diversity is amongst the worst in the world and indeed the worst in the parish, which is not exactly a very good look for any bourse.
The London Stock Exchange has appointed Charlie Walker (who's been with LSE since 2018) as deputy chief executive officer where he'll oversee supporting the daily running of the exchange and the group's primary market business.
At least the welcome news is here that the LSE G has managed to appoint somebody to the LSE from within and not another headhunter special which became such a joke last year.
Finally, this week, the sad news in career paths is that the veteran banker Elizabeth Sam, who was known as "Ms MAS" died at the age of 84.
MAS, of course, was referring to the MAS (the Central Bank of Singapore) but we remember her very fondly in the parish as a two term SIMEX Chairman (from 1987-1993), a trailblazer not merely for female chairman of exchanges, but for helping create the original SIMEX-CME Eurodollar mutual offset amongst many other achievements. She was also the character reference for the new President of Singapore himself in MAS veteran who was elected just days ago, and quite justifiably, she was elected to the FIA Hall of Fame just this year.
From the BigWorld of Singapore to the BigWorld of Poland, while the rest of the world is tightening and central bankers are panicking, the Polish Central Bank has decided enough is enough, having been very aggressive first mover advantage in many ways raisers of rates way back when this western Central banks added to their comprehensive roster of incompetence by saying it wasn't an issue.
Of course, the tie in the opinion polls a month ahead of a general election with the government scurrying to try and do everything to seek reelection had absolutely nothing to do with this 75 basis point rate cut.
…And on that mysterious and magnificent note ladies and gentlemen, my name is Patrick L. Young, creator of markets the world over. Ping me a DM if you'd like to create your exchange marketplace or whatever it might be anywhere in the world. And of course, I'm also the publisher of Exchange Invest, the exchange of information, the bulletin of the bourse business coming daily to your inbox. You can subscribe to our weekend edition free at ExchangeInvest.com or join us for a free trial of Exchange Invest, the watercooler of the bourse business.
Have a great week in life and markets.

LINKS:
The Man Who Bought The NYSE Just Made A $11.9 Billion Bet That He Can Fast-Track Your Mortgage For Far Less Than You're Paying Now
Yahoo Finance / Fortune
Australia Passes Law To Encourage Competition For Main Market Operator ASX
Reuters
ASX's New CHESS Oversight Group Put On Notice By Greg Medcraft
AFR
Nasdaq Launches Reimagined MarketSite
Nasdaq
SGX Reorganises Business Model To Strengthen Its Position As A Multi-Asset Exchange
The Straits Times
PSE Migrates To Shortened Settlement Cycle
Philippine Star
JSE Teams Up With Eskom To Figure Out Grid Expansion Financing
News24
Real Estate Stock Exchange IPSX To Wind Down Operations
Investment Week
SEC Charges Alternative Investment Platform YieldStreet For Misleading Investors
SEC
TISE Announces Record Turnover For H1 2023
PR Newswire
Welcome To Nuamx!
Nuamx
BSEC Finalising Rules To Set Up Commodity Exchange
The Daily Star
Iran's Free Zones High Council To Launch Intl. Stock Exchange
Tehran Times
London Stock Exchange Group Plc: Off-Market Purchase Of Shares
LSEG
Banks And Investors Step Up Opposition To EU Derivatives Plans
Financial Times
CME Group And DTCC Receive Regulatory Approval For Enhanced Treasury Cross-Margining Arrangement Launching January 2024
CME
CME Group To Launch Options On Micro Gold Futures As Retail Participation Jumps
CME
NSE Gets SEBI Nod To Launch Options On NYMEX WTI Crude Oil, Natural Gas Futures Contracts
Mint
Change To Proprietary Trading Rule
Aquis
Swiss Stock Exchange Proposes Increasing SMI Members By A Third
Bloomberg
Nasdaq Gets SEC Nod For First Exchange AI-Driven Order Type
Reuters
Ex-Finance Developers Mock McKinsey's Monitoring Metrics
eFinancialCareers
EuroCTP, The Company Set Up By European Exchanges For The Provision Of A Consolidated Tape In The European Union, Has Been Incorporated And Elected A Chair Of The Supervisory Board
BME
Gary Gensler's Plan To Control Information
WSJ
SEC Approves Funding Amendment To National Market System Plan Governing The Consolidated Audit Trail
Swiss Financial Regulator FINMA CEO Quits In Wake Of Credit Suisse Collapse
Reuters
Swiss Bank Regulator Steps Down Citing Toll From 'Permanent Stress'
FT
Japan Stock Exchange's Board Diversity Is Among Worst In World
Yahoo Finance
Veteran Banker Elizabeth Sam Who Was Known As 'Ms MAS' Dies At Age 84
The Straits Times