210 Exchange Invest Weekly Podcast September 9th, 2023
Deals Done! TT Buys Abel Noser In A Super Speedy Completion Tradeweb Complete Their Purchase Of Australian Platform Yieldbroker ICE Closed The Purchase Of Black Knight Within Hours Of The FTC Confirming They Were Permitting The Deal At Last.
​​Transcript:
This week in the parish of bourses and market structure:
Deals Done!
TT Buys Abel Noser In A Super Speedy Completion
Tradeweb Complete Their Purchase Of Australian Platform Yieldbroker
And The Biggest News Of All: ICE Closed The Purchase Of Black Knight Within Hours Of The FTC Confirming They Were Permitting The Deal At Last.
My name is Patrick L. Young
Welcome to the Bourse Business Weekly Digest
It's the Exchange Invest Weekly Podcast Episode 210
Good day, ladies and gentlemen, this is a very brief reduction of highlights amongst the key headlines from the week in market structure. All the analysis of the many events and happenings from the past 7 days can be found in the Exchange Invest Daily subscriber newsletter, the unique guide to the bourse business sent daily to your inbox.
More details at ExchangeInvest.com
In Bitcarnage this week: Cheer Up, The Worst Is Yet To Come! went one of our many fascinating headlines.
The crypto kiddies and even the Brussels Bugle continue to trumpet their perception that Grayscale's procedural win in court amounts to more than the pyrrhic victory that we've perceived. Thus too in their celebrations that it will soon be back to partying like a distributed Russian, these folk miss the point we made previously: when the SEC seals stuff in court, the odds are it certainly isn't a birthday card and cake for CZ's birthday or somesuchlike event. John Reed Stark has been echoing our view that Sealing Docs In Binance Case Could Suggest A Criminal Probe (X/Twitter).
With 35 for now secret exhibits plus 37 supportive submissions, I wouldn't suggest this is the sort of stuff a few X/Tweets of "4:FUD!" can rapidly disperse. Stark has made good points - as a civil litigant, SEC usually doesn't seal. Why would they seal? The clear inference as we've noted throughout the course of the last week in Bitcarnage must be that somewhere behind this process lies criminal charges.
Meanwhile, if they run a game show for "America's Most Exasperated" right now, I believe Judge Lewis Kaplan would only have to wander on stage, say the acronyms "SBF" and "FTX" in order to have the judges backlight the auditorium with green ticks all round as he proceeds unimpeded to the grand final with ultra-low latency alacrity.
The latest from the 'dream team' representing SBF is that they reckon the DOJ are acting 'In bad faith' because they are, from what I can see, indeed what Judge Kaplan can see in greater detail and with a vastly more astute legal standing - is that the DOJ are doing their jobs to prosecute the one-time boy prince of crypto.
Thus we are on tenterhooks, as I record this podcast, waiting and watching to see if there will be a trial postponement request as the defense apparently reckon SBF is not having a fair go blamestorming his woes on anybody but himself:
Meanwhile, in a statement, which doesn't need any further comment, but may deserve outright derision there is the Decrypt headline Binance Is 'Way Ahead Of The Game' On US Regulations, Says CZ. That maybe the notion Binance is "way ahead of the game in terms of regulatory compliance" is what the US SEC sealed in the court documents last week? I know I know, everything is "FUD" in the CZ mindset when it involves not acquiescing to his worldview, that every day Binance is stronger.
If you enjoy this excerpt you may be interested to know that you can read Bitcarnage every day in Exchange Invest. Alternatively, if you want to follow Bitcarnage as a standalone - the daily update on happenings in the world of crypto and digital assets, you can find us on Substack.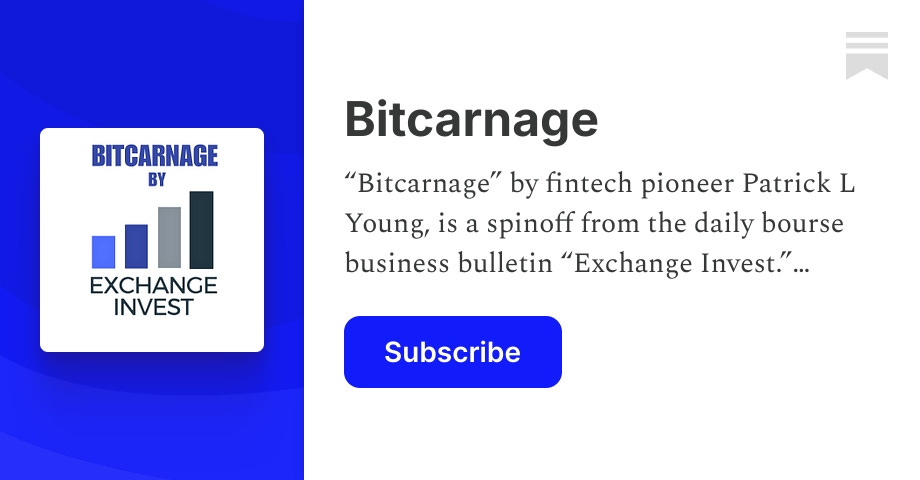 In the world of legacy exchanges this week, one piece of exciting news from one of the useful industry associations CCP12 hasn't grown beyond the original dozen clearing houses who formulated the association has rebranded to CCP Global.
A fair point as CCP12 has credibly established themselves as the world body for CCPs without comparison.
Meanwhile, in results, it was a frantic week for results in the parish all the details were in Exchange Invest daily, the newsletter no person can afford to be without in capital markets and market structure. For the sake of this podcast let's look at just a couple of edited highlights.
Nairobi Securities Exchange has incredible numbers, the profit rallied 72% on income from trading.
Meanwhile, moving swiftly through the numbers from Compagnie Financière Tradition
SGX increased its dividend from Singapore Dollars 0.08 to 8.5 Singapore cents.
ASX is reducing its dividend from A$1.2 to A$1.12 a drop of A$8 cents. Pretty much the same as the entire dividend of the SGX.
The ASX has lost the better part of $300 million on a CHESS debacle, plus endless reports, consultants and other wildly unproductive nonsense which has failed to begin the root and branch reform needed to reorganize the Australian dysfunctional market monopolist and probably spend more money on a "dealing with denial" workshop for the board. In the meantime, the dividend has declined. This of course was supposed to be the ultimate monopoly milking dividend strategy. Pay attention, ladies and gentlemen, monopoly milking dividend strategies never work because even when you're a monopolist, somehow or another you managed to screw up even without proper competition. With a broad deep monopoly ASX cannot even milk their monopoly efficiently. It's time to break the silo but the government powers that be are apparently gutless.
In deal news, it was a frantic week for deals in the parish all of the deals were in Exchange Invest daily, the newsletter no person can afford to be without in capital markets and market structure. Let's look at the big three of the week.
Tradeweb completed their acquisition of yieldbroker thus taking away an asset which was partly owned by the Australian Stock Exchange and the Australian Stock Exchange only reported a modest loss pro rata nothing like the CHESS debacle. While Tradeweb has improved their footprint down under Trading Technologies completed their acquisition of Abel Noser in short order, having only announced the deal as recently as August 23rd and it was covered by Exchange Invest.
However, the big news of the week and an even faster close was Intercontinental Exchange (ICE) completes the acquisition of Black Knight and announced indeed, the preliminary result of elections made by stockholders in connection with the acquisition. That completion was accompanied by conference call.
And thus finally, as we've noted, previously, the FTC caved (I mean, I'm sorry, negotiated their way to a successful conclusion…from the corner that they'd worked themselves into).
And indeed, perhaps the most fascinating aspect of this whole tale was high investors spent ages convincing themselves this deal couldn't happen….I've no idea why you would bet against ICE completing a deal other than in the unfortunate instance when a deal gets rumored (probably by the target) such as the eBay transaction and sadly the stock analyst soul starts saying what a disaster it will be, when they universally lack the vision of Sprecher @ Associates.
Great deal by ICE. Congratulations! Well done on making this happen.
In terms of making things happen in the world of FinTech, if you want to understand what's bringing all these building blocks together in the future, you should be reading my most recent book "Victory or Death?" Blockchain, Cryptocurrency, and the FinTech World. That book is published by DV Books and is distributed by Ingram worldwide.
Don't forget while you're waiting for your copy of "Victory or Death?" to arrive, check out our livestream Tuesday 6pm London time, 1 o'clock New York time - the IPO video live show. You can catch the back episodes on Linkedin and Youtube via "IPO-Vid".
Great news, following our summer hiatus where we had some magnificent repeats on offer. I have to say most recently, we had Yra Harris just the other day. We've got a great live show for you coming up on September 12th IPO-Vid #116 Rainer Zitelman. He's coming back and he's going to be talking about The Wealth Elite.
Speaking of the wealth elite, actually, that brings us very neatly to this week's "Book of The Week". It was written by the Economic Hit Man himself John Perkins
"The Confessions of an Economic Hit Man" exposes international intrigue, corruption, and little-known government and corporate activities that have dire consequences for American democracy and the world. It's a compelling story that also offers hope and a vision for realizing the American dream of a just and compassionate world that will bring us greater security.
Or to put it in PLY speak: It's the equivalent of taking emerging nations and encouraging them to gorge at the "all you can eat" buffet of dollar debt.
Product news this week, some quite fascinating monopoly discussion, it seems that in a court action, ultimately, the spikes listed by MIAX (Miami International Exchange) is being dropped due to some form of court action where it seems that CBOE have managed to reign supreme with ViX and impose a monopoly action.
I have to say I find that remarkably scary, and indeed a huge impediment to what is much-needed development of the volatility products market. Hopefully, MIAX will be back soon with something very competitive and indeed a great deal more modern to attack the ViX monopoly.
Technology news this week, the ASX is going to be hosting its stakeholder advisory group meeting for the CHESS replacement. That sounds like a right old bunfight.
At the same time the RBA, the central bank issued a joint letter of expectations to ASX.
The Australian blob blind spot remains a tiresome fetish for over indulging rapacious monopolies such as indeed Qantas, who lost their CEO this week somewhat earlier than expected, precisely due to some highly dubious practices that only a bloated monopoly would think it can get away with.
Bloated monopolies, oh yes, that would be in the same sentence as ASX some might argue.
Breakthrough sale for Exberry the technology vendor in the cloud who of course were our guests on IPO-Vid #76. Abbax Commodity Futures Exchange (they're the people who are trying to create a Nickel competitor amongst others out of Singapore) has have selected Exberry as their trading technology partner to power their full suite of futures contracts.
This week in regulation, EU lawmakers are struggling to compromise on post Brexit derivatives clearing reports Reuters.
The stubborn post Brexit divorce spurned spouse vanity hogwash of the EU27 for years has been the deluded notion of a clearing cliff to get London out of the Euro clearing. Alas, the looney left and the loopy greens still hang on to this with a tractor production statistic allocation approach to CCP clearing. However, there are encouraging signs that the de facto center left of Europe (which identifies as Christian Democrat - allegedly center right) are starting to realize that the EU risks collective bank harikiri with such daft moves…thus we're approaching an impasse. And indeed hopefully a moment of enlightenment when clearing competition might be allowed rather than the European Union risking pushing the Euro over the cliff. Hopefully, common sense will prevail but then again, as this is the EU, who knows.
A massive week this week for career news, first of all, Corentine Poilvet-Clédière has been appointed the CEO of the Paris arm of LCH (LCH SA).
Excellent news! With a keen inquisitive mind and an excellent line of communication to the powers that be, Corentine Poilvet-Clédière is a splendid choice to head LCH SA into the future as a not clearing Euronext entity but nonetheless with a very interesting line of business potential within the Eurozone but part of the LSEG.
Colombian Juan Pablo Córdoba was confirmed as CEO of the unified stock exchange, it doesn't have a name yet, it's the conglomeration of well they've called it Chilean Stock Exchange Holding (HBC) for the time being, but it's a regional holding company under which the Colombian, Santiago de Chile and Lima stock exchanges will operate in an integrated manner. Watch this space for a rebranding once the merger is complete and indeed congratulations to Juan Pablo Córdoba on being confirmed as CEO which we announced a few months back in Exchange Invest and good luck to the newly unified bourse. Watch this space also for not just that confirmation of a unified brand identity in the near future, but I imagine more news on chosen vendors to power the unified exchange group.
Meanwhile, in Sydney, the news on the street is that Michael Aikins, VP, APAC COO, will be leaving Cboe Group on March 31st 2024. Mike drove a mega efficient integration of the Chi-X Oz operations into Cboe tech, having been an original Chi-X associate in Asia from May 2010.
Filling Mike's cavernous boots is an internal appointment, Rylan Uherek (formerly a BATS techie acquired by Cboe in that deal) he's going to be promoted to VP, APAC COO, effective January 1st 2024, to allow for a smooth succession during the first quarter of next year. Rylan's post as APAC Head of Software Engineering is now open to internal and external candidates. All the very very best to Michael Aikins on whatever he is going to be doing next, which I'm sure is going to be epic for the parish as he remains one of the finest tech brains in the exchange business
Congratulations also to James Fok, formerly of Hong Kong Exchanges and also an alumnus of IPO-Vid Episode #73, author of the magnificent Financial Cold War, an Exchange Invest Book of the Week. James has been appointed Chief Commercial Officer of the Central Bank of the Special Administered Republic, the SAR of China, Hong Kong, the Hong Kong Monetary Authority - what a fascinating position.
Then we come to the second and arguably, well, a reference site has nothing to be anything other than mega bullish about and of course, that was great news about their signing Abbax for Exberry, but they've also got the most awesome salesman in the bourse business joining them. Ulf Axman is joining Exberry as Chief Commercial Officer. I'm absolutely delighted to see that Ulf returned to the parish having departed LSE Group when their tech stack upgrade woes meant they could no longer support the notion of new exchange customers being sold the same kit as they're trying desperately to upgrade for the messy merger of all manner of assets these days, thanks to the dreadful Refinitiv deal
Anyway, back to Exberry and their happy tales with head of sales Magnus Almqvist having recently achieved the breakthrough sale to now installing reference client Abaxx. There is an encouraging momentum for the development of the Exberry system and it's difficult to find anybody with a broader Rollodex - or more direct access to the people who matter - in the world of selling exchange systems than Ulf Axman.
Back in Sydney, ASX has appointed Jane Franks as their Chief People Officer to reshape their culture. I'm minded to revisit the brutal even decades back Naked Video quip on a broader antipodean tableau with some more pinpoint editing specificity, I would say: "What's the difference between yoghurt and ASX?"
"Yoghurt has a living culture."
The only question I suppose is which method La Franks will use to "reshape" the culture of ASX: axe or AK47? Pure play old old-fashioned decimation in the boardroom or amongst the C-suite certainly won't extract enough of the aloofly, ingrained culture of failure.
And that brings us to the wonderful world of BigWorld ladies and gentlemen. And I'll offer you a fun fact that will certainly get you thinking for a long time: Less than 10% of business funding in China is from capital markets. Think about that Ladies and gentlemen may be in recession now, but coming soon, I think there's going to be a mega investment banking boom, come what may as the cycle turns for the Chinese economy in the near future.
…And on that mysterious and magnificent note, my name is Patrick L Young. I wish you all a great week in life and markets, as the publisher of Exchange Invest and creator of markets the world over.
LINKS:
CCP12 Association Rebranding To CCP Global
CCP12
Nairobi Securities Exchange Profit Rallies 72% On Income From Trading
African Markets
Compagnie Financière Tradition: Net Profit Group Share Of CHF 51.0m, +8.0%
GlobeNewswire
SGX Is Increasing Its Dividend From SGD0.08 To SGD0.085
Yahoo Finance
ASX Is Reducing Its Dividend From A$1.2 To A$1.12
Yahoo Finance
Tradeweb Completes Acquisition Of Yieldbroker
Tradeweb
Intercontinental Exchange Completes Acquisition Of Black Knight And Announces Preliminary Results Of Elections Made By Black Knight Stockholders In Connection With The Acquisition
ICE Completion Of Black Knight Acquisition Conference Call
ICE
MIAX: Amendment To Rule 402 (Criteria For Underlying Securities) To Accelerate The Listing Of Options On Certain IPOs
MIAX
VIX Fear Gauge's Only Competitor Set To Vanish From The Market
Yahoo Finance
ASX To Host First Stakeholder Advisory Group Meeting For CHESS Replacement
ASX
RBA Issue Joint Letter Of Expectations To ASX
ASIC
Abaxx Commodity Futures Exchange And Clearinghouse Selects Exberry As Trading Technology Partner To Power Their Full Suite Of Futures Contracts
Yahoo Finance
EU Lawmakers Struggle To Compromise On Post-Brexit Derivatives Clearing
Reuters
Corentine Poilvet-Clédière Appointed CEO Of LCH SA
LSEG
Colombian Juan Pablo Córdoba Was Confirmed As CEO Of The Chilean Stock Exchange Holding
Euro Es Euro
ASX Appoints Jane Franks As Its Chief People Officer To Reshape Culture
FinanceFeeds
Ulf Axman Joins Exberry As Chief Commercial Officer
Finextra
ASX Appoints Jane Franks As Its Chief People Officer To Reshape Culture
FinanceFeeds