209 Exchange Invest Weekly Podcast September 2nd, 2023
This week in the parish of bourses and market structure: It's A Big Week For Takeovers: ICE Black Knight Gets The Okay From The US FTC, While European Authorities Green Light The DB1 Purchase Of SimCorp
Transcript:
This week in the parish of bourses and market structure:
It's A Big Week For Takeovers: ICE Black Knight Gets The Okay From The US FTC, While European Authorities Green Light The DB1 Purchase Of SimCorp
My name is Patrick L. Young
Welcome to the Bourse Business Weekly Digest
It's the Exchange Invest Weekly Podcast Episode 209
Good day, ladies and gentlemen, this is a very brief reduction of highlights amongst the key headlines from the week in market structure. All the analysis of the many events and happenings from the past 7 days can be found in the Exchange Invest Daily subscriber newsletter, the unique guide to the bourse business sent daily to your inbox.
More details at ExchangeInvest.com
Bitcarnage this week was as wacky as always from the (overly exuberant) crypto kiddie celebration of the Grayscale case against the SEC (merely instituting an enquiry so something SEC can squash as we described as at the time a Pyrrhic victory) meanwhile, SBF is being sustained in jail by peanut butter, bread, and water while lacking access to his Adderall.
Presumably, SBF was left to ponder how his bail was set at $250 million (albeit hypothecated with such leverage that if it were a CFD, the EU would have banned it) whereas President Trump had his bail in Georgia set at $200,000 (which was duly ponied up in cash).
Elsewhere is always the lawyers won big in the world of crypto V1.0. while Binance had another week replete with retreat - from Russia, and with the loss of its Mastercard partnership. Those were just two of its big losses this week.
If you enjoyed this excerpt you may be interested to know that you can read Bitcarnage every day in Exchange Invest. Alternatively, if you want to follow Bitcarnage as a standalone, the daily update on happenings in the world of crypto and digital assets, you can find it on Substack.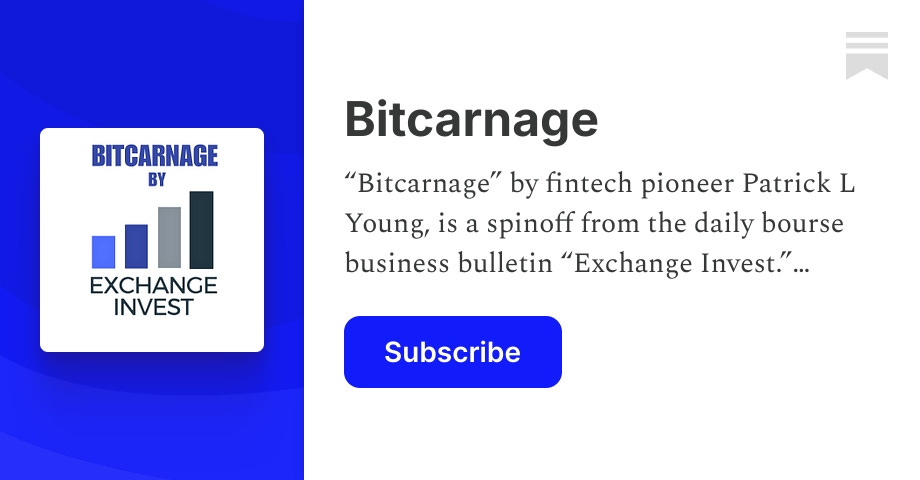 In the world of exchanges this week, H-Shares Hong Kong Exchange officially celebrated a milestone passed on the 15th of July 1993 when Tsingtao Brewery listed on Hong Kong Exchanges and created the H-share story segment which has since that modest beginning in 1993 seen 323 H-share listings (307 of them in the main board, 16 on GEM) raising 2.9 trillion Hong Kong Dollars with a total market capitalization of 5.9 trillion Hong Kong Dollars.
Moreover, as Chairman Cha has noted "I'm certain that, without H- shares, there would be no Connect. And I'm certain that without H-shares Hong Kong and the Mainland's journey over the last 30 years would look very different indeed."
Speaking of the journey, there's now a 13-member Hong Kong task force which was set up in the course of the last week as part of efforts to boost turnover of the sluggish stock market in the Special Administrative Region. That is, of course as a result of blowback from the Chinese Mainland which is undergoing difficult economic times.
The New York Stock Exchange Institute has reported an impactful first year for a vital organization within the exchange world people championing free markets are few and far between in the parish. The parish does not do remotely enough trumpeting of its own achievements and its own importance. Actually beyond NYSE, NASDAQ and Hong Kong Exchanges there are precious few bourse truly pushing the message of the advantages of free open markets.
In results it was a busy week for results in the parish all the details were in Exchange Invest daily, the newsletter no person can afford to be without in capital markets and market structure. For the sake of this podcast let's look at some edited highlights.
Moscow Exchange continues to motor on with remarkable success, despite sanctions, despite the Ukrainian version and all manner of other problems within domestic Russia. Operating Income was at 5%, and Net Profit 46.2% as a result of well, a lot of difficulties in the course of this time last year due to that Russian invasion of Ukraine.
Over at New Zealand Exchanges fairly muted numbers nonetheless EBITDA +15%. The main news was the fact that the move of chairman has gone smoothly as a transition and there will be a retention of Mark Peterson as CEO which makes sense for a business, which has been revitalized over the past few years.
New markets this week, Indonesia has issued rules on how to run its first carbon market.
Deal news this week, it was also very very busy indeed for deals in the parish all the deals are in Exchange Invest Daily, the newsletter no person can afford to be without in capital markets and market structure. And don't forget, it's only $349 per user per year in order to be enlightened with pith about what's going on in the world of bourses.
Intercontinental Exchange and Black Knight have finally managed to get antitrust clearance from what was at one point in time, a rather aggressive and certainly incredibly reluctant FTC's Bureau of Competition.
We've been expecting that for some time, of course, despite a lot of pessimism around those folks who ought to be invested in ICE. Nonetheless, it looked as if the FTC as we said a few weeks ago, and for example, Exchange Invest 2730 was caught on a sticky wicket unlikely to relent, especially after the second round of disposals was announced by ICE and Black Knight. This is excellent news for ICE, particularly after so much widespread investor cynicism that this deal would not get done.
Meanwhile, in Europe, good news for Deutsche Börse, they received final regulatory approval for their public takeover of SimCorp.
Actually, that brought back to mind a sense of deja vu. I can recall a decade ago when ICE was acquiring NYSE Euronext and the story went - allegedly - that the European Commission didn't want to clear the deal during peak summer in August. Here we are 10 years on and it's good to see DB1 getting such a rapid approval for their SimCorp purchase from the corridors of Brussels.
CBOE CEO Ed Tilly says the firm is open to M&A in open jurisdictions, and certainly it needs it. Having been neck and neck with NASDAQ in market cap since he became CEO in the early days a decade ago, Ed Tilly's CBOE may be up 20% this year, and he may have done a lot of interesting deals, but there's either a messaging problem or a bigger vision problem plaguing 50-year-old CBOE. Can Tilly create a new momentum to help CBOE break out to great new things? Watch this space.
Ashishkumar Chauhan, the CEO of the National Stock Exchange of India notes that Sebi has certain apprehensions concerning the IPO of the NSE. He's urging investors to stay committed for the long term for market growth, both in the exchange itself and indeed in the NSE, which hopefully someday will manage to actually be listed on its own market.
If you're looking for some room or reading to understand better why exchanges are listed on their own markets, and much more, check out a copy of my most recent book "Victory or Death?" Blockchain, Cryptocurrency, and the FinTech World. It's published by DV Books and distributed by Ingram worldwide.
Don't forget also, while you're waiting for your copy of "Victory or Death?" to arrive, check out our LiveStream that's on Tuesday, 6pm London, 1 o'clock New York - the IPO video live show.
You can catch the back episodes on Linkedin and Youtube via "IPO-Vid". We're currently on summer break, but we'll have another repeat coming to you in the course of this week. Our next live show is September 12th with Rainer Zitelmann discussing "The Wealth Elite".
Speaking of a wealth elite that brings us very elegantly to our 'Finance Book Of The Week' this week.
This week we're looking at a fascinating paperback written by an Economic Hit Man himself John Perkins, "The Confessions of an Economic Hit Man" exposes international intrigue, corruption and little-known government and corporate activities that have dire consequences for American democracy around the world. It's a compelling story that also offers hope and a vision for realizing the American dream of a just and compassionate world that will bring us greater security.
Or as I prefer to put it in PLY speak: It's the equivalent of taking emerging nations and encouraging them to gorge at the "all you can eat" buffet of debt.
Product news this week CBOE is eyeing expansion into options trading in Canada.
Absolutely zeroshock move that investigation given that CBOE has a hefty footprint in Canadian cash equities through acquisition. Although albeit do we have shades of Austria which all deplatformed ex-Vienna in the options market to Frankfurt in one fell swoop? Certainly, the interoperability was CBOE would seem quite incredible. That said the idiot management at the time of Vienna installed DB1 technology at that point, and they were surprised when their market went to the much larger more liquid platform with way more offsets…
Speaking of Eurex, they're going to be launching daily options in the near future.
The LME is facing a new nickel competitor: 'The Marketplace Came To Us' trumpet Abaxx Technologies who are based in Singapore and just recently got their exchange license.
Qatar Stock Exchange is launching covered short selling and securities lending and borrowing.
Next month during September, we can look forward to the launch and relaunch of FEX Global Mysteel contracts in their futures and options marketplace.
Technology news, several interesting stories this week. First of all, hackers took out for at least a brief period of time the Polish Stock Exchange and various banks they were pro-Russians hacked, it was a group named NoName057(16)
KRX technology from the Korean Exchange is expected to be running on the Hồ Chí Minh Stock Exchange (HoSE) by the end of 2023. According to the acting chairman of the Ho Chi Minh Stock Exchange.
The International Stock Exchange (TISE) announced a great deal, they're partnering with Avenir to deliver next generation private market technology.
Avenir Technology was founded by Stuart Turner who completed a 9-year successful stint as a non-executive director of TISE at the close of the company's AGM on August the 8th 2023.
Elsewhere EDI and SimCorp are going to be partnering to offer ISO 15022 Corporate Actions Data. Well done Jonathan Bloch and team.
In career paths, biggest move, the transition being announced of CFO Sarah Youngwood will become EVP and CFO of NASDAQ effective December 1st She's going to succeed Ann Dennison, who has held the role since 2021, and is going to remain with NASDAQ until the end of the year to ensure an orderly transition.
Certainly given her extensive experience running a huge amount of accounting for UBS in the USA gives Youngwood a fairly stellar looking c.v.
Shock news this week, even though he was appointed to a one-year contract we didn't really anticipate that it was going to end after one year, Ramy El-Dokkany has been replaced as the chairman of the Egyptian Stock Exchange, the former vice chairman of the financial regulatory authority Ahmed El-Sheikh will be succeeding Ramy in the course of the near future.
Charles Schwab, they're going to be reducing headcount to say $500 million annually.
Hong Kong Exchanges announced some senior appointments in Information Technology. John Hsu joined as Group Chief Technology Officer and Richard Leung is being promoted to become Group Chief Information Officer replacing Trevor Spanner who departed some time ago.
Meanwhile, the spectacular salary news of the week was the fact that the XTX markets founder Alex Gerko, who launched the London-based proprietary trading and market-making business as recently as 2015, is now worth a cool £8.5bn following a bumper year for the business. In June it was reported that revenue from his UK business jumped by 68% to £2.5bn.
…and on that mysterious and magnificent note, ladies and gentlemen, my name is Patrick L. Young, creator of markets, marketplaces, exchanges, and market structure the world over and publisher of Exchange Invest, the exchange of information, the Daily Bulletin of the bourse business.
I wish you all a great week in life and markets.
LINKS:
H-Shares: Kick-Starting 30 Years Of Connectivity
HKEX
New 13-Member Hong Kong Task Force Set Up As Part Of Efforts To Boost Turnover Of Sluggish Stock Market
Hong Kong Should Cut Stamp Duty, Relax Listing Rules To Reinvigorate Sluggish Stock Market, Say Brokers
South China Morning Post
An Impactful First Year For The NYSE Institute
ICE
Moscow Exchange Announces Results For Q2 2023
MOEX
Indonesia Issues Rule On How To Run Its First Carbon Market
Reuters
Intercontinental Exchange And Black Knight Announce Entry Into Agreement Containing Consent Orders With FTC's Bureau Of Competition
ICE
Deutsche Börse Receives Final Regulatory Approval For Public Takeover Of SimCorp
DB1
Cboe CEO Says Firm Can Go After Deals In Open Jurisdictions
Yahoo Finance
Cboe CEO Edward Tilly Says Firm Is Open To M&A In Open Jurisdictions
Bloomberg
SEBI Has Certain Apprehensions, Says Ashishkumar Chauhan On NSE IPO
Moneycontrol
Emulating Rakesh Jhunjhunwala: NSE CEO Urges Investors To Stay Committed Long Term For Market Growth
Moneycontrol
Cboe Eyes Expansion Into Options Trading In Canada
The Globe and Mail
Eurex To Launch Daily Options
Eurex
LME Faces New Nickel Competitor: 'The Marketplace Came To Us'
Financial News London
Qatar Stock Exchanges Announces the Launch of Covered Short Selling and Securities Lending & Borrowing Activities
QSE
September Launch For FEX Global Mysteel (SEADEX) 62 lron Ore (AUD) – Futures And Options Contracts
FEX Global
Polish Stock Exchange, Banks Knocked Offline By Pro-Russian Hackers
Cybernews
KRX System Expected To Run HoSE At The End Of 2023
Vietnam News
TISE Partners With Avenir To Deliver Next-Generation Private Market
TISE
EDI And SimCorp Partner To Offer ISO 15022 Corporate Actions Data
Hedgeweek
Nasdaq Announces CFO Transition
Nasdaq
Egypt's PM Names Ahmed El Sheikh EGX New Chairman
Egypt Today
Charles Schwab To Reduce Headcount To Bring Down Costs
Reuters
Charles Schwab To Save $500 Million Annually With Job Cuts, Office Closures
Bloomberg
HKEX Announces Senior Appointments In Information Technology
HKEX
XTX Markets Billionaire Founder Almost Doubles His Wealth In A Year
City AM