208 Exchange Invest Weekly Podcast August 26th, 2023
Hong Kong Exchanges Profit Surge, Hong Kong Still Loves LME, A Naughty Parish Clone was on the loose, EEX Hits Antitrust, …and CBOE have Canadian Options On Their Mind
Transcript:
This week in the parish of bourses and market structure:
Hong Kong Exchanges Profit Surge,
Hong Kong Still Loves LME,
A Naughty Parish Clone was on the loose,
EEX Hits Antitrust,
…and CBOE have Canadian Options On Their Mind
My name is Patrick L. Young
Welcome to the Bourse Business Weekly Digest
It's the Exchange Invest Weekly Podcast Episode 208
Good day, ladies and gentlemen, this is a very brief reduction of highlights amongst the key headlines from the week in market structure. All the analysis of the many events and happenings from the past 7 days can be found in the Exchange Invest Daily subscriber newsletter, the unique guide to the bourse business sent daily to your inbox.
More details at ExchangeInvest.com
In Bitcarnage this week:
The ongoing slow train crash which is the ("4:FUD!" alert!) decline of the Binance empire continues. There's no sign of salvation / bounce rescue ahead but the management spun the 'we're' opting out of payments because of corporate stuff' just a week or so ago as reported in Exchange Invest 2738 / Bitcarnage: Masters Of The Obvious. Those Binance Connect their fiat / crypto payment system. Little did we know it was worse than we reported (AKA they had lost US Dollar, Euro, GBP, Australian Dollar payment rails).
It transpires Checkout.com Drops Binance Over Money Laundering, Compliance Concerns as well. "In a pair of letters, according to a report in TechCrunch, sent to Binance on August 9th and August 11th Checkout CEO Guillaume Pousaz has terminated the company's relationship with its world's largest customers citing "reports of regulators actions, and orders in relevant jurisdictions" and "inquiries from partners". Ouch! Of course, Binance being a new age karmic kind of enterprise with millennial attitudes, promptly opted to consider legal action. That I supposed could prove a tricky one given the courts like disclosure and Binance traditionally doesn't see "disclosure" as something it really always has to do? Well, at least that's how Malta appears to have spun their Binance experience and others have appeared to echo that story since as well…
Anyway, Binance said it was "only a flesh wound" AKA minimal transactions, whereas it would appear folk closer to Checkout reckoned it could be as much as $300-$400 million per month. Who knows in a world reeking of "4:FUD!" maybe that just is not so consequential to Binance?
Even today, way back when crypto was the next big thing, Checkout was processing $2 billion a month for Binance - helping propel the payments company boss Guillaume Pousaz into a bracket of comfortable wealth after he raised a billion dollars at a $40 billion valuation for his firm last year.
Yes, I know, I know when you look at the legacy parish on an equivalent basis: right now you could essentially own NASDAQ and CBOE for a similar amount of money (AKA $40 billion) and yes, indeed, I know where my cash would go!
Anyway, at the same time, Pousaz's firm a couple of months ago became the main payments partner for the FT (that's the Financial Times better known as the Brussels bugle) - that move into what is clearly a more credibly branded circle of business may have prompted the dumping of Binance.
If you enjoy this excerpt you may be interested to know that you can read Bitcarnage every day in Exchange Invest. Alternatively, if you want to follow Bitcarnage, the daily update on happenings in the world of crypto and digital assets, you can find Bitcarnage as a standalone on Substack.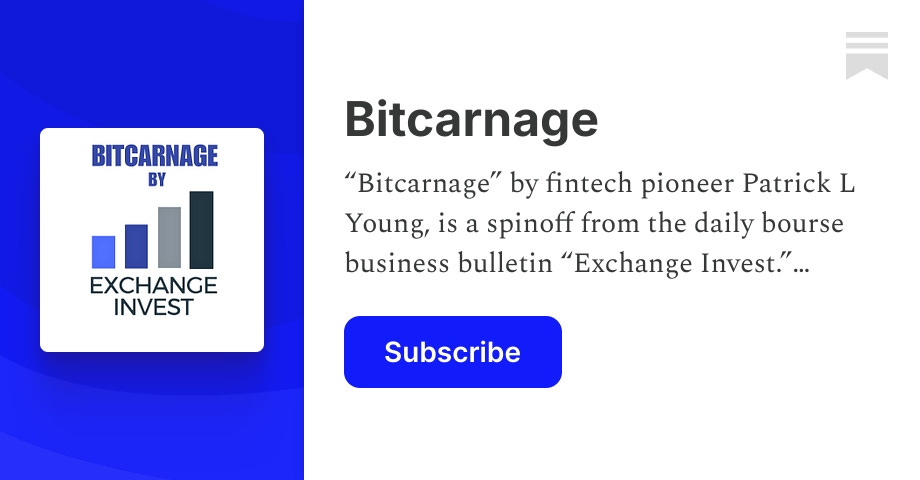 Hong Kong H-shares were marked with an official celebration passing the milestone which actually took place on the 15th of July because on the 15th of July 1993, 30 years ago Tsingtao Brewery listed on Hong Kong Exchanges and created the H-share story segment which has since seen 323 H-share listing (307 on the main board, 16 on GEM) raising Hong Kong $2.9 trillion, with a market capitalization of 5.9 trillion Hong Kong Dollars.
As chairman Laura Cha of HKEX notes: "I'm certain that, without H-shares, there would be no Connect. And I'm certain that, without H-shares, Hong Kong and the Mainland's journey over the last 30 years would look very, very different."
Can't say I can disagree with that whatsoever.
Meanwhile, Hong Kong Exchanges remain committed to the London Metals Exchange (LME), despite the fact that they've got all manner of fees weighing on them on the $600 million court claim over the Nickel nightmare, and indeed also worries that the LME case could redefine exchange powers to cancel trades, which is a risk overhanging all of the London exchanges as a result of the Nickel nightmare, and indeed the failings of the FCA with their oversight.
The New York Stock Exchange Institute reported an interesting and impactful first year for their overall operations. The NYSE Institute being one of the few organizations that actually goes so far as to champion free markets. It's such a pity the parish does not do enough of this actually beyond NYSE, NASDAQ and Hong Kong Exchanges, and dare I say it, Exchange Invest there are precious few bourses and bourse organizations truly pushing the message of the advantages of free open markets.
Congratulations to the Manila stock exchange, the Philippine Stock Exchange (PSE) Group, they've cut trade settlement times to 2 days. And at the same time, the PSE wants more firms to hold quarterly bulletins.
One weird story of the week NASDAQ US new energy exchange achieves dual breakthroughs in disrupting tradition, ensuring technological security, and diversifying investments, went the press release that was breathlessly reported in the Digital Journal.
However, I was actually shocked to find the website behind it, a brazen NASDAQ rip-off lurking online during the course of last weekend, blindly slipping press releases into the ether and playing off the NASDAQ connection right down to the bottom of the screen even showing copyright attributed to NASDAQ.
There were a heap of suspect issues here but nonetheless, it is a huge concern. This is a horrible scam, which NASDAQ has been working to closed down during the course of this week. It's an appalling thing to find the whole reasonable IP of a regulated exchange being effectively stolen by scammers.
This kind of despicable behavior is not unknown in the world of brokerage (especially the often dodgy leveraged FX, crypto and related spheres) however, this is the first occasion we've seen of a full blown ID theft of a major exchange brand by nefarious actors which has managed to actually get into the wild
Results this week, it was a busy week for results in the parish all the details were in Exchange Invest daily, the newsletter no person can afford to be without in capital markets and market structure. For the sake of this podcast let's look at some edited highlights.
Good numbers from Hong Kong, 6m Revenue And Other Income were +18% that gives us a 6m EBITDA +23%. Despite a mainland driven turned on as China's getting to grips with its post-COVID economy and the dislocation thereof, Hong Kong Exchanges nonetheless saw a hefty profit surge as investment income haircuts, were enabling them to see significant rises now the beast of the yield curve has arisen from Kowloon Bay.
ASX (Australian Stock Exchange) on the other hand Operating Revenue -1.2%, EBITDA -7.8% and frankly, just kind of disappointing in the first half of the year to June 2023, the 30th of June that is, but then on the other hand, the problem with the Australian Stock Exchange these days seems to be that disappointment was expected.
In deals, not such a frantic week for deals overall although everything was reported in Exchange Invest including a buyback by Compagnie Financiere Tradition of its own stock and other issues.
Two that will be highlight here, EDI and SimCorp are partnering to offer ISO 15022 corporate actions data.
Very good to see Jonathan Bloch, of course an IPO-Vid alumni in Episode 065, making another excellent move with SaaS (Software as a Service) SimCorp investment management solutions provider to deliver clients access to corporate actions data.
Same time, actually this amusing because the CEO Keith Todd of Trading Technologies was our guest in the next episode of IPO-Vid Episode 66 Trading Technologies is going to acquire Abel Noser Solutions.
Very interesting deal by Keith Todd here, it helps morph TT into a more cash equity market element with Abel Noser being one of those segmental monopolists that nobody has heard of until they're deeply entrenched in the cash share world.
Meanwhile, if you're looking for some reading, whether it's summer going into autumn or even going spring into summer, wherever you are, or indeed you're at the end of summer. Whatever the season, I recommend "Victory or Death?" Blockchain, Cryptocurrency, and the FinTech World an easy read explaining the differing and diverging roles of banks and exchanges, explaining the winning business models of the new world order and placing in perspective just what Bitcoin, Blockchain and Cryptocurrency means for markets. "Victory or Death?" is published by DV Books and is distributed by Ingram worldwide.
Meanwhile, don't forget to check out our LiveStreams. We're still broadcasting on a Tuesday on Facebook, Linkedin, and Youtube Tuesday 6pm, London time, 1 o'clock New York time running repeats across the course of summer some of them are absolutely epic and not to be missed under any circumstances.
Our next live show is going to be on September 12th after Labor Day with Rainer Zitelmann, he's going to be joining us once again this time to talk about "The Wealth Elite".
Speaking of the wealth elite, one of the best books I can think of and thus, this week's 'Finance Book of the Week' is "Investment Biker: On the Road with Jim Rogers". It's a fascinating story of the legendary investor Jim Rogers's global motorcycle journey and investing trip with some hard-headed advice on the current state and future direction of international economies that will guide and inspire investors in foreign markets.
Jim is always fascinating and inspiring and I must say it's been a joy to, in the past, speak on conference builds alongside him. Very, very interesting guy. This journey was absolutely epic and makes for a fantastic read.
Our next book of the week will be unveiled on Saturday in the Exchange Invest Weekend Edition, which is, by the way, entirely free to read. You can sign up for it at ExchangeInvest.com. Don't forget of course if you want all the news on the bourse business sent daily to your inbox, subscribe to Exchange Invest via ExchangeInvest.com as well, it's only $349 per annum to join the exchange of information.
Product news this week, Egypt is set to launch sugar trading on its commodity exchange joining the two existing contracts there, yellow corn and wheat, making sugar the third at the new Egyptian Commodities Exchange.
Meanwhile, CME Group has realigned the foreign exchange businesses expanding and reorganizing, making efficiencies they say for clients across futures, cash and OTC Markets. Putting all one platform together bringing derivatives onto the same platform line as the EBS system.
Technology news, ASIC has acknowledged the ASX's release of the CHESS Replacement Program External Review Report. Links to the ASX report of course have been hotly clicked across the world. Although it does feel as if ASX is working assiduously to bore everybody to death with endless reports without anybody being held responsible for the CHESS replacement non-DAH installation fiasco
Over in career path and people news, we talked about the CME reorganization of its FX group just a few minutes ago, and of course that was centered around the fact that suddenly Jeff Ward was resigning as Global Head of EBS leaving CME Group in September with Paul Houston elevated to Global Head of FX products role.
Now, it transpires or at least it transpired a day or two later in Exchange Invest the CME Group's Jeff Ward, the head of EBS, is taking over as the FXSpotStream CEO, dovetailing with his departure from the CME Group in September.
Other job news Mark Carney, the former Bank of England chief will be the new chairman of Bloomberg, thus surely handing Reuters an editorial independence advantage? Bloomberg indeed is fast becoming two entities: a fabulous vendor and a distinctly partisan news company.
We've been continuing the theme throughout the course of August to discuss and make for upbeat news. This is slightly out of date, it's about 225 days by the time we publish here, but August 18th was the 230th of the day of 2023. That means in 75 days time, about 70 days time by the time this podcast goes live, you need to be prepared for what may be the ultimate market phenomenon of 2023. In fact, you probably need to be fully prepared by the weekend before, as that's likely to be the peak partying point (barely 70 days away) in fact, 65 days away by the time we now publish this as a skim from BigWorld in our newsletter during the week.
Clearly how much candy you have pre-packed as an issue for "Trick or Treaters" but when it comes to Hallowe'en 2023 it's a dress to impress affair from childhood to those adults who usually end the night regressing more than the kids. Let's face it, party outfits this year are - at best - a binary choice and frankly, how many folks want to dress up as Oppenheimer and channel the Cillian Murphy lothario vibe?
Well, maybe more than apparently might be first thought I suppose…but let's face it, pretty much everybody born female or identifying as female is going Barbie this year for Halloween while a huge number of blokes are going to think it profoundly amusing to do the cinematic pink Ken look.
That means we're looking at what amounts to an incredible bubble this September / October dear listeners: in pink!
So consider this your last warning lest you want to channel your inner Barbie / Ken or even worse you have pre-teen daughters, who want to do so, in which case this year's subscription to Exchange Invest itself was surely covered by ensuring five days ago that you had an early access opportunity to go long pink, because let's face it, who wants a 'no pink' tantrum as your 8-year-old tries to break into the family gun cabinet have come October twenty-something and so if you don't want to risk going the same way as the Menendez brothers' hapless parents (albeit with a few sparkles) you need pink planning right now!
And remember, Exchange Invest subscribers got a 5 day lead on you in this one.
Shipping cycles being what they are, you're probably at the last moment to raid Alibaba / AliExpress to ensure shipping from overseas (AKA China, which seems to be the world's epicentral producer of pink - presumably they cornered the market with exclusive pink mining rights and enclaves across Africa). Meanwhile, for those who like living dangerously in logistic terms (or Amazon Prime members as they're termed in many jurisdictions) that platform will feed clickbait stories to the tabloids through November with tales of scams / woe and non delivery when their His'n'Her gingham dress and matching Ken epaulettes didn't appear, ruining entire first world lives.
So in keeping with upbeat August in BigWorld: order your pink bits now for Hallowe'en…and whether you're going to be at a party or not end of October remember to wear sunglasses when outside even during the hours of darkness when near key nightlife districts to reduce the risk of dazzled Hallowe'en pink eye.
...and on that mysterious and magnificent note ladies and gentlemen, my name is Patrick L. Young creator of markets the world over, builder of exchanges, fascinated by marketplace, and an advocate for the exchange and bourse business in every possible respect.
I wish you all a great week in blockchain, life, and markets and of course, you can catch us daily at ExchangeInvest.com
Links:
H-Shares: Kick-Starting 30 Years Of Connectivity
HKEX
HKEX Remains Committed To LME - CEO
Reuters
Legal And Consultancy Fees Weigh On London Metal Exchange Amid $600m In Court Claims
Financial News London
An Impactful First Year For The NYSE Institute
ICE
PSE Cuts Stock Trade Settlement To 2 Days
Manila Bulletin
PSE Wants More Listed Firms To Hold Quarterly Briefings
Manila Bulletin
Nasdaqus New Energy Exchange Achieves Dual Breakthroughs In Disrupting Tradition, Ensuring Technological Security, And Diversifying Investments
Digital Journal
2023 Interim Results,Interim Dividend And Closure Of Register Of Members
Condensed Consolidated Financial Statements For 6m Ended 30 June 2023
HKEX
ASX Limited Full-Year Results To 30 June 2023 (FY23)
EDI And SimCorp Partner To Offer ISO 15022 Corporate Actions Data
Hedgeweek
Trading Technologies To Acquire Abel Noser Solutions
Trading Technologies
Egypt Set To Launch Sugar Trading On Commodities Exchange
Arab News
CME Group Realigns Foreign Exchange Businesses, Expanding Trading Opportunities And Efficiencies For Clients Across Futures, Cash And OTC Markets
CME
ASIC Acknowledges ASX's Release Of The CHESS Program External Review Special Report And Audit Report
ASIC
CME Group's Jeff Ward To Take Over As FXSpotStream's CEO
Finance Magnates