207 Exchange Invest Weekly Podcast August 19th, 2023
While legacy thrives, crypto dives, Adena buys her own stock, SBF is jailed while resorting to pleading for his medicine.
Transcript:
This week in the parish of bourses and market structure:
While legacy thrives, crypto dives.
Adena buys her own stock,
SBF is jailed while resorting to pleading for his medicine.
My name is Patrick L Young
Welcome to the bourse business weekly digest
It's the Exchange Invest Weekly Podcast Episode 207
Good day, ladies and gentlemen, this is a very brief reduction of highlights amongst the key headlines from the week in market structure. All the analysis of the many events and happenings from the past 7 days can be found in the Exchange Invest Daily subscriber newsletter, the unique guide to the bourse business sent daily to your inbox.
More details at ExchangeInvest.com
We had fun this week in parish notes in Exchange Invest Daily with a summer floor mythbuster we noted the mass media was reporting on Robert Downey Jr, dismissing the NYSE floor where it was, in fact, a case of his visiting a very different floor in 1992 namely, the NYMEX. A documentary where we happily provided another Mythbuster the broader media just cannot manage - thus the Exchange Invest advantage if you're serious about market structure, you need to be a member of "the Exchange of Information". Subscribe today at ExchangeInvest.com for only $349 per user per year, and we're giving away a 30-day free trial for new users.
Meanwhile, over in Bitcarnage Sam Bankman-Fried or Sam Bankman in jail.
Fresh from a discussion where "Only The Lawyers Win," that theory certainly was put to the test this weekend. The thesis looks to still be upstanding in the world of crypto the lawyers are definitely the only people winning. Nonetheless last Friday, we had a fairly Titanic day in the New York courts as US District Judge Lewis Kaplan sided with the ongoing exasperation of the prosecution where Sam Bankman-Fried had, it seems, ignored pretty much any tenet of his bail terms including VPN abuses, showing documents in private to New York Times journalists (why is it always the New York Times incidentally? Why do they so blindly love interacting with Sam?)
In the face of leaks of Caroline Ellison's private diaries (further grist to my thesis that the crypto bro V1.0 thing is sublimely sexist) even more so Dotcom 20 odd years ago.
SBF exited through the 'straight to jail' door from the court as the hearing concluded. That SBF is now in the horrible MDC Brooklyn where Jeffrey Epstein died (people are arguing that there's even money if not odds on: crypto media is going to be full of SBF to be killed by Democrat authorities conspiracy theory stories by the time we get to the next podcast, I suspect). It's also a jail where of course the likes of Ghislaine Maxwell and Martin Shkreli have in the past languished. Although admittedly as we're recording this podcast, apparently moves are afoot to try and move SBF upstate so that he can get some Wi-Fi and therefore work on his defense in his limited Fisher Price activity center laptop not that Fisher Price activity center laptop didn't manage to stop him trying to get onto your VPN just during the course of his brief as it now seems and prospective period of freedom beside the swimming pool at his parents Californian et al.
SBF's defensce claimed his incarceration by breaking his bail was based upon "innuendo, speculation, and scant facts", which I think is a quotation taken directly from about 50 recent White House Press briefings - but enough of the Biden family.
Meanwhile, SBF's law firm were soon complaining that the one time boy wonder if crypto needs a significant quantity of medicine for his various depression and ADHD disorders…
If you enjoy this excerpt, you may be interested to know that you can read Bitcarnage every day in Exchange Invest. Alternatively, if you want to follow Bitcarnage outright the daily update on happenings in the world of crypto and digital asset market structure, you can find Bitcarnage as a standalone on Substack.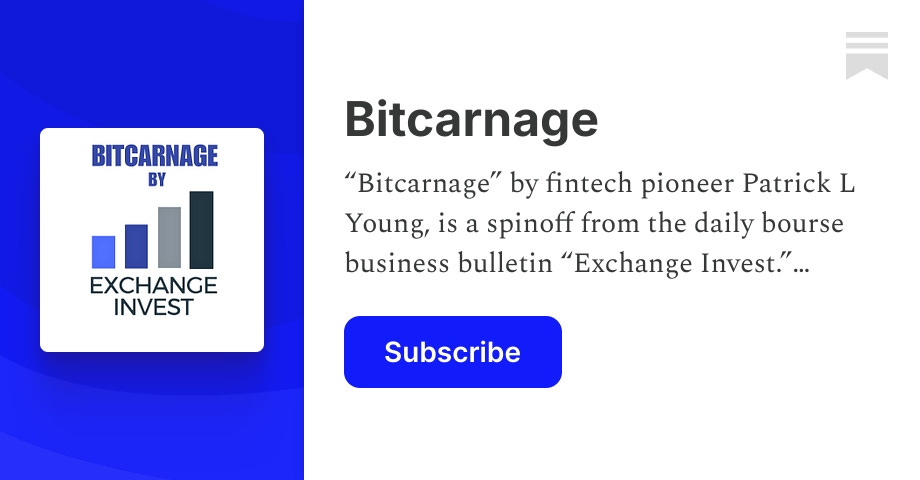 In Exchange news this week, great to see some signs of an IPO awakening in the USA, the haven of capital throughout the world, NYSE and NASDAQ are apparently battling for a clutch of new listings.
Meanwhile, Chinese bourses are improving their trading mechanism to try and revive the stock market at a point in time when it looks as if China might even be suffering deflation, as the rest of the world suffers from ravaging inflation.
Meanwhile, there's controversy in South Korea, bourses ought to have their HQ in Busan alone goes a local political mantra, it seems and that's impacting the alternative stock exchange, that's actually the alternative trading system that's recently been licensed and it seems is being pushed towards having a Busan headquarters next to the Korean exchanges themselves.
Still in Southeast Asia, President Tsai Ing-wen (蔡英文) promoted financial policies at the Taiwan Stock Exchange forum. Very very welcome news indeed.
We applaud the visit of the President of Taiwan to the TWSE, such political support for market structure is always welcome as markets seek to build a better future for all stakeholders in society.
Over in Kenya, a lot of controversy there, the Nairobi Coffee Exchange actually finally managed to resume trading. There was a lot of stress about what was going to go on. In the meantime Co-Op bank have won the deal to handle the payment of billions for the settlement processes in the new direct settlement system for the Nairobi Coffee Exchange option system.
In results this week, BSE reported a 71% surge in profits in Q1. Nothing spectacular in terms of actual underlying business being improved. It would seem that the new CEO carrying out his threat to curtail willy nilly payment of derivatives incentives for market makers has actually resulted in a palpable improvement in the Bombay Stock Exchange Group's bottom line.
Elsewhere in results, it was absolutely frantic week results this week. We can't possibly cover all of them in this podcast. They were dissected within Exchange Invest Daily.
BYMA announced their results for the second quarter 2023. Spectacular on the headline Income +180%, Net Income +359%, EBITDA margin 71%. Unfortunately there is the fact that this is Argentina.
The economic background is "Argentina has one of the highest inflation rates in the world, with the annual reading near 116%, which hammers earning power, has forced the government to hike the interest rate to 97% and seen it burn through dollars to protect the peso." - Reuters.
So overall good results but being a Peso earner remains a troublesome issue as it has pretty much ever since those much glamorized Peronistas pushed the button on the most spectacular annoying downturn, which dates all the way back to the aftermath of World War II when Buenos Aires was capital of the world's sixth largest economy, albeit only briefly.
New markets this week, interesting to see that the kingdom of Cambodia are going to be cooperating with regulators in Laos to develop the capital market.
In deals news this week, not so busy, was the middle of summer but two very very crisp and chunky stories. NASDAQ CEO Adena Friedman has been buying up the sliding NASDAQ Stock. She paid $510,000 on July 31 for 10,000 NASDAQ shares, at an average price of $51 each. She now owns 1,672,318 million NASDAQ shares in her personal account and 147,000 shares through trusts".
That's a great move, Adena puts her money right where her mouth is and buys NASDAQ stock when the market has written it down because our current exchange investor cadre contains far too many risk averse visionless, dividend suckers. The Adena behavior is great for markets - and one of (alas) a handful of times when C suite have been buying their own stock (as opposed to exercising options) during the 10 year history of Exchange Invest. It's an excellent move to provoke a pause for thought.
Meanwhile, if we can add some risk oriented investors to participate in the exchange field, it would be an enormous boon to the parish overall, as right now they're not readily apparent.
One other deal this week, MSCI have announced the acquisition totality of Burgiss extending their private assets portfolio of data. MSCI announced a tentative definitive agreement to acquire the remaining 66% of Burgiss it did not own for $697 million in cash that makes a total investment of $913 million for 100% of the company.
If you're looking to try and get to grips with how the world of exchanges is developing, how markets are applying blockchain, cryptocurrency, and indeed how the FinTech world is growing then you want to consider my most recent book "Victory or Death?" Blockchain, Cryptocurrency, and the FinTech World it's an easy read. It's published by DV Books and is distributed by Ingram worldwide.
Meanwhile, while you're waiting for your copy of "Victory or Death?" you arrived, check out our LiveStreams Tuesday 6pm London, 1 o'clock New York time it's the IPO video live show. Catch the back episodes on Linkedin and Youtube via "IPO-Vid". We're currently on a summer break, but we're still showing some highlights and repeats from the course of the summer season.
Our next live show is going to be after Labor Day September 12th IPO-Vid 116 Rainer Zitelmann coming back to talk about "The Wealth Elite".
Speaking of the wealth elite that actually brings us elegantly to our "Book of The Week" Adam Smith "The Money Game."
Adam Smith was, of course, actually a pseudonym for George Goodman who wrote this 1969 bestseller that's as relevant today as it was then. Great quotations throughout very pithy reading.
"If you don't know who you are, the stock market is an expensive place to find out" - George Goodman.
Product news this week, Hong Kong Exchanges are eyeing options contracts on the MSCI A-shares index. That's very welcome news indeed and a logical position for HKEX to be expanding into.
Korea is expediting the creation of the world's first hydrogen power tender market.
That also leads us to ponder this week in Exchange Invest, why don't we see more markets and not just hydrogen but also helium?
Elsewhere, China according to the Brussels Bugle, Financial Times is pushing to dominate trading in clean energy markets.
Technology news this week, there were a couple of whoops nasties, the LME required some people to resubmit some trade orders after a systems issue.
The Bank of England had a real time gross settlement outage that had key payment systems for a couple of hours.
And then there's one piece of deal news in technology, ION have seen the acquisition of Italy's Prelios from Davidson Kempner, the PE firm in an estimated $1.5 billion deal. That's the first major deal for Ion of course since their hacking fiasco earlier this year.
Regulation news on the Chinese mainland, Hong Kong securities regulators and the Chinese mainland authorities have reached a consensus on block trading.
The SEC of Pakistan have imposed what seem to be rather swingy if not outright stupid term restrictions on the directors and CEOs and C-suite of capital market infrastructure institutions.
Their imposing of term restrictions across the C-suite strikes me as simply idiotic.
Canada have updated the industry on the move towards trade matching deadlines. That's the move from T+2 to T+1 which is expected to take place with T+1 trading happening for the first time on May 28th 2024.
The DTCC have announced that they are testing systems already with a view to implementing US T+1 trading at around the same time.
Sebi have made a great leap forward, there have halved the listing time for new stocks and bonds to 3 days.
In career paths this week, N.Khoroshevskaya has been elected chairperson of the Management Board of KASE clearing center JSC.
Equally the Ghana Stock Exchange have appointed Frank Yoofi Mensa Berle as the Deputy Managing Director of the exchange effective from the July 11th
CBOE Global Markets appointed Mandy Xu as the Vice President and head of Derivatives Market Intelligence.
Irfan Hussain is gonna be joining the LSEG as Chief Information Officer. That means that ODD has inserted the fellow Goldman alumni into the role of CIO as Tony McCarthy is now slated to retire in early 2024. Looks like a continuation of the political retaking of control (in a manner of speaking) after the departure of Andrea Remyn Stone last year. Out of his Depth Dave has taken back control (in a manner of speaking across his technology and data division) but can he execute to make LSEG great again?
And that leaves us in the midst of BigWorld where we had a fun fact this week discern from spending far too much time watching C Span hearings in Congress. Apparently, the US Army spends $41.6 million annually on viagra.
Nope, we have no idea either.
…and on that mysterious and magnificent note ladies and gentlemen, my name is Patrick L. Young creator of marketplaces the world over, publisher and founder of Exchange Invest "the Exchange of Information" the watercooler at the bourse business.
I wish you all a great week in life and markets.
Links:

NYSE, Nasdaq Battle For New Listings in Sign Of IPO Awakening
WSJ
Chinese Bourses Improve Trading Mechanism To Revive Stock Market
Reuters
Controversy Arises Over Location Of Alternative Stock Exchange
The Korea Times
President Tsai Ing-Wen Promotes Financial Policies At TWSE Forum
RTI Radio Taiwan International
Co-Op Bank Wins Deal To Handle Payment Of Billions For Nairobi Coffee Exchange
Bizna Kenya
Co-Op Bank Named Provider Of The New Direct Settlement System
YouTube
Stock Exchange BSE Reports 71% Surge In Profit To Rs 75 Crore In Q1
Business Standard
BYMA Announces Results For 2Q23
BYMA
Kingdom, Laos Regulators To Develop Capital Market
Phnom Penh Post
Nasdaq CEO Adena Friedman Bought Up The Sliding Stock
Barron's
MSCI Announces Acquisition Of Burgiss, Expanding Private Assets Leadership And Strengthening Multi-Asset Class Offering
Business Wire
HKEX Eyes Options Contracts On MSCI A-Shares Index
Risk.net
Korea Expediting Creation Of World's First Hydrogen Power Tender Market
Businesskorea
China Pushes To Dominate Trading In Clean Energy Metals
FT
LME Members To Resubmit Some Trades After Systems Issue
Global Investor Group
Bank Of England Outage Hits Key Payments Systems Processing Billions
City AM
ION Seals Acquisition Of Italy's Prelios From Davidson Kempner In Estimated $1.5b Deal
Nasdaq
Chinese Mainland, HK Securities Regulators Reach Consensus On Block Trading
Xinhua
Curbing Extended Tenure: SECP Imposes Term Restrictions On CMIIs CEOs, Directors
The News International
CSA Updates Industry On Institutional Trade Matching Deadline
CSA
Sebi Halves Listing Time To Three Days
Mint
N. Khoroshevskaya Elected As Chairperson Of The Management Board Of KASE Clearing Center JSC
KASE
GSE Appoints Frank Berle Deputy Managing Director
Graphic Online
Cboe Global Markets Appoints Mandy Xu As Vice President And Head Of Derivatives Market Intelligence
PR Newswire