205 Exchange Invest Weekly Podcast August 5th, 2023
ASX Under Pressure To Further Manage Its Conflict Of Interests, Nigeria Says Absolutely No To Binance, MCX Maintains Profitability Despite Re-enriching Jignesh Shah's 63 Moons, TCS Failed To Deliver The Replacement System - So Far, Our big story of the week: The Failed Promise.
Transcript:
This week in the parish of bourses and market structure:
ASX Under Pressure To Further Manage Its Conflict Of Interests
Nigeria Says Absolutely No To Binance
MCX Maintains Profitability Despite Re-enriching Jignesh Shah's 63 Moons In The Interim While TCS Failed To Deliver The Replacement System - So Far.
And then there was our big story of the week: The Failed Promise
My name is Patrick L Young
Welcome to the bourse business weekly digest
It's the Exchange Invest Weekly Podcast Episode 205
Good day, ladies and gentlemen, this is a very brief reduction of highlights amongst the key headlines from the week in market structure. All the analysis of the many events and happenings from the past 7 days can be found in Exchange Invest daily subscriber newsletter, the unique guide to the bourse business sent daily to your inbox.
More details at ExchangeInvest.com As well as leading on the topic of the broken promise of crypto and its failure to meld institutional interest - of that more in a moment- we included a thought provoking comment this week in Exchange Invest Daily on the parish impact of the British Coutts scandal - a case of a Private Bank creating for itself a very, very Public Meltdown.
Andrew Griffiths, Economic Secretary to the Treasury in the UK Government noted:
"I hope the whole financial sector learns from this incident. Its role is to serve customers well and fairly - not to tell them how or what to think."
And with various C-suite casualties already across the NatWest group and the discredited Chairman hanging on ignominiously…only Exchange Invest analyzed the potential impact on the parish of exchanges.
That's all part of the Exchange Invest advantage and you could enhance your bottom line with a subscription starting at just $349 per user per year for you and your colleagues. How can you afford not to be part of the Exchange of Information?
More details including a free month for new subscribers at ExchangeInvest.com
And that brings us elegantly to Bitcarnage. First of all, there was fun stuff over on the Bitcarnage side of the ledger. Having been told they were corporate persona non grata by the Nigerian SEC in June Binance issued a hugely valedictory "4:FUD!" proclaiming they had nothing to do with Binance Nigeria Limited…Only for the Nigerian regulator to revert, albeit a few weeks later, noting that in its eyes all Binance entities are illegal in Nigeria.
However, that was just one of the many entrees and Bitcarnage this week, our big stories one and all our biggest story of them all - something which is quite remarkable given we had a massive override of the confusing if not outright, self contradictory ripple judgement by a more financially experienced judge. However, the biggest story of the week, nonetheless was:
"The Failed Promise of Unregulated Crypto" our lead story in both Exchange Invest Daily and Bitcarnage on Wednesday, August 2nd as ICE's Chief Development Officer Chris Edmonds lanced the fallacy that there's an institutional crypto wave coming soon - spoiler alert (as if we need to remind you?) it isn't happening until crypto version 1.0 gives way to something a lot less sleazy and with the regulation aforethought.
You can read The Failed Promise Of Unregulated Crypto free on our website ExchangeInvest.com.
The analysis is as simple as it is withering, "Four years ago, ICE created a fully regulated physically-delivered crypto futures market, with institutional-grade custody provided by ICE's then-subsidiary, Bakkt."
For those who adhere to that old mantra, "build it and they will come" you would have been sorely disappointed…
Therein lies a huge problem for crypto and those who think somehow crypto V1.0, can move on to crypto 2.0 with a lot of soul searching (and innumerable further insolvencies) not to mention a fair bit of time spent probably in mom's basement reprogramming, a much better crypto thingy.
Accompanying this article by Chris Edmonds, I added some thoughts on my own, which can be shared freely on LinkedIn and Medium noting how we have a self-interested battalion of crypto advocates on various institutional payrolls. but that's a very, very different thing to institutions truly embracing crypto markets…
If you enjoyed this excerpt, in particular about the "Failed Promise Of Unregulated Crypto" you may be interested to know that you can read Bitcarnage everyday in Exchange Invest. Alternatively, if you want to follow Bitcarnage, the daily update on happenings in the world of crypto and digital assets and market structure, then you can find Bitcarnage as a standalone on Substack.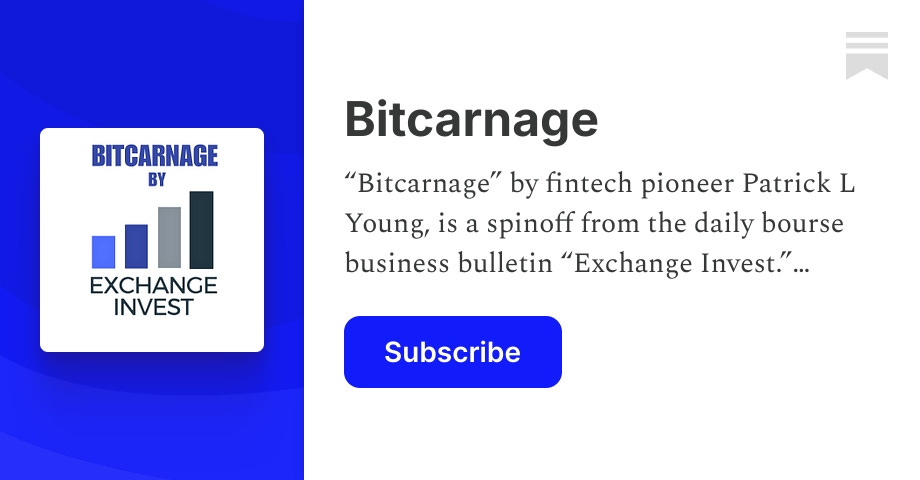 In the major big world of exchanges this week, the ASX released an intra-group conflict management report by an external expert. Gosh, it all sounds like a UN peacekeeping device, doesn't it? The ASX was told to bolster its policies to avoid conflicts of interest over CHESS. That's how the Australian Financial Review tartly headlined the story.
Self-styled as a technology company - with a paucity of clear evidence some might say ASX is in really a portfolio of monopoly conflicts of interest which are - finally! - in the crosshairs of various oversight bodies…
Not a surprising move but nonetheless worthy of a headline, the Hong Kong Exchanges (HKEX) Group has axed the need to flag China risk in IPO applications for listing on the Hong Kong Exchanges Group, which is of course in the special administrative region of China, namely Hong Kong.
BlackRock, MSCI drew scrutiny from the US House Committee on China this week, an interesting move altogether.
Matt Levine examined the curious case in Bloomberg in great detail how the US political classes are now pursuing BlackRock and more significantly for the parish, index provider MSCI for having the temerity to invest in or create indices respectively, which invest in Chinese stocks thus clearly upsetting the US body politic which remains, it seems one of the world's most parochial legislatures, (unless there's an ethnic vote to be bought/earned/garnered).
Over in Iran, things aren't too good for markets, things weren't too good for the overall interest structure of the country as has been the case throughout COVID indeed, as well sadly. Iran declared a nationwide two-day public holiday due to health risks from an "unprecedented" heat wave. Public and private-sector offices as well as banks and the stock exchange were shut on August 2-3.
In results, it was a frantic week for results in the parish, all the details were in Exchange Invest Daily and indeed the studio back and before we could get the Intercontinental Exchange results so we'll have those next week. Nevertheless, you can get all the details on all of the results the day after they are published with a little added pith in Exchange Invest Daily - the newsletter no person can afford to be without in capital markets and market structure. For the sake of this podcast let's look at some edited highlights.
CME Group had a great quarter altogether, operating income for Q2 +11.86%, net income +17.37% and it just exemplified one thing. If you own a central counterparty clearing house and interest rates go up, you're in a very very healthy spot. Nonetheless, that didn't stop quite a few analysts having a bit of a gripe on the results call to Chairman Terry Duffy and other members of the management.
Over in new markets, China is pushing power exchanges to prepare for the 2025 national market in electricity. The National Energy Administration has asked two national power exchanges in Beijing and Guangzhou to finalize trading rules by June 2024.
Bangladesh's commodity exchange will launch soon.
Ogun which is a region of Nigeria is planning a commodity exchange to boost agro-allied investments.
In deals, not such a busy week this week, nonetheless, all the details were of course in Exchange Invest Daily - the newsletter no person can afford to be without in capital markets and market structure.
One big story will highlight here, Deutsche Börse, they extended their SimCorp offer for a second time in a month awaiting EU regulators who are, of course, on the golf course I mean on holiday during the course of August and therefore working more slowly. Quite all that actually DB1 didn't factor that in as they've been victims of the summertime pulses of the European Union's anti-trust folks in previous years with various mergers that they didn't get over the line such as the London Stock Exchange twice.
Anyway, it's the second day in a month, July 10th we reported in Exchange Invest 2705 that that was going to be pushed back because of various regulatory permissions at that stage. Apparently, this is the last delay of all, as opposed to the previous one, which was the previous last delay of all, and that will now push the agenda back to September 29th, as the European Union is on the beach in August, so no authority can be given in the next month.
If you're trying to get to grips with what goes on in the world of exchanges, what goes on the world of FinTech and indeed, how this whole new wonderful amazing incredible world of Bitcoin, cryptocurrency and indeed all aspects of FinTech are meshing together in our brave new world of finance and financial markets whether you're a retail investor or an institutional player, you ought to be considering a copy for the beach this summer of my latest book "Victory or Death?" - Blockchain, Cryptocurrency, and The FinTech World. It's published by DV Books and is distributed by Ingram worldwide.
Don't forget also, we're running a summer season of repeats of our IPO-Vid Live Streams. While you're waiting for your copy of "Victor or Death?" to to arrive, you can check out our LiveStream on Tuesdays at 6 o'clock London, 1 o'clock New York time, or alternatively, you've got the opportunity to go and of course, go through our copious archive, you can search it on Facebook, LinkedIn, and YouTube via IPO-Vid.
Our next live show is going to be after Labor Day, September 12th. We'll be back for IPO-Vid #116 or returning guest, the brilliant Rainer Zitelmann on "The Wealth Elite", of course Rainer is a best selling author.
And that brings us elegantly to our "Finance Book of the Week. What better topic actually for this week during summer than something that's a paperback and an epic read Michael Lewis "Flash Boys". It features of course our IPO-Vid guest from Episode 011 one of the "Flash Boys" himself Ronan Ryan "Flash Boys: A Wall Street Revolt" is a game changing bestseller from the Michael Lewis cadra, a small group of Wall Street iconoclasts realizes that the US stock market has been rigged for the benefit of insiders. They band together - some of them walking away from seven-figure salaries - to investigate, expose and reform the insidious new ways that Wall Street generates profits. If you have any contact with the market, even a retirement account, this story is happening to you.
Links in the notes to this podcast ladies and gentlemen and also in our weekend newsletter, which of course, you can get free via ExchangeInvest.com. If you would like to pick up a copy of "Flash Boys".
Product news this week, the Tokyo Stock Exchange is going to end its $360 minimum buy requirement. The concept is that they're seeking small investors removing that guidance over a 50,000 yen trade (which amounts to effectively $356). Nonetheless, I'm not too convinced that this is really all about retail. Surely the whole point of lower bargain size trends over the course of the last 20 years has been that driver was actually not retail, but high frequency trading.
Then there was also the FSB, which produced some final reflections on the LIBOR transition. Given the pushback from IOSCO and FCA amongst others on credit-sensitive rates in recent times, I'm minded to wonder whether the final reflection ought not to be: "What was the point of LIBOR transition?". Other than to keep certain elements of the blob and consulting classes busy.
Technology news this week, one major story, JSE and vendor big xyt, they're partnering on a new joint venture which will deliver data analytics solutions to global exchanges and their ecosystems. Now not really sure what that meant either - it was a rather opaque release, long on hype, short on use cases but I suppose it does sound promising.
Over in regulation news, global securities watchdog (that would be, IOSCO) has backed a new company climate disclosures regime.
Clear global rules are good, but not at the expense of just too much info to report. The haste with the green rules of the past few years, is I fear, an issue going forward and discouraging the use of public markets and thus foolish diversion where too many wish to grandstand the green credentials, but we end up risking a mass greenwashed audit blob of bureaucracy for no firm benefit.
The Chinese watchdog regulator is taking a rather unprecedented step. They're asking brokers for advice on boosting stocks. Now there's an interesting poacher-turned-gamekeeper kind of question.
Sebon (Securities Exchange Board of Nepal) is planning to revise the laws necessary to allow non-resident Nepalese to invest in the country's secondary market.
One fascinating story in career path this week, Senator Kelly Loeffler, who of course was unfortunately unable to retain her seat at the last American presidential election when her Senate seat was up for election. She's been appointed to the PublicSq Board of Directors.
I'm really really delighted to see Kelly Loeffler's prodigious talents being deployed on the board of PublicSq, a marketplace that includes a specialization against politically correct trading and it's listed on the New York Stock Exchange earlier this month.
Indeed, research into Public Square led to a fascinating segue through Instagram where I note the company sells a diverse portfolio of goods including for instance, concealed carry fashion for ladies, which I suppose answers my long-standing wonder on just how Barbara Boxer could always look so svelte in the Senate while packing her concealed weapon all those years ago.
One other story in career paths worth considering is the Belgrade bourse CEO Sinisa Krneta has resigned from the position of CEO. No further reasons are given there.
An email that brings us back to, well, social media land - where we've been adding a pink hue thanks to Barbiemania over the course of the past week, I hope you saw our various posts including the one that proved that there was a Barbie effect in the stock market of some sort. Gosh, in social media land it's been weeks (a generation or three that isn't social media term) since Mark Zuckerberg's Meta-book or whatever it's called these days (running Facebook where fraudsters can run amok stealing folks ID without a concern from Zuckerberg's management team it seems) launched Threads, a Twitter clone which is close to everybody in the EU anyway which rather seems to make it somewhat moronic in many respects in terms of customer reach. And indeed it's already managed to haemorrhage half its user base apparently from the early weeks when everybody said it was going to be some kind of really important thing which I could just never see the point to.
Anyway, last month's future perfect 'new new' thing already looks like a dead thing by the end of the year. Part of that is because X - formerly Twitter is a sucky business model to follow. It's bad for targeting ads and much else besides.
Therefore, ignore the many obituaries of X stating Elon Musk is a dweeb. The reality is he's gonna kill legacy Twitter by endeavoring to morph it into some replica of WeChat…AKA precisely the kind of digital money/networking innovation which could really radically revamp e-commerce for a generation across the Western world.
Or to put it in a historical perspective, years back, some young guy had a company called X.com, which he rebranded as PayPal.com in 2001, and then sold eBay for $1.5 billion in 2002.
Do you remember that guy? His name was Elon Musk.
Twitter becoming X is unfinished business where PayPal has atrophied into a relatively sluggish / pricey halfway house between slow old-fi and new new fi. X really could be finance for the future.
…and on that mysterious and magnificent note, ladies and gentlemen, my name is Patrick L. Young, creator of marketplaces the world over, principal and publisher of Exchange Invest, the Exchange of Information. Sign up via ExchangeInvest.com whether you want our free weekend or to subscribe and get the insider track on what's going on in the bourse business.
I wish you all a wonderful August, nonetheless, although it's holiday time, we will be back the same place, same time next week with another IPO-Vid, Exchange Invest Weekly Podcast.
I wish you all a great week in blockchain, life, and markets.
LINKS:
ASX Releases Intra-Group Conflict Management Report By External Expert
ASX
ASX Told To Bolster Policies To Avoid Conflicts Of Interest Over CHESS
AFR
HKEX Axes Need To Flag China Risk In IPO Applications
MarketScreener
BlackRock, MSCI Draw Scrutiny From US House Committee On China
Reuters
Iran Declares Public Holiday Over 'Unprecedented' Heat Wave Risk
Bloomberg
CME Group Inc. Reports Q2 2023 Financial Results
PR Newswire
China Pushes Power Exchanges To Prepare For 2025 National Market
Bloomberg
Bangladesh Commodity Exchange To Launch Soon
Launching Of Commodity Exchange
The Financial Express
Ogun Plans Commodity Exchange To Boost Agro-Allied Investments
Punch Newspapers
Deutsche Boerse Extends SimCorp Offer As It Awaits EU Regulators
Reuters
Tokyo Stock Market To End $360 Minimum Buy, Seeking Small Investors
Nikkei Asia
FSB: Final Reflections On The LIBOR Transition
FSB
JSE And Big XYT Partner On New Joint Venture Which Will Deliver Data Analytics Solutions To Global Exchanges And Their Ecosystems
JSE
Global Securities Watchdog Backs New Company Climate Disclosures
Reuters
China Watchdog Asks Brokers For Advice On Boosting Stocks
Bloomberg
Sebon To Endorse Legal Provisions To Permit NRNs' Investment In Secondary Market
myRepublica
Senator Kelly Loeffler Appointed To PublicSq.'s Board Of Directors
Business Wire
Belgrade Bourse CEO Resigns
SeeNews