204 Exchange Invest Weekly Podcast July 29th, 2023
Steady NASDAQ Growth as DB1, Euroclear Makes Great Leaps Forward Thanks To Interest Income Growth, CME Pauses With 3% Layoffs, And Exchange Invest Finds The Barbie Effect
Transcript:
This week in the parish of bourses and market structure:
Steady NASDAQ Growth As DB1
Euroclear Makes Great Leaps Forward Thanks To Interest Income Growth
CME Pauses With 3% Layoffs
And Exchange Invest Finds The Barbie Effect
My name is Patrick L Young
Welcome to the bourse business weekly digest
It's the Exchange Invest Weekly Podcast Episode 204
Good day, ladies and gentlemen, this is a very brief reduction of highlights amongst the key headlines from the week in market structure. All the analysis of the many events and happenings from the past 7 days can be found in Exchange Invest daily subscriber newsletter, the unique guide to the bourse business sent daily to your inbox.
More details at ExchangeInvest.com At the top of the show, we mentioned the Barbie effect AKA how Exchange Invest's Ace Research team donned pink lab coats to discover a 200 Basis Point pick up.
Barbie already exerts considerable leverage on parent company Mattel. Her portfolio accounted for some 20% of the company's profits…even before the firm moved into the movie business over $377 million worldwide later, and that was just after the first fabulous first weekend in cinemas, Barbie is in the pink in every sense.
So looking at the movie, we were pondering the alpha (female) question: does Barbie in her movie guise add value to Mattel stock?
We identified some 38 key points in the Barbie production development dating back all the way to the announcement of Barbie move full Tinseltown (way back in 2009) and then through the roster of director and Hollywood stars being added to the movie.
Commercial partnerships, trailer releases, etc., etc., our ace researchers burned the midnight oil to wrap their project last Friday even before the incredible first weekend of general release demonstrated that Oppenheimer thought it had the nuclear bomb thing all wrapped up, but couldn't keep up with the simply quantum explosion of Barbie power.
So, it's not nuclear mega BUT there's a clear impact for the investor here. Over 38 iterations, Barbie movie announcements inspired 22 up days from Mattel stock and 16 down days. By comparison, on the same days, the S&P 500 managed 18 days up and 20 days down.
The end results aren't seismic but we are looking at 38 days - not even 2 months in the aggregate of stock trading - and Barbie the movie gives us a 3.83% return when the S&P 500 over the same days managed 1.77%. That's quite an edge for 38 sessions…Over 200 basis points of additional return or more than double the US benchmark index over the same period.
Cue more calls I think following on from our other social media during the course of the last week where we've been noting that we're long overdue new dolls in the classic series were: Barbie investors, Barbie hedge fund manager and similar financial achievers amongst the Barbie doll portfolio.
Over in Bitcarnage, we turned it pregnant pauses at one stage last week.
The pullback from any 'new new' thing looks the same at all times - a "pause". Hence, NASDAQ pulling back here putting a pause on the launch of their crypto custody plans reflects commercial savvy on their part but is bad news for crypto per se because while Okay, Larry Fink and a few other high profile folks love the fees they can charge (and the roles they can foresee) while hoping to cross sell millennials into legacy investment as well as Bitcoin ETF ETCs. The simple truth is financial institutions see crypto and even to a large extent digital assets of any kind as a wild west frontier, too far for their activity right now.
When you go Google how many folks have been arrested from the crypto V1.0 era? I can't say I blame them either.
If you enjoyed this excerpt you may be interested to know that you can read Bitcarnage every day with in Exchange Invest available via ExchangeInvest.com
Alternatively, if you want to follow Bitcarnage, the daily update on happenings in the world of crypto and digital assets then you can find Bitcarnage as a standalone on Substack.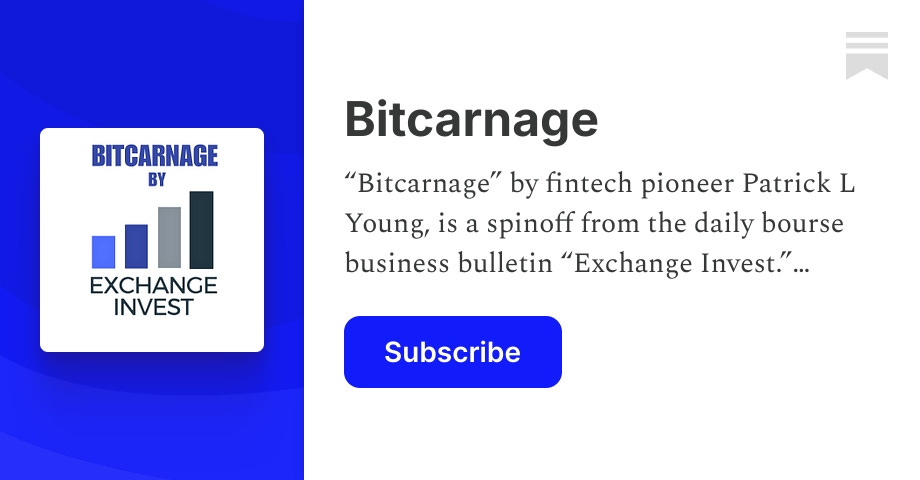 In the legacy bourses this week, the CME Group and DTCC are increasing cross margining opportunities for the treasury markets. More cross margin improving cross collateralization is of course music to every counterparties ears.
At the same time competitions coming to Korea. Nextrade has been given preliminary FSC approval for an ATS owned by a coalition of major brokerage houses, ICT firms and the Korea Financial Investment Association (KFIA), a finance think tank.
Over in Spain, they're cracking down on CFDs more restrictive measures from the regulator there, the CNMV.
And then of course, there's that rather seismic news that the CME Groups looking to layoff circa 100 people (that's about 3% of its total workforce) reallocating positions and joining Wall Street banks in cutting jobs.
Results this week it was a busy week for results in the parish all the details were in Exchange Invest daily - the newsetter no person can afford to be without in capital markets and market structure. For the sake of this podcast let's look at some edited highlights.
Deutsche Börse Group led the way, they posted significant earnings growth in the first half of the year. Net revenue increasing by 20% in Q2 2023, largely driven by strong net interest income from the banking business. They're expecting to exceed their guidance for 2023.
Euroclear had a very strong start to the year, the yield curve rises ladies and gentleman, this is definitely a case where haircuts are back and powering clearing profits.
One of the major sets of results, NASDAQ not so exciting, but a decent 4% uptick at NASDAQ after a busy quarter, including that transformational Adenza deal which the investors are slowly getting their heads around. Of course, difficult for NASDAQ to enjoy the same sort of clearing boost, as it doesn't have anywhere near the same depth of clearing interests or settlement interests as the likes of Deutsche Börse and Euroclear.
Deal news this week, it was a pretty busy week for deals in the parish as well. And of course all of those were in Exchange Invest daily at ExchangeInvest.com is the way to sign up there.
Most important deal of the week, ICE sells Optimal Blue (that's part of the Black Knight portfolio). If the FTC relents then Optimal Blue will be the latest divestment and a series of kinds of Chinese torture divestments, which heaps ICE pressure on Lina Khan's leftist activist FTC.
Certainly the pressure seem to be working as instantaneously almost the FTC reconsidered their opposition to the Black Knight deal, removing some of their statutory limitations immediately and court cases where they were trying to stop the deal in its tracks. The FTC appears to be throwing ladies and gentlemen just as we were talking about in Exchange Invest over a week ago.
Meanwhile, if you're trying to understand the world of mergers and acquisitions and financial market infrastructure, or indeed how cryptocurrency, digital assets, and much more in the realm of technology is going to affect the future of markets, you ought to be picking up a copy of my most recent book "Victory or Death?" Blockchain, Cryptocurrency, and the FinTech World. If you're looking for that sort of a read in order to enhance your career or simply understand what's going on in the future financial market technology, "Victory or Death?" is published by DV Books and is distributed by Ingram worldwide.
Don't forget while you're waiting for your copy of "Victory or Death?"to arrive, check out our LiveStream Tuesday 6pm London time, 1 o'clock New York time - it's the IPO Video lives show. Catch the back episodes on LinkedIn and YouTube via "IPO-Vid".
This week we had a magnificent show with our special guest, Financial Astrologer Susan Abbott Gidel, discussing Astrology, the Markets, and You.
Don't forget to go and catch up all of the back issues of the show, 115 in total now and you can find those on Facebook, YouTube, and LinkedIn by looking for "IPO-Vid".
IPO-Vid itself is on holiday during the course of the month of August but we're going to be back with our return by our fabulous guest Rainer Zitelmann just after the Labor Day weekend.
Meanwhile, in our 'Finance Book Of The Week', this week's book was written by our IPO-Vid guest #84 Alessandro Hatami and co-author Helene Panzarino, who were looking forward to welcoming on IPO-Vid in the near future: "Reinventing Banking and Finance: Frameworks to Navigate Global Fintech Innovation" provides a thorough overview of the global fintech ecosystem and the drivers behind innovation in technologies, business models, and distribution channels.
Examples of key institutions and in Interviews with innovators and experts shine the light on key financial innovation hubs across the world, covering genuine innovations in AI, machine learning, blockchain, and digital identity.
Product news this week, there was a bit of an woops nasty despite the fact MSCI had some very encouraging financial results this week, which were covered in Exchange Invest daily.
MSCI had a bit of a problem, bad data was entered causing a 9% slumped in their India Index due to purely incorrect securities price data that was ultimately collected and controlled and reorganized, but it was of course somewhat embarrassing.
In regulation news this week, news reached us that ESMA had followed up upon the UAE being placed on the EC's high risk third countries list that therefore meant that their third country strategic clearing arrangements are no longer recognized due to the fact that the European Commission has concerns about the UAE's national anti-money laundering and counter financing of terrorism ("AML/CFT") regime issues that was of course on 16th of March 2023 took until just last week for three UAE CCPs to lose their ESMA recognition as a result. That applies to the Dubai Commodities Clearing Corporation, Dubai Clear LLC, and NASDAQ Dubai Limited.
A three-month transition period applies for counterparties to get their money out of the UAE and comply with the ESMA ruling. But nonetheless, it's somewhat depressing as ESMA loses another series of clearing houses that they had previously recognized. Who knows one of these days they might even manage to recognize the United Kingdom once again.
In career paths news, the LME Clearing House has named a former senior manager at security settlement house Euroclear Michael Carty as the Chief Executive of LME clear from October 2nd
I must say, I find this rather perplexing after the replacement of retiring domain expert Chairman Marco Strimer, with the less expert David Warren at the helm of LME Clear, the addition of a CEO to a 3d CCP, who comes from the firmly 2D (and frankly not widely renowned for its efficiency even in that domain) Euroclear, is quite remarkable. That's particularly so given the aftermath of the Nickel nightmare storm is still ongoing with LME and acutely, LME clear.
Elsewhere, LME has appointed Nigel Dentoom a practitioner, as a non-Executive Director of the LME Board.
And that leaves us ladies and gentlemen with the opportunity to return to Barbie mania.
This week in BigWorld we were reporting upon my favorite Barbie joke. A man goes into a shop, and spends quite some time looking at the vast array of Barbie toys.
An assistant notices his intense study of the shelves and asks if she can help.
"Oh, I'd like to buy my daughter a Barbie doll for her birthday," says the man.
"What a wonderful idea," replies the shop assistant and proceeds to recite a hugely lengthy list of possibilities: Barbie astronaut $49.99, Barbie Lawyer $49.99, Barbie stockbroker $49.99, Barbie photographer $49.99, Barbie catwalk model $49.99, Barbie Senator $49.99 and Barbie divorcee $999.99."
"Okay," says the man a little puzzled, "so how come the prices are…" at this point in time you can recite the list again if you have sufficient time and or love drawing jokes out to your heart's content will abbreviate that to…Barbie Architect $49.99, Barbie debutante $49.99, Barbie engineer $49.99, Barbie mermaid $49.99, Barbie policewoman $49.99, Barbie soldier $49.99, Barbie naval officer $49.99, President Barbie $49.99, CEO Barbie $49.99 Barbie surgeon $49.99…and yet Barbie divorcee is $999.99?"
"Oh that's simple" responds the shop assistant and a flash.
"Barbie divorcee comes with Ken's boat, Ken's car, Ken's house, Ken's helicopter, Ken's beach hut, Ken's ski chalet…
…And on that mysterious and magnificent note ladies and gentlemen my name is Patrick L Young creator of markets the world over, founder of Exchange Invest the exchange of information, the Daily Bulletin of the world of exchanges.
I wish you a great week in life and markets.
LINKS:
CME Group And DTCC To Increase Cross-Margining Opportunities For The Treasury Markets
DTCC
New Bourse Operator To Change Landscape Of Stock Market
The Korea Times
CNMV Approves New Restrictive Measures On CFDs In Spain
Lexology
CME Group To Lay Off 3% Of Its Workforce, Reallocate Positions
Yahoo Finance
Deutsche Börse Group Posts Significant Earnings Growth In The First Half Of The Year
Euroclear Continues To Deliver Profitable Growth And Invest In Its Long-Term Strategy
PR Newswire
Nasdaq Reports Q2 2023 Results; Consistent Execution Drives Solid Revenue Growth
Nasdaq Announces Quarterly Dividend Of $0.22 Per Share
Nasdaq: Adenza Acquisition Update
Nasdaq
ICE Sells Optimal Blue Due To Merger Concerns
Nasdaq
FTC Reconsiders Opposition To Black Knight Deal
Jacksonville Daily Record
MSCI Says India Index Slump Caused By Incorrect Security Price
Bloomberg
Inclusion Of The United Arab Emirates On AML Blacklist Requires ESMA To Withdraw The Recognition Decisions Of Three CCPs
ESMA
LME's Clearing House Names Former Euroclear Manager As CEO
Nasdaq
LME Appoints Nigel Dentoom As Non Executive Director Of The Board
LME