202 Exchange Invest Weekly Podcast July 15th, 2023
LME Make A Chairman Surprise, DB1 SimCorp Delayed, There's a New B3 NASDAQ Deal, And the UK Extends Short Selling
Transcript:
This week in the parish of bourses and market structure:
LME Make A Chairman Surprise
DB1 SimCorp Delayed
There's a New B3 NASDAQ Deal
And the UK Extends Short Selling
My name is Patrick L Young
Welcome to the bourse business weekly digest
It's the Exchange Invest Weekly Podcast Episode 202
Good day, ladies and gentlemen, this is a very brief reduction of highlights amongst the key headlines from the week in market structure. All the analysis of the many events and happenings from the past 7 days can be found in Exchange Invest daily subscriber newsletter, the unique guide to the bourse business sent daily to your inbox.
More details at ExchangeInvest.com
Let's open with Bitcarnage this week in a CZ's tweet amidst a large stream of CZ tweets as usual.
"4. More FUD about some departures Yes, there is turnover (at every company). But the reasons dreamed up by the news are completely wrong." - claimed CZ.
That in response to headlines including Binance's Top Strategist Confirms Departure Amid Reports Of US Resignations, and Binance Plunges Into Crisis As Senior Execs Quit Over CEO Changpeng Zhao's Response To Justice Department Investigation.
Given how Chief Strategy Officer Patrick Hillman who now resigned has been so behind the Binance "4:FUD!" movement throughout the course of the year with often remarkable deaf demonstrations of toeing the party line which has become increasingly questioned by even the mainstream media, I've got to say it's hard to believe that there are not widespread concerns the Feds are coming from Binance soon.
Then again, who would ever resign stating "I cannot stay in that job because I think the Feds are going to arrest us?"
Anyway, Crypto V1.0 are clearly rattled - why else with the perma-fawning to CZ head of Binance strategy be amongst those wanting to urgently quit right now? Oh, yes, "4: FUD!" "4: FUD!" "4: FUD!" and all that malarkey.
The latest piece of odd behavior, however, comes not from Binance but from Brian Armstrong, who has shown an admirable ability to run up a hype monster to great effect - but at best - the jury remains deadlocked on what actual management acumen he possesses. Anyway, in what was probably a (nother) rookie error - would surely infers panic on his part - suddenly, Brian Armstrong's Twitter history disappeared the other day. In a more worrying move, it also disappeared from "The Wayback Machine" which has been a handy historiographical device for the internet as a whole.
However, when you have a mass army of folks who cooperate and have watched this bubble build, it wasn't a huge surprise to find a sudden resurrection of a kind e.g. Travisbrown's Github Gist published: Deleted Tweets By Brian Armstrong, CEO Of Coinbase. To the big question - why delete vast numbers of past tweets?... The poker face is apparent, but it's really hard to see why you do this if you: have nothing to hide, have nothing to be afraid of, or believe you are in a good place concerning regulatory 'enquiries' as one might euphemize them.
This looks like a move of pure madness. The innocent has suddenly invoked questions as to his guilt.
If you enjoyed this excerpt you may be interested to know that you can read Bitcarnage every day alongside all the world's market structure news in Exchange Invest. Alternatively, if you want to follow Bitcarnage alone, the daily update on happenings in the world of crypto and digital asset market structure, then you can find Bitcarnage as a Substack standalone.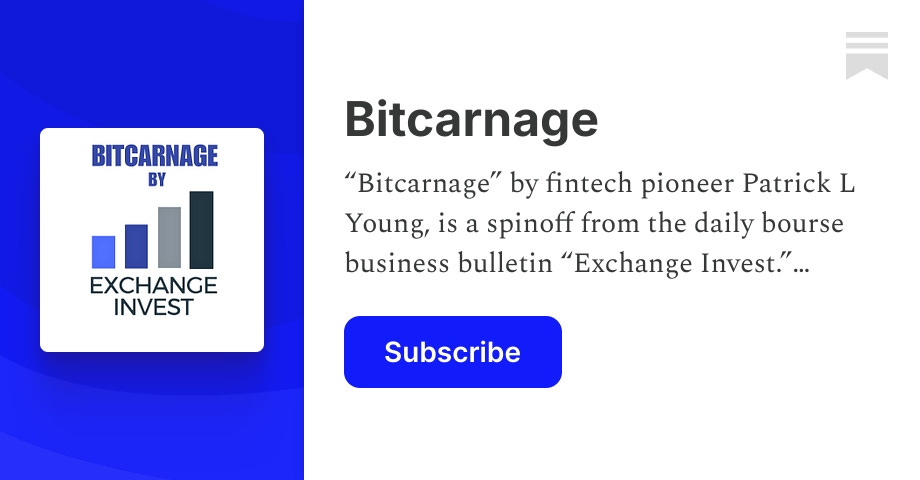 In the main news this week, Hong Kong just cannot be 'China's Financial Center' it must be counted among the top global hubs, said the Hong Kong Monetary Authority (HKMA) Eddie Yue.
In London, You Can Trade Commodities While The Regulators Sleep was the biting remark of columnist Javier Blas who had a few doozies softly at his discussion of EU gas markets last year for instance, when he apparently swallowed the EU line, unthinkingly was a low point. However, he's in brutal point here when it is discussing the LME and the nickel nightmare, noting for instance: "In an era when commodity trading is increasingly a 24/7 business, regulation is still a cushy 9 to 5 job."
The Nigerian Exchange is working with shareholders to reduce the settlements cycle.
Interestingly, the UK has made a tiny little move towards new hope and a spot of Brexit deregulation, scrapping public disclosure of short selling.
The disclosure thresholds bilaterally to the regulator have also risen. It's a small step for London, no giant step for Brexit but it is progress even if it could be filed under 'not a lot' and 'remarkably late' (at best).
Meanwhile, the London Stock Exchange Group in between group Zoom calls trying to build a capture for the company. They're starting a search for a new city office. They could well be leaving paternoster square. Well, as we said this week in Exchange Invest we've heard Paris as inventory? Plus Canary Wharf of the LSEG still wants to stay in "London".
Meanwhile, over in Tel Aviv, there were protests at the stock exchange there before an Israel Knesset vote. Protesters entered the Tel Aviv Stock Exchange during an event that Economy Minister Nir Barakat intended to address.
Finally the major story of the week, the Bombay Stock Exchange unveiled a new logo marking the 149th Anniversary of its foundation.
New markets this week, the Business Standard says that India's carbon credit trading scheme spins a maze of regulatory complexity. Wasn't it always ever thus in India.
Meanwhile, Zimbabwe's carbon exchanges kicked off with a gift from the Belarusians.
Ethiopia continues to gear up for the launch of its first securities exchange.
Deal news this week, Deutsche Börse has announced an extension of the offer period for the public takeover of SimCorp. They don't seem to quite reach the threshold on numbers yet in terms of shareholder acceptance, and they're also working their way through the regulatory approval including the EU. The offer periods have been pushed back a few weeks for the shares of SimCorp A/S until the 3rd of August 2023.
An interesting new piece of market structure coming to market in the near future, NSDL (National Securities Depository Limited) in India, registered market infrastructure institution under SEBI is moving towards an IPO. As the CSD, the dominant CSD to NSE, and major shareholders include the Industrial Development Bank of India (IDBI), Unit Trust of India (UTI) and the National Stock Exchange (NSE) itself.
Meanwhile, the Pacific Capital Markets Development enterprise who are the owners of the PNGX and Papua New Guinea have announced that they've acquired 12.5% of the South Pacific Stock Exchange the national market of Fiji, based in Suva.
Don't forget if you're looking for some reading during a long hot summer it seems to be breaking out at the moment at least in the northern hemisphere of course, check out a copy of my book "Victory or Death?" Blockchain, Cryptocurrency, and the FinTech World. It's published by DV Books and distributed by Ingram worldwide.
While you're waiting for your copy of "Victory or Death?" arrived, check out our LiveStream Tuesday 6pm London time, 1 o'clock New York time - it's the IPO video live show. Catch the back episodes on LinkedIn and YouTube via IPO-Vid.
Most recently, we had an opportunity to Chew The Market Cud With The Cow Guy that was Scott Shellady in Episode #113.
Coming this week, we got a fabulous guest coming once again. It's going to be Hamish McRae, author and futurist and he's gonna be talking about The World in 2050. Don't miss that show ladies and gentlemen.
Finance Book of the Week. Of course as you know, we've added a Book of the Week column to the Exchange Invest Weekend Edition. You can sign up for a weekend for free incidentally at Exchange Invest Daily and get an interesting synopsis of some useful macro reads from around the world in your inbox every Saturday.
Anyway, choosing interesting books pertaining to exchanges and markets, investment et al. We've gone this week for one written by our IPO-Vid #032 guest Clive Lambert "Candlestick Charts: An Introduction To Using Candlestick" aims to enable this simple viewing of candlestick chart to answer the perennial question: "Who's controlling the market; the Bulls or the Bears?
Product news this week, China and Hong Kong central banks are exploring extending repo trading to Bond Connect. Hurray! Hurray! Hurray! I say.
LCH SA have merged RepoClear and the €GCPlus services.
The European Energy Exchange (EEX) console has welcomed the expansion of products for the Nordic power markets. That's of course on the back of their buying NASDAQ's Nordic power exchange assets.
Meanwhile, the Intercontinental Exchange (ICE) is gonna be launching environmental futures markets based on Alberta's carbon program.
Technology news, the big news of the week, B3 and NASDAQ announce partnership to develop new clearing platform. In 201 you will recall the mega breakthrough sale by Cinnober for its clearing system which was then rather revolutionary came out B3 which was looking to unify a massively contradictory cross asset architecture after it had brought together all manner of exchanges including course the São Paulo Stock Exchange and the Rio de Janeiro Stock Exchange along with the bond exchange and much else besides. Mission accomplished, Cinnober was then swallowed by NASDAQ and now NASDAQ is looking to build the next generation of the original Cinnober systems.
An interesting side point here to bear in mind is how Vermiculus, the latest company from Cinnober founer Nils-Robert Persson recently gained investment from B3's venture capital arm, as well as working on B3 projects beyond its equity clearing system.
Anyway, it's a good extension for NASDAQ adding a return to their purchase of Cinnober.
One story which is not so happy this week is how Multi Commodity Exchange of India Limited (MCX) is dealing with his tech transition woes, that run in Zee Business.
This article suggests a cluster-mess entirely of MCX's own making, but at the same time, TCS happily took the money and if it quoted / began work without adequate documentation / specification it's not about blame either. As an interesting aside: "SEBI had told MCX to explore utilizing software-as-a-service (SaaS) models with any of the existing exchanges or clearing corporations until MCX and MCX-CCL are ready to handle the transition" went the article. Not that SEBI might ever be accused of being anti-Jignesh Shah and always seeking to throw out financial technologies or indeed as it's known these days 63 Moons, perish the thought!
The UK FCA proposed a UK consolidated tape.
I think I'm pretty cool on this one having said it was a good move just a few days ago. It'll be interesting to see what emerges all the same. It's not a harmful move altogether but at the same time, I would suggest the more exciting thing coming up as the October deadline from the FCA on 'trading perimeter' issues - that could be crucial for both exchanges and non-exchange venues depending on where the FCA deem the borders lie.
Meanwhile, the London Stock Exchange is deploying windward artificial intelligence capabilities to combat 'sanctions busting' across global shipping in real-time.
However, in other news, the blow back to LSEG is notable in various UK media because the firm owns Refinitiv, which owns WorldCheck, which has been fingered as an agent of opacity in the ongoing UK scandal about bank accounts being withheld from those without sufficiently politically correct political opinions.
Regulation news this week, the Wall Street Journal ran a feature Antitrust Officials Pile On the Paperwork. The FTC has long been a sleepy hollow but now suddenly, it's got all these wildly activist Biden appointees on the commission, and its become a critical pathway of obstinance towards progress as a key focus of the ridiculously dismal Brezhnev regime which believes in killing commerce through rank interventionism at every turn. The FTC is creating a change from 37 hours to 144 hours just for the basic filing of paperwork for the FTC itself. That on average serves nobody except the blob and reminds us why this is an utterly toxic presidency, presuming you believe in commerce.
ADGM (Abu Dhabi Global Markets) introduced a regulatory framework for sustainable finance, which is good to see.
The Qatar Financial Markets Authority has issued a resolution to establish a 'single window committee for capital markets'.
The UK is planning to reverse the MIFID II era ban on free research for clients. Hurray!, Hurray! We all say anything that gets rid of even elements of MIFID II the great European Union waste of time has got to be applauded.
Career paths this week, the LME Clear has appointed a new chairman of the board. They've announced the appointment of David Warren, who's going to be effective from the 20th of July succeeding Marco Strimer, who will step down as Chairman having reached the end of his term.
But given Marco Strimer has considerable expertise and clearing and given them any concerns about LME following the Nickel nightmare, he was a very, very sound Chairman...I'm not convinced the former NASDAQ CFO David Warren is the ideal choice here as a chairman of a CCP, which has many issues to address going forward and really could have benefited from a genuine CCP specialist.
Over at CBOE, they've promoted Jill Griebenow to Chief Financial Officer. Congratulations to her.
And that leaves us just with a word of interesting advice a statement from the SEBI Chairman Madhabi Puri Buch who was talking to the incoming students of IIM Ahmedabad leading management institute at a recent event:
"Be like a potato-down-to-earth without ego, and absorb the essence of your surroundings. As you embark on your journey, envision yourself as a potato."
SEBI promotes regulation by root vegetable. They may say this, I could not possibly comment.
And on that magnificent and mysterious note ladies and gentlemen, my name is Patrick L. Young. Thank you very much for listening to this Episode 202 of the Exchange Invest Weekly Podcast.
We'll be back every day during the week with the Exchange Invest daily newsletter, the Exchange of Information, the bulletins for the bourse business, and of course on the weekend, the Exchange Invest weekly digest as well.
Have a great week in blockchain, life, and markets
LINKS:
Binance's Top Strategist Confirms Departure Amid Reports Of US Resignations
CoinTelegraph
Binance Plunges Into Crisis As Senior Execs Quit Over CEO Changpeng Zhao's Response To Justice Department Investigation
Fortune
Coinbase CEO Massively Deletes His Older Tweets, What's Happening? notes U Today.
Hong Kong Cannot Just Be 'China's Financial Centre', It Must Be Counted Among Top Global Hubs, HKMA's Eddie Yue Says
Yahoo Finance
In London, You Can Trade Commodities While The Regulators Sleep
Bloomberg
We Are Working With Stakeholders To Reduce Settlement Cycle – NGX
New Telegraph
UK Scraps Public Disclosure Of Short Selling
Yahoo Finance
London Stock Exchange Group Starts Search For New City Office
Bloomberg
Protests At Stock Exchange Before Israel Knesset Vote
Yahoo News UK
BSE Unveils New Logo On Its 149th Foundation Day
Mint
India's Carbon Credit Trading Scheme Spins A Maze Of Regulatory Complexity
Business Standard
Zimbabwe's Carbon Exchange Kicks Off With Belarusian Gift
Macau Business
Ethiopia Gears Up For Launch Of First-Ever Securities Exchange
Allafrica
Deutsche Börse Announces Extension Of The Offer Period For Public Takeover Of SimCorp
DB1
NSDL Takes Step Towards IPO Listing, Files Draft Red Herring Prospectus
Business Today
Pacific Capital Markets Development Acquires Holding In South Pacific Stock Exchange
Loop PNG
China, Hong Kong Central Banks Explore Extending Repo Trading To Bond Connect
Nasdaq
LCH SA Merges RepoClear And €GCPlus Services.
Securities Finance Times
EEX Exchange Council Welcomes Expansion Of Products For The Nordic Power Markets
EEX.
ICE To Launch Environmental Futures Market Based On Alberta's Carbon Program
ICE
B3 And Nasdaq Announce Partnership To Develop New Clearing Platform
Nasdaq
How MCX Is Dealing With Its Tech Transition Woes
Zee Business
FCA Proposes UK Consolidated Tape
Finextra
LSEG Deploys Windward Artificial Intelligence Capabilities To Combat 'Sanctions-Busting' Across Global Shipping In Real-Time
LSEG
Antitrust Officials Pile On the Paperwork
WSJ
ADGM Introduces Regulatory Framework For Sustainable Finance
Gulf Business
Qatar Financial Markets Authority Issues Resolution To Establish 'Single Window Committee For Capital Market'
The Peninsula Qatar
UK Plans To Reverse MiFID II Ban On Free Research For Clients
Bloomberg
LME Clear Appoints New Chairman Of The Board
LME
Cboe Global Markets Promotes Jill Griebenow To Chief Financial Officer
Yahoo Finance
'Be Like A Potato': Sebi Chief Madhabi Puri Buch's Advice To IIM Ahmedabad Students
The Economic Times