201 Exchange Invest Weekly Podcast July 8th, 2023
This week in the parish of bourses and market structure: New DB1 CEO is scheduled for 2024, 63 Moons has another Bagatelle deal, Brian Winterflood Dies, And we have GIFT Lift-Off

Transcript:
This week in the parish of bourses and market structure:
New DB1 CEO is scheduled for 2024
63 Moons has another Bagatelle deal
Brian Winterflood Dies
And we have GIFT Lift-Off
My name is Patrick L Young
Welcome to the bourse business weekly digest
It's the Exchange Invest Weekly Podcast Episode 201
Good day, ladies and gentlemen, this is a very brief reduction of highlights amongst the key headlines from the week in market structure. All the analysis of the many events and happenings from the past 7 days can be found in Exchange Invest daily subscriber newsletter, the unique guide to the bourse business sent daily to your inbox. More details at ExchangeInvest.com where you can sign up for a panoply of offers.
In Bitcarnage this week: there was talk of resurrection.
Personally, I retain zero faith in the resurrection of FTX exchange internationally, but it seems liquidator John J. Ray III is determined to do so. And indeed it offers his most feasible path to some form of creditor redemption, or possibly a deep, dark, black hole of non-productive spending.
At the same time, clearly, a whole new tech stack sans God mode is required. And I wonder just how you justify that as a spender.
…I remain spectacularly cynical that this is a sound move. Indeed within Exchange Invest Commodities doyenne Ann Berg applied mot juste precision to the topic noting: "At the risk of sounding fatuous - there's no there there. The restructuring of whatever it had been simply makes the newly created exchange. A new name, owners, officers and operating mode, and business plan."
If you enjoyed this excerpt, you may be interested to know that you can read Bitcarnage every day in Exchange Invest. Alternatively, if you want to follow Bitcarnage, the daily update on happenings in the world of crypto and digital assets and market structure, then you can find Bitcarnage as a standalone on Substack.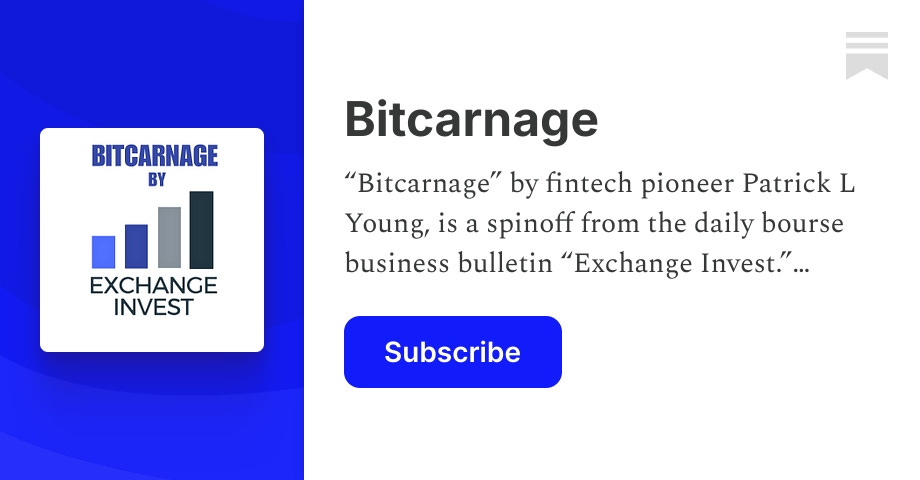 Back to the legacy bourse world, the majority of happenings in the world of marketplaces. NASDAQ welcomed 60 IPOs in the first half of 2023 securing an 88% win-rate for listings in the US market. Two of the three largest operating company IPOs by proceeds raised their funds on NASDAQ to boot. Fabulous 6 months there.
Nonetheless, it wasn't as if the New York Stock Exchange (NYSE) was exactly in sleep mode. They had an industry-leading 12 transfers bringing nearly $100 billion in new market capitalization to NYSE while NYSE also had the largest IPO of the year to date.
Meanwhile, Hong Kong Exchanges (HKEX) is going great guns all round, their new IPO settlement platform FINI will launch in October. It's going to be a very interesting update to the Hong Kong Exchanges Group portfolio slimming settlement times for IPOs down from T+5 to T+2. Indeed that lead the CEO of Hong Kong Exchanges Nicolas Aguzin to say that the super-connector Hong Kong's 'best days are ahead' as the bourse operator celebrated 6 years of bond Connect.
Meanwhile, Hong Kong Exchange has also signed a cooperation agreement with the Beijing Stock Exchange. If only things were so cheery in London, the London Stock Exchange's chief slammed pension funds over attempts to block city reform. And for once La Hoggett is absolutely right to complain, UK funds don't support UK stock markets and it's a disgrace as their jobsworth risk off attitude is costing jobs and economic growth to the UK and further afield.
Meanwhile, the European Union as described in the Brussels Bugle, the bankers favorite: EU Bows To Exchanges' Fears With Stock Trading Plan.
A typically milquetoast piece from the Brussels Bugle in this case, which clearly wanted to defend banks at all costs in the true European Union manner. For once the exchanges have prevailed - bravo to FESE in this respect in the face of what was yet another imbecilic bank led push which would have harmed EU markets.
The net result, a post-trade tape with every single trade upon it. A very useful step forward but actually a degree of decoration. The European Union needs massive reform if it's going to succeed and compete with the USA or even Asia in the near future.

Speaking of competition, at last, a voice of some reason Danuta Huebner nowadays in MEP, previously a commissioner. She has proposed ditching mandatory Euro derivatives clearing quotas for now.
It's illogical feint as demented ideologues in Brussels pursue an approach which threatens to upend the concept of the Euro as a freely tradable currency and reduce it to Ruble status without any of the exciting growth allure of other non-deliverable currencies that are not fully exchangeable in the world markets, such as the Indian rupee, or the Chinese renminbi.
Finally this week in the top two tiers of the exchanges world, the Tokyo Commodity Exchange buildings are going to be demolished and redeveloped. Now of course Tokyo Commodity is within the grasp of JPX Group and operating out of their HQ.
One note about Brexit, the finance sector tells UK regulators to use new post-Brexit remits.
Some progress, it remains to be seen how this bill which received Royal Assent last week pans out as Britain hovers from what looks like one socialist government to another next year. The notion of a rocket boost from the legislation surmises the current malaise and the blob, which seems to think If they hype stuff enough, it will be true.
Deal news this week, is not a lot, just one comment from Deutsche Börse along with the announcement that their CEO would be standing down in due course at the end of his contract. We hear that the $4 billion deal for SIMCorp is thus the pinnacle of the TED or Weimer era by the looks of it, but there may be some small deals to come.
Don't forget, ladies and gentlemen, if you're trying to work out what is the future of finance, how these markets mesh together, and indeed, what is the role of blockchain, cryptocurrency and so on within the FinTech and the broader financial world. You want to pick up a copy of my most recent book "Victory or Death?". "Victory or Death?" is published by DV Books and it's available and distributed via Ingram worldwide. You can get it on Amazon and all the great bookstores around the world.
While you're waiting for your copy of "Victory or Death?" to arrive, don't forget to check out our LiveStream. We have a hiatus for July 4th Happy Independence Day belatedly, to everyone in the United States of America.
Coming on Tuesday, IPO-Vid LiveStream #113 with an old lag from the world of the floor, my old friend Scott Shellady: Chewing The Market Cud With The Cow Guy. We look forward to that on Tuesday at 7pm Central European Time, 1 O'clock Eastern, 6 O'clock London time.
Meanwhile, in our "Finance Book of the Week" segment. We've been choosing interesting books pertaining to exchanges and markets investment et al.
Indeed, Last Saturday, July the first marked the 24th anniversary of my very first book "Capital Market Revolution! - The Future of Finance in an Online World."
I remember the week very well, it was published in London with a launch party at the British Library in the middle of International Derivatives Week.
Those picking up the book right now might struggle to recall the 'radical' nature of the tome at the time as - with hindsight - so much seems just so logical, but at the time, I can assure you is not and I could recall the luddites eager to stop the message!
In retrospect, "Capital Market Revolution!" was the first best-selling book of FinTech, a decade before that time, and even gained traction. It's a pacy read, and there's all manner of stuff in there like electronic money, the future of financial centers, the rise of prediction markets, how the ETF would become the staple of the fund industry, and much, much more, including, of course, how electronic for profit exchanges would become the dominant model of commerce in 21st century markets, with CCPs becoming increasingly the epicenter of market probity.
"Capital Market Revolution!" delivered a new vision of financial markets outlined clearly and succinctly in print for the first time. The career of its author, Patrick L. Young (myself) remains of course a matter of life and pith.
Grab a copy now, there's still secondhand ones around, you can get them from a good grief something like $5, or better still, why not pair that by going to Amazon and getting yourself also a copy of "Victory or Death?".
Product news this week, LIBOR is over we still need more benchmarks to replace it - says Barron's, which directly contravenes something that was said, a shocking announcement by the Bank for International Settlements, who essentially turned around and said, well, we're not really that fussed on the idea of credit-sensitive risk benchmarks for interest rates, bad news all round.
What a shocking statement. First of all, I don't believe it's within the remit of IOSCO actually dictate what products should or shouldn't be issued, although we have seen problems in this area before from the likes of the FCA in the past.
Ultimately, the problem is the blob. The blob, got rid of LIBOR. LIBOR is vacuum has therefore created a huge opportunity and we're going to see multi competing benchmarks whether or not the likes of IOSCO are willing to endanger the entire probity and safety of the financial system going forward by refusing the opportunities of risk transfer remains to be seen, but it's a very, very foolish move.
Good news, the Nifty 50 has been relaunched at the new NSE exchange in GIFT City (that's the NSE International Exchange) which involves the participation of the Singapore Exchange as well.
Most exciting day was that Monday we saw lots of decent volume and also an all-time high from the Nifty 50 itself clearly breaking through 19,000. Will it reached 20,000 in the near future? Interesting to see.
Technology news this week, let's get some good news out of the way first.
The Depósito Central de Valores in Chile, it's going to be digitizing securities, leveraging NASDAQ technology. It's an interesting move does this presage the adoption of NASDAQ by the joint Chile-Colombia-Peru merged exchanges, I wonder.
Then we get to well, the rather less edifying news of the week. Two stories, one of them is an ongoing fester, which has been happening for years. The first one is something it's been festering for well about the better part of 6 to 9 months, but nonetheless, it's deeply embarrassing. MCX (Multi Commodity Exchange) of India has renewed their software services contract with 63 Moons for an additional 6 months because TCS (Tata Consulting Services) are incapable of delivering even to their second delayed benchmark agreed delivery date.
TCS have blithely over promised and not delivered at all. 63 Moons meanwhile, which courses Financial Technologies International was the original founder of the MCX and the provider of their software for well over a decade. They're laughing all the way to the bank as Jignesh Sha enjoys an incredible 6 months bounty $30.5 million is being paid to Jignesh Sha and 63 Moons for the provision of 6 months more of a technological provision.
In terms of what ought to be happening at MCX, heads ought to be rolling for starters, but then again, when you really mess up that badly, you just fire a few C-suite minions and get highly inexperienced replacements in just like ASX has nothing ever touches the Teflon Chairman and board.
The ASX's leading competitor in Australia CBOE have blasted the governance of the CHESS project and not without a vast amount of good reason at the same time.
It's only fair for Cboe née Chi-X Oz to be apoplectic as the perverse structure of ASX's upgraded placed them on the hook to pay part of the bill with essentially no input to the management, management being very pejorative term there of the whole project, project also being as we know, a complete and utter failure and fiasco. And as we know, CBOE have just updated their tech with a state of the art smooth process where ASX tech execs have locked completely and utterly incompetent, blithely incapable of managing the tech stack within the new CHESS project.
Then there's of course, the outbreak of total irony, the ASX sponsored Australian blockchain week last week.
I suppose when you've already spent $250 million on the concept that didn't deliver another $70 million on what was definitely "not compensation". No, no people we were not compensating anybody, we just paid $70 million out because hmmm er, I don't understand anything about ASX anymore. But it was given to the user community so maybe it was just a bribe if not compensation. Who knows?
Anyway, there was a huge writedown for all that IP et al that never really existed, never really happened. So ASX comes up with a smart idea of why not sponsor a conference to showcase that you aren't able to be part of the community apart from writing lots of cheque and being unable to talk to your vendor.
Then again doesn't it show a heroic lack of awareness from the Oz Blockchain industry to take the shilling of the organization who single-handedly undermined DLT adoption through their own crass failure?
In reality, I presume they've used the "pride month sponsorship justification" aka your corporation doesn't have to be whatever it is to support whatever event it happens to be. So too ASX can identify as a technology company and sponsor Australian Blockchain Week.
Career path this week, well as already mentioned at the top of Deutsche Börse CEO Theodor Weimer said he would not pursue another term when his contract runs out next year.
As expected. Weimer has had a steady and unspectacular run at DB1 which after his predecessor's disastrous tenure was no bad thing I suppose. At the same time DB1 feels a much more parochial entity that when it was a leading tier one property in Young's Pyramid of Exchanges 20 years back. Who will be the next CEO? That'll be a very interesting sight to behold.
Power Exchange India Limited (PXIL) has appointed a new MD. Satyajit Ganguly will be MD and CEO replacing Prabhajit Kumar Sarkar.
Meanwhile ECX has got a new deputy CEO Hailu Nigussie.
Clearstream Banking has appointed Stephanie Eckermann as CEO following the departure of Berthold Kracke.
SET in Thailand has appointed Chatchai Thisadoldilok and Pairat Thanachaisang as new Executive Vice Presidents.
Sad news of the week, one of the pioneers of the SME stock markets in London and therefore of course the AIM (Alternative Investment Market) Brian Winterflood has died. It's very sad to hear the demise of Mr. Winterflood, whose energy helped create the move towards AIM and similar SME stock market listing venues from the Unlisted Securities Market, which he was instrumental in founding in 1980 and then later, of course, the AIM initiative under the LSE. Winterflood was awarded an MBE for his services to financial markets, and set up his own investment firm, Winterflood Securities in 1998, which was acquired by Close Brothers Group in 1993. He remained a non-executive director until January 2016 prior to retiring in 2017. It's a very sad loss from London's stock market and particularly the SME end of the business.
One departure from the parish this week , although he's just retiring, farewell then Rich Repett , who received a generous send-off of a bell ringing ceremony and reception at the New York Stock Exchange last Thursday, and also an interview with The Financial Times. I hope you enjoy a long and happy retirement now you're leaving the parish, Rich.
Meanwhile, in BigWorld this week, our July 4thissue, headlined the fact that there was news in BigWorld that Joe Biden has given limited support to geoengineering (aka blocking the sun) to limit global warming. That you think this is all a complete farce, the story was in Politico no less, which isn't the sort of place that you tend to get farcical stories, well other than political stories, which can be far to go. Anyway, the political story leads to the interesting notion that perhaps Joe Brezhnev was more than a hint of Montgomery Burns in his makeup. Montgomery Burns you will recall is listed as being "between 81 and 104 years old" and the owner of the nuclear power plant in the Simpsons, he famously blocked the sun in Season 6 Episode 25.
And on that mysterious and magnificent note, ladies and gentlemen, my name is Patrick L. Young, I create marketplaces around the world, also a founder of Exchange Invest the bourse bulletin daily delivered to your inbox - the Exchange of Information.
I wish you all a great week in life and markets.
LINKS:
Nasdaq Welcomed 60 IPOs In The First Half Of 2023
PR Newswire
The New York Stock Exchange Reports Strong Momentum In H1 Of 2023
ICE
HKEX's New IPO Settlement Platform, FINI, To Launch In October
HKEX
Super-Connector Hong Kong's 'Best Days Are Ahead', Says HKEX Boss Nicolas Aguzin As Bourse Operator Celebrates Six Years Of Bond Connect
South China Morning Post
HKEX Signs Cooperation Agreement With Beijing Stock Exchange
HKEX
London Stock Exchange Chief Slams Pension Schemes Over Attempt To Block City Reform
City AM
EU Bows To Exchanges' Fears With Stock Trading Plan
Financial Times
EU Lawmaker Proposes Ditching Mandatory Euro Derivatives Clearing Quotas For Now
Reuters
Tokyo Commodity Exchange To Be Demolished
Japan Property Central
Finance Sector Tells UK Regulators To Use New Post-Brexit Remit
Reuters
Deutsche Boerse Could Make Small-Scale Acquisitions
MarketWatch
Libor Is Over. We Still Need More Benchmarks To Replace It
Barron's
Depósito Central de Valores To Digitize Securities, Leveraging Nasdaq Technology
Nasdaq
MCX Renews Software Services Contract With 63 Moons For Rs 250 cr
The Hindu BusinessLine
ASX Competitor Cboe Blasts Governance Of CHESS Project
AFR
ASX Fronts Up Blockchain Week
AFR
Deutsche Boerse CEO To Step Down When Contract Ends Next Year
Reuters
Power Exchange India Limited Appoints New MD
People Matters
Ethiopian Monitor
Clearstream Banking AG Appoints Eckermann As CEO
Securities Finance Times
SET Appoints Chatchai Thisadoldilok And Pairat Thanachaisang As New EVPs
SET
AIM 'Pioneer' Brian Winterflood Dies
Portfolio Adviser
"I Was A 40 Year Old Making Coffee On Wall Street"
Financial Times