200 Exchange Invest Weekly Podcast July 1st, 2023
National Stock Exchange Ordered Back To School, Hong Kong Exchanges Open Their Office In New York City, And Euronext Exits Clearnet
Transcript:

This week in the parish of bourses and market structure:

National Stock Exchange Ordered Back To School
Hong Kong Exchanges Open Their Office In New York City
And Euronext Exits Clearnet
My name is Patrick L Young
Welcome to the bourse business weekly digest
It's the Exchange Invest Weekly Podcast Episode 200
Good day, ladies and gentlemen, this is a very brief reduction of highlights amongst the key headlines from the week in market structure. All the analysis of the many events and happenings from the past 7 days can be found in Exchange Invest daily subscriber newsletter, the unique guide to the bourse business sent daily to your inbox. More details at ExchangeInvest.com  where you can sign up for a panoply of offers.
Our daily newsletter for subscribers only paying. A free weekend newsletter more about macro topics than exchanges per se, which is published on Saturday. And also separately if you only want to know about what's going on in the world of digital assets and crypto exchanges we have our Substack Bitcarnage. More details on all three at ExchangeInvest.com.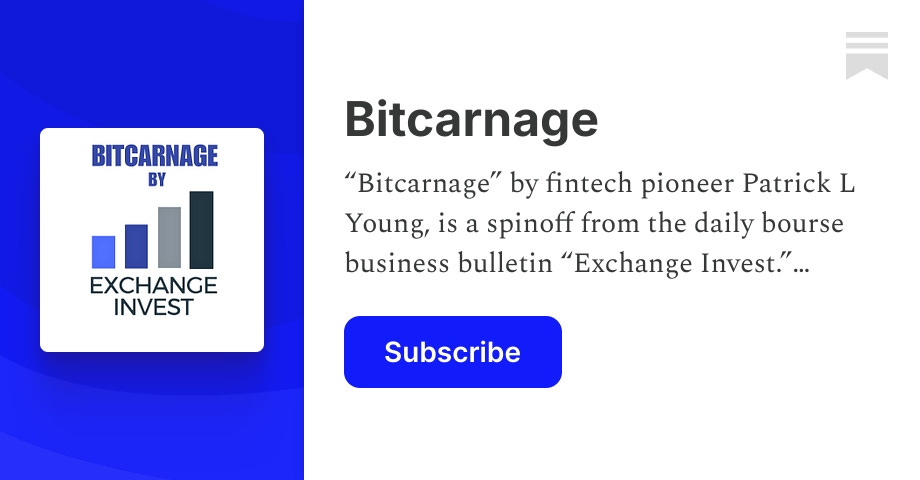 This week in Bitcarnage, fighting legal fire with fire proved unhelpful to SBF Binance and more despite their expensive star legal teams.
"It was all a mirage" said the FTX liquidator of SBF's deluded empire of effective altruism, or fraud as Mr. Ray seems to prefer terming it.
Meanwhile, Binance exited territories in the last week alone…Austria and Belgium while being excoriated in the Brazilian Parliament on top of multiple jurisdictions departures from Australia to the United Kingdom in recent weeks.
If you enjoyed this excerpt you may be interested to know that you can read Bitcarnage every day in Exchange Invest. Alternatively, if you want to follow just Bitcarnage alone, the daily update on happening in the world of crypto and digital asset market structure, then you can find Bitcarnage as a standalone on Substack.
Hong Kong Exchanges celebrated the opening of their New York Office supporting clients across North America in the course of the past week. And the Hong Kong Exchanges CEO Nicolas Aquzin was in very abuliant mode, expecting investment in China to 'grow massively' as he hit the gong to officially inaugurate the new US office.
Of course, that's all against the background of where Hong Kong is expecting to cash in on dual currency trading.
Meanwhile, a South China Morning Post Editorial surmises the Hong Kong Exchanges opportunity perfectly: "A confluence of trade, economics, and geopolitics drives the acceleration of yuan internationalization. As a one-of-a-kind investment center, the city is poised to ride with this irresistible tide." Totally 100% agree with that, no doubt about it.
Meanwhile, also 100% in agreement with Bundesbank and BNP. Even the Buba and French leading bank are now warning about the forcible resettlement of clearing inside the Eurozone in a week where the European Commission continues to do its spurned spouse dance without applying logic.
Beyond the EC's ongoing adventures in loopy, there was another London-centric mega development with Brexit ramifications. The protectionist EU has just shut out Indian CCPs causing all manner of chaos to European banks.

Thus, the UK is - thanks to its unilateral actions ignoring the strictures of Brussels - leading with an initiative to recognize the RBI (Reserve Bank of India) regulated CCPs of the Indian subcontinent and de facto strengthening London's financial centre and core cosmopolitan clearing infrastructure…the most cosmopolitan infrastructure on Earth, which operates from the City of London, thus throwing more shade on the deeply protectionist blinkered quasi mono currency clearing infrastructure of the European Union.
Over in Thailand, the Board of Governors of SET has approved a sweeping revamp of sets and mai's listing regulations that's for the main board and the emerging market itself for SMEs. They're strengthening supervision to enhance the quality of listed companies. This is of course driven by one headline alone, which will surmise what's been going on recently Default And 99% Stock Crash By Thailand's Stark Raise Alarm (News.com.AU) discussing a company that has collapsed truly into the doldrums over the course of just an 18 month period.
Meanwhile, further around the corner in Southeast Asia, the feud with Singapore Exchange is now over. And the world's largest derivatives exchange, National Stock Exchange of India has ended up with a key partner in SGX within the GIFT City infrastructure for the internationalization of Nifty 50 Futures. SGX you'll recall actually had a massive market share in overseas trading of Nifty 50 from Singapore, but was being restricted due to various curious Indian politicking strictures. The rather hollow war driven by protectionism has ended up with PM Modi's GIFT City financial center, being further "internationalised" with what was SGX's successful international Nifty 50 futures / options complex.
Over in Papua New Guinea, they're welcoming capital market reforms, a new corporate covenants code to enhance standards for listed companies.
ASX versus CBOE battle, CBOE's new CEO in Australia Emma Quinn has stepped up the challenge to ASX domination.
Good luck to Emma Quinn at a time when the ASX deserves to be defenestrated as its C-suite reshuffles resemble Titanic deckchair rearrangement after the iceberg hit. Equally, it's only fair to give a huge shout-out to Michael Aikins whose team of technologists within the former Chi-X Australia delivered a stunningly smooth upgrade to the CBOE tech stock in pretty much record time.
Finally, in the big stories of the week, the Spanish CSD Iberclear has added the Belgian market to its cross-border services.
It was a busy week for deals in the parish this week all the deals were in Exchange Invest daily in the newsletter no person can afford to be without in capital markets and market structure. For the sake of this podcast let's look at some edited highlights.
NASDAQ is looking to sell debt worth around $5 billion. That's the start of the funding for the Cadenza deal. They're looking to sell senior notes worth $4.25 billion and €750 million respectively. Look out for the full pricing data on that I would imagine in our next podcast. And if you're impatient for the pricing data, well don't forget it's all going to be covered in Exchange Invest daily (Monday - Friday) only $349 per user per year.
Meanwhile, Euronext announced the sale of their 11.1% stake in LCH SA (formerly Clearnet) to LCH Group Holdings Limited. Thus, for an amount of $111 million, making Clearnet worth around billion.
It's unclear what the future is for the former Clearnet, but understandably, Euronext no longer needs their stake after being gifted a discounted price on Borsa Italiana as the misguided Refinitiv merger led to a jettisoning of core European Union exchange assets by Out of his Depth Dave, the CEO of the LSEG and his team. LCH is in some ways seen as the last bastion of common sense within the LSEG Group. So good luck with their continental European approach whatever it may be.
if you're trying to understand better your approach on any continent, or indeed possibly even in the whole ether sphere of markets, you ought to be looking at my most recent book "Victory or Death? - Blockchain, Cryptocurrency and the FinTech World. It's published by DV Books, and it's available by distribution through Ingram worldwide.
Meanwhile, while you're waiting for your copy of "Victory or Death?" to arrive, check out our LiveStream Tuesday 6pm London time, one o'clock New York time - it's the IPO video live show. You can catch the back episodes on LinkedIn and YouTube via "IPO-Vid".
Now online was last week's episode show IPO-Vid LiveStream #112 Yra Harris: Patience Is A Virtue. It's rare that we get the chance to talk to someone who's been consistently a mega profitable trader over the course of a half century, solid 46-year track record and more trading in some of the toughest derivatives markets in the world. It was a joy chatting to Yra.
You may want to catch that show again, even if you're filling out of it on Tuesday because of course it's July the fourth in the United States of America, which means Independence Day, and therefore, we're not going to be having a show this week. But there will be a show coming up on July 11th which will be IP O-Vid LiveStream #113 with Scott Shellady, another veteran of the Chicago piths who will be Chewing The Market Cud With The Cow Guy.
Meanwhile, our 'Finance Book of The Week' -  we've been choosing for the course of the last month or so interesting books pertaining to exchanges and markets investment et al., thanks to reader requests as to what they should be reading.
This week's book is a cracker written by our IPO-Vid guest on Episodes #036 and #43, Cryptodad Christopher Giancarlo.
Cryptodad is the name of his book. It's an insider's account of the rise of digital money and currencies.
It's Giancarlo's own personal story, detailing his forays into the world of Wall Street all the way through to his tenure as the 13th Chairman of the United States Commodity Futures Trading Commission (CFTC) where he pushed for the agency to recognize the digitalization of markets.
Cryptodad argues that the next digital wave will be the coming Internet of Value, where cryptocurrencies will do what the Internet of Information did to immaterial things: make them accessible, distributable, and movable instantly across the globe.
Our next book of the week will be unveiled on Saturday in the Exchange Invest Weekend Edition. Don't forget, if you want all the news on the bourse business sent daily to your inbox, subscribe to Exchange Invest via ExchangeInvest.com. It's only $349 per user per year to join the exchange of information.
Product news this week, Perth Mint is facing more scrutiny as a federal Australian parliamentary inquiry has been launched after the gold doping saga. Looks 100% likely there's going to be a lot of ramifications over what happened over the melting down to four nines quality of the Perth Mint output.
Croatian power futures are going to be starting trading soon on the EEX.
In technology news, MCX (Multi Commodity Exchange) of India saw their shares fall as they canceled the mock trading session for the new trading platform on the course of Saturday of last weekend. That left the stock very, very volatile. They managed to get together a mock session on Sunday but nonetheless, while the stock recovered, investors remain jittery over just whether or not TCS will finally be able to deliver their much-delayed replacement system to the legacy 63 Moons technology.
The blame game rages over ASX's failed CHESS system blockchain upgrade, notes Cointelegraph.
Frankly everybody looks tarnished in this sorry mess and some will clearly feel unjustly treated but when you spend / receive hundreds of millions of dollars, it's difficult to blame the other party for all your woes, this kind of fiasco takes organization to remind you of the old line attributed to Bob Hope on being stranded in London during a 1970s mega-strike and asked if he blamed the Prime Minister.
Finally in technology this week, the Hà Nội Stock Exchange (HNX) is going to be launching a new bond trading system they developed inhouse. The processing capacity of the system is going to be able to reach 20 to 30 million commands per second, allowing it to handle 15 to 20,000 orders per second.
Regulation news this week, NSE (National Stock Exchange of India) and its NCL clearing arm have settled the trading glitch case with SEBI. They've paid ₹72.64 but most swinging still are some of the punishments on the individuals involved. SEBI has ordered back-to-school and community services for the exchange and clearing house chiefs both past and present. Back to School for executives in the exchange parish - what a marvelous idea. We could certainly nominate a few dozen more parish execs who could fundamentally benefit from understanding their markets better.
Do please drop us a DM if you can think of anybody you would like to send us an exchange executive back for re-education.
Career paths this week, the FIA EPTA proprietary trading group has reelected Mark Spanbroek as chairman. It's going to be apparently his final term but nonetheless that organization has been hugely shaped by Mark and we applaud him for what he's managed to do with the organization.
Meanwhile, NASDAQ announced the results from their 2023 Annual Meeting of Shareholders, with no surprises whatsoever. Adena Friedman as Chairman of the board was re-elected. She's also of course Chief Executive Officer, as well as all of the other existing directors.
The Jamaica Stock Exchange chairman Mr. Julian Mair was re-elected as Chairman of the Board and Steven Whittingham was re-elected as Deputy Chairman at a board of directors meeting on June 22nd 2023.
Finally, vale Harry Markowitz, the Father of Modern Portfolio Theory died at 95 during the course of the last week. Farewell then Harry Markowitz, who truly revolutionized investment by demonstrating higher portfolio could maximize returns yet reduce overall risk. Another genius born in Chicago dies having made all our lives immeasurably richer.
Meanwhile, for those of you surprised that Mad Vlad suddenly had a challenge to his rule this week, you clearly haven't been reading Exchange Invest 'BigWorld' column on the macro political front. I made a BigWorld call as recently as Tuesday the 13th of September last year "Is It Curtains For Mad Vlad?", I pondered. And I followed that up with some further reasoning in the next day's issue on 14th of September 2022 EI 2453 and 2454 respectively. If you're a subscriber and you want to pop back and have a look. Clearly last weekend, that whole prognosis took a great leap forward.
Let's remember Gorbachev lasted barely five months after fighting off his hard-line coup, how long is Vlad got? I don't know but I did tell you (to much derision in some quarters) that his empire would soon fall apart during the course of Q4 last year. Cue more shouting, but in the weeks / months to come Vlad's Imperial reign is toast.
And remember, it's never too late to subscribe via ExchangeInvest.com so that you can join the watercooler the bourse business, the Exchange of Information, and get some peripherally useful BigWorld data along the way.
And on that mysterious and magnificent note, ladies and gentlemen, this is Patrick L. Young, creator of exchanges the world over, advisor to many leading exchanges worldwide, always interested in all manner of new and exciting deals in the exchange world, while also being the publisher of Exchange Invest - the "Exchange of Information".
I wish you all a great week in blockchain, life, and markets. And thanks to the team for the 200th episode of this podcast and the 199th previous episodes, which have all come out successfully.


LINKS:

HKEX Celebrates Opening Of New York Office, Supporting Clients Across North America
PR Newswire
HKEX CEO Expects Investment In China To 'Grow Massively'
Bloomberg
Hong Kong To Cash In On Dual Currency Trading
South China Morning Post
Bundesbank, BNP Caution Over EU Euro Derivatives Clearing Curbs On Britain
Yahoo Finance
SET Board Of Governors Approves Sweeping Revamp Of SET's And Mai's Listing Regulations And Strengthens Supervision To Enhance Quality Of Listed Companies
SET
Thailand To Overhaul Listing Rules As Stocks Whacked By Scandals
Bloomberg
Feud With SGX Over, World's Largest Derivatives Exchange Eyes Larger Pie
The Straits Times
PNGX Welcomes Capital Market Reforms
PNGX
ASX: Cboe Australia's Emma Quinn Steps Up Challenge ASX Domination
AFR
Spanish CSD Adds Belgian Market To Its Cross-Border Services
Global Custodian
Nasdaq To Sell Debt Worth $5bn
Gulf Daily News
Euronext Announces The Sale Of Its 11.1% Stake In LCH SA To LCH Group Holdings Limited
Euronext
Perth Mint Faces More Scrutiny As Federal Parliamentary Inquiry Launched After Gold Doping Saga
ABC News
Croatian Power Futures Start Trading On EEX
SeeNews
MCX Shares Fall As It Cancels Mock Trading Session For New Trading Platform
Republic World
Blame Game Rages Over ASX's Failed CHESS System Blockchain Upgrade
Cointelegraph
HNX To Launch New Bond Trading System
VietNam News
NSE, Its Arm NCL Settle Trading Glitch Case With Sebi
Deccan Herald
NSE Settles 2021 Glitch Case With Sebi, Pays Rs 72.64 cr
The Economic Times
Sebi Orders Back-To-School, Community Services For Exchange, Clearing House Chiefs
Moneycontrol
FIA EPTA Re-Elects Mark Spanbroek As Chairman
FIA EPTA Members Elect New Executive Committee
FIA
Nasdaq Announces Results From 2023 Annual Meeting Of Shareholders
Nasdaq
Jamaica Stock Exchange Chairman Re-Elected
Mayberry Investments Limited
Harry Markowitz, Father Of Modern Portfolio Theory, Dies At 95
Bloomberg