199 Exchange Invest Weekly Podcast June 24th, 2023
China High Yield?, Hong Kong Dollar Renminbi - Dual Counter LiftOff!, Binance is Dying, NASDAQ Goes Ex-Power
Transcript:

This week in the parish of bourses and market structure:    
China High Yield?
Hong Kong Dollar Renminbi - Dual Counter LiftOff!
Binance is Dying
NASDAQ Goes Ex-Power

My name is Patrick L Young
Welcome to the bourse business weekly digest
It's the Exchange Invest Weekly Podcast Episode 199
Good day, ladies and gentlemen, this is a very brief reduction of highlights amongst the key headlines from the week in market structure. All the analysis of the many events and happenings from the past 7 days can be found in Exchange Invest daily subscriber newsletter, the unique guide to the bourse business sent daily to your inbox. More details at ExchangeInvest.com
It was another strange week in Bitcarnage as Binance was apparently not a multiple of companies being mentioned in reports in Nigeria and the UK. Thus they claim they were not unwelcome by the SEC and Nigeria, while imposters have several UK-based Binance entities.
All in all, it was hardly a vote of confidence in Binance throughout the course of the week. However, news also emerged that many of their European executives are apparently leaving, just as Binance also withdraws from multiple jurisdictions.
If you enjoy this excerpt, you may be interested to know that you can read Bitcarnage every day in Exchange Invest. Alternatively, if you want to follow Bitcarnage, the daily update on happenings in the world of crypto and digital assets as a standalone, you can find Bitcarnage on Substack.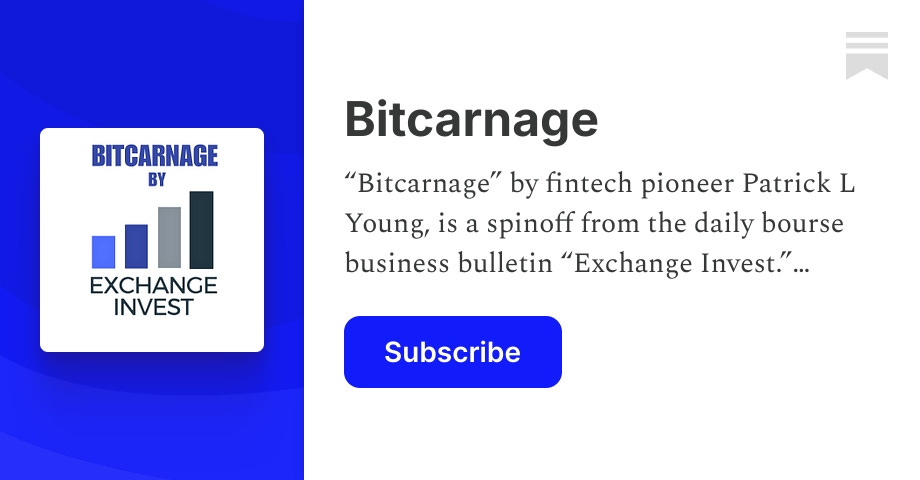 The LME Nickel nightmare case has the High Court in London the biggest possible worry for the parish is not so much how LME fares as possible SRO ramifications which may impact all of London's regulated markets.
In results this week, just one set of results and actually a private company. Luxembourg Stock Exchange (LuxSE) reported record profits for 2022. Admittedly, those were hugely buoyed by the windfall gain from selling their subsidiary Fundssquare to the UK-based fund data and technology company FE fundinfo.
In deals, another deal from NASDAQ this week, they are selling their power exchange assets in Scandinavia to EEX. It's almost five years since Mr. Aas made a write Einar of himself, NASDAQ selling its power business to EEX, another coup for Peter Reitz. It's not hugely material as an enterprise but it probably helps release CCP capital tied up on the NASDAQ balance sheets.
Nonetheless, NASDAQ further reduces its core markets footprint, which was already scheduled to be under 25% of group revenues from exchange operations following the announcement of the transformative Adenza deal last week.
Meanwhile Adenza deal funding is a go-go incidentally with Nasdaq, Inc. Announcing Proposed Senior Notes Offerings
If you're trying to get your head around, how this world of M&A and the future of exchanges is likely to go, you want to consider my most recent book "Victory or Death?" - Blockchain, Cryptocurrency, and the FinTech World. It's published by DV Books and is distributed by Ingram worldwide.
While you're waiting for your copy of "Victory or Death?" to arrive, check out our LiveStream Tuesday 6pm London, 1 o'clock New York time  - the IPO video live show. Catch the back episodes on LinkedIn and YouTube via "IPO-Vid".
In our latest episode, gripping discussion with Eamonn Butler the boss of the Adam Smith Institute leading UK free markets think-tank and we were discussing Adam Smith 300 Years On.
Coming this week on Tuesday at 1 o'clock Eastern time, 6pm London time it's going to be a great IPO-Vid LiveStream #112 with Yra Harris Patience Is A Virtue is a title for that discussion with a world-class macro trader with half a century of experience.
Meanwhile, in response to readers' queries, we've added a "Book Of The Week" column to the Exchange Invest Weekend Edition. You can sign up for EI Weekend incidentally for free and enjoy some more macro reading every Saturday morning. Just go to ExchangeInvest.com to sign up for that or indeed our subscriber newsletter - the 'Exchange of Information' Exchange Invest Daily.
To go on side with the 300th Anniversary of Adam Smith's birth, we're highlighting his masterpiece "The Wealth of Nations" which endured a 17-year gestation period, including extensive conversations with contemporary economists, such as Nicholas Magens.
The result is a masterpiece that frames so many aspects of society, the industrial revolution, more in a readable format, which endures in its insights to this day, thanks to its practical application of a reformed economic theory to replace the mercantilist and physiocratic economic theories that were becoming outdated as the enlightenment was powered by industrial change, driving societal improvement for all.
The "Wealth of Nations" does for economics, what Immanuel Kant's Critique of Pure Reason achieved for philosophy, and hence, that's why it's our "Book of the Week".
In product news, it was one small step between stock counters, provides a giant leap for stock trading, as we described it in Exchange Invest. Dual stock trading in Hong Kong dollars and Chinese RMB is a hugely exciting development for Hong Kong Exchanges Group and it went live this week.
Elsewhere CBOE Clear Europe plans to introduce clearing services for securities financing transactions.
LIBOR scandal must be re-examined, says Lord Tyrie.
I'm not sure it really strikes me as being a worthwhile exercise.
Euroclear has eased its ban on settling trades with some Russian bonds under legal pressure.
The new product of the week is clearly lithium carbonate futures and options as electric vehicle demand surges the world over both Guangzhou Exchange and the CME Group are looking to launch futures and options on lithium carbonate at the earliest possible opportunity.
Making a welcome return to the universe of products. Groundnut futures are returning to the NCDEX (National Commodity and Derivative Exchange of India) after a hiatus of more than 13 years.
Sadly, bad news on the IPO  -  WE Soda IPO collapsed almost as fast as it tried to get off the ground. Another body blow to London in the middle of the London Stock Exchange Group having entirely lost focus on their core knitting of running markets.
Technology news this week, the Swiss Stock Exchange has been probing what was a rather catastrophic 3-hour trading blackout during the course of the week.
While Buenos Aires in Argentina, the National Securities Commission are pressing charges after a ransomware attack on their files.
Finally, ASEA (African Securities Exchange Association) is setting Q3 for the phase 2 rollout of their AELP cross-border linkage project.
Regulation news this week, one fascinating macro effort, the Bank of England has launched a first sector-wide liquidity 'stress test'.
According to their own words, "The Bank of England has launched its first system-wide liquidity 'stress test' to establish how big banks, insurers, clearing houses, and investment funds respond collectively during extreme stresses in markets", it said last Monday.
It's not a bad idea but might there also be a chance of a cross-Bank of England stress test to check how coherent the management is, given the widespread confidence, and crisis amongst the public in the ability of the Bank of England getting back to the Mark Carney era, if not before?
Career path this week, a bit of an upheaval at CBOE Global Markets.
Megan Goett - SVP, Chief Marketing Officer
Hatice Unal - SVP, Infrastructure
Laura Fuson - VP, Futures
Jodie Gunzberg - Head of Strategic Partnerships
Katherine Kirkpatrick - Chief Legal Officer, Cboe Digital
CBOE appears to be trying to grow up. It will be interesting to see if their new marketing approach extends beyond the parochial Chicago loop and not much else.
Meanwhile, another person or two out in the C suite of ASX.
The Politburo itself notes "Following a dedicated career spanning 23 years at ASX, Group Executive Securities and Payments, Tim Hogben confirmed his intention to take leave before departing ASX to pursue new opportunities." The sentence "and he should count himself lucky he was allowed to leave the Politburo without being sent to the gulags in the Northern Territory" has apparently been omitted from this release.
Given Tim Hogben steps down immediately, the clear conclusion is either:
-ASX finds him to be clearly in some sort of mega breach, or:
-ASX has completely and utterly lost the plot.
The good news is, ASX appears to have kept their Company Secretary long enough on this cycle for them to be a signatory to this message. At least we can rejoice in the stability of the Politburo in one area - hoorah! Meanwhile, however, Mr. Hogben is being immediately replaced by Clive Triance who is coming from London to join ASX.
And in more news buried in the release, ASX has lost YET another C suite, their Human Relations chief now styled "Group Executive, People and Culture" Lisa Green, has also resigned. When Ms. Green leaves, her former posts will be further rebranded as "ASX has expanded the remit of the People and Culture portfolio to include certain transformation responsibilities, and recruiting a new Chief People Officer.
"Transformation responsibilities" the ASX can transform anything as we've seen all, too clearly from the $250 million CHESS replacement fiasco.
In 'Big World' it doesn't get much better in terms of transformational management. Way back when the smugocracy was busy QE'ing its way to Nirvana and profiting from property leverage which was not available to most normal mortals. In those days central bank bosses like the egregiously incapable Mark Carney were busy wrapping up the bond market in zero yield while demonstrating their own form of net zero: net zero intelligence that is.
Anyway, Exchange Invest and indeed your podcast host PLY have long noted 'just watch somewhere a bit north of 4% and it will have a Dante inferno feel to it'. Hey presto, the yield curve has arisen with gusto and now base rates are locked on towards 6% in the UK, the result is near meltdown in a nation where at dinner parties you are judged socially more significant by the size of your mortgage. Coming soon to other nations too, I suspect - although intriguingly Poland may have topped out already but then they aggressively move to 6.25-7% (depending on your preferred marker) very early and will likely stick there as others scramble to kill the inflation there QE stupidity let loose in the first place.
Meanwhile, precisely as we have been anticipating for years now, the new gen hysteria on mortgage rates is hitting in the mid single digits where a generation before rates had to be 3x that to really cause the same degree of pain (mid-1990's Lawson boom peak was six times average income to house prices incidentally, nowadays we're over 9 and still rising in the UK…The US equivalent for that, incidentally was around 4.2x in the mi- 1990s, rising to over 7.5x now).
And on that mysterious and magnificent note ladies and gentlemen, my name is Patrick L Young, wishing you a terrific week in blockchain, life, and markets as I'm sitting here under a very very busy flight path at Miami International Airport.

LINKS:

LuxSE Reports Record Profits For 2022
Lux Times
EEX And Nasdaq Commodities Announce Intention To Transfer Nasdaq's European Power Business To EEX
Globe Newswire
Explainer: What Is Hong Kong's New Dual HKD/RMB Share Counter?
Reuters
Cboe Clear Europe Plans To Introduce Clearing Service For Securities Financing Transactions
Cboe
Euroclear Eases Ban On Settling Trades With Some Russian Bonds
Bloomberg
Guangzhou Exchange Readies Lithium Carbonate Futures, Options
Yicai Global
CME Group To Launch Lithium Carbonate Futures As Electric Vehicle Demand Surges
CME
Groundnut Futures Contract Will Provide Good Support To All Market Participants: Anuj Gupta
The Economic Times
WE Soda IPO: Collapse Of London's Biggest Flotation This Year Is Not The City Snub It's Being Painted As
Yahoo Life UK
Swiss Stock Exchange Probes Three-Hour Trading Blackout
SWI
CNV Presses Charges After Ransomware Attack
Buenos Aires Herald
ASEA Sets Q3 For AELP Phase II Roll-Out
Businessday NG
Bank Of England Launches First Sector-Wide Liquidity 'Stress Test'
Reuters
Cboe Global Markets Announces New Senior Leadership Appointments
PR Newswire
ASX Ltd Announcement - ASX Makes Changes To Executive Leadership Team
Fool