198 Exchange Invest Weekly Podcast June 17th, 2023
Adena's Adenza Cadenza, Vermiculus delivers in Minneapolis, ITS A Go Go, And ASX have gone almost orbital with their latest shark jump - pondering T+1 settlement after their CSD software upgrade collapsed following a T+700 delay.
Transcript:
This week in the parish of bourses and market structure:    
Adena's Adenza Cadenza
Vermiculus delivers in Minneapolis
ITS A Go Go
And ASX has gone almost orbital with their latest shark jump - pondering T+1 settlement after their CSD software upgrade collapsed following a T+700 delay.

My name is Patrick L Young

Welcome to the bourse business weekly digest
It's the Exchange Invest Weekly Podcast Episode 198
Good day, ladies and gentlemen, this is a very brief reduction of highlights amongst the key headlines from the week in market structure. All the analysis of the many events and happenings from the past 7 days can be found in Exchange Invest daily subscriber newsletter, the unique guide to the bourse business sent daily to your inbox. More details at ExchangeInvest.com
We headlined one of the articles in Bitcarnage this week: Et Tu Brute?
As I noted, let's be fair, the Nigerian SEC is making great strides to create a high quality infrastructure at the heart of the populous commodity rich Nigerian economy and concomitant capital markets. Thus, it isn't part of that lingering black mark on Nigeria, which has been assiduously cultivated by a generation of digital scammers. That Binance should be found 'persona non grata' in Nigeria by the regulators suggests the "rump in emerging places" legacy position for Binance (presuming it's not fully expunged from viable business globally) is in fact therefore a shrinking opportunity. In any case, it says a lot about the state of crypto that Nigeria now looks a lot more above board in compliance terms globally than the world's largest crypto exchange.
If you enjoyed this excerpt, you may be interested to know that you can read Bitcarnage everyday in Exchange Invest. Alternatively, if you want to follow Bitcarnage, the daily update and happenings in the world of crypto and digital assets, then you can find Bitcarnage as a standalone on Substack.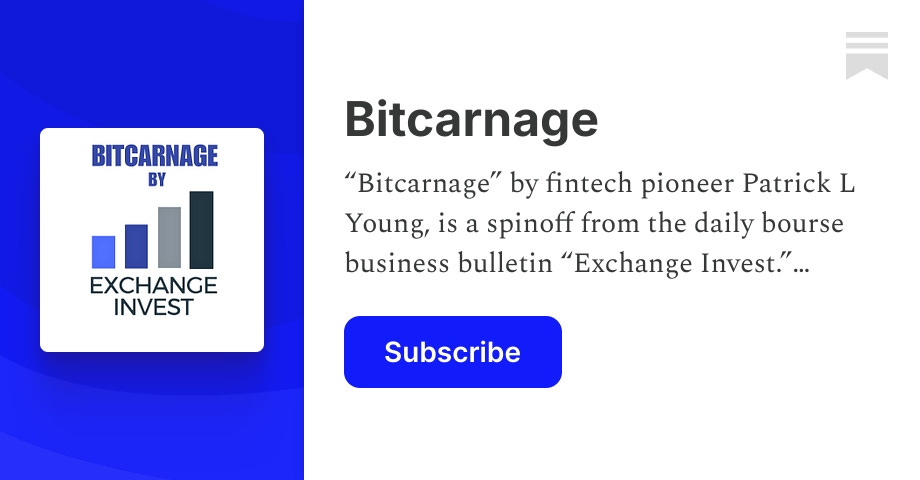 If you want to subscribe to Exchange Invest $349 per user year, you can do that by signing up at ExchangeInvest.com starting with a 30 day free trial.
ASX this week surprise the market seeking views from key stakeholders on a potential move to T+1 day settlement.
The key rule, as I noted in Exchange Invest at the time of information warfare against the proletariat is to always have a means to distract the masses. Thus 'panem et circenses' in an exchange format is being touted by the ASX Politburo in the fashion of "Comrades we will bring you T+1 according to their battle cry…"
Elephants may not be native to Terra Australis, but it's fair to now believe white elephants are becoming endemic in ASX HQ.
Meanwhile, actually Australia have announced that they could be killing cheques by 2030. Same time if they put ASX in charge of the process of getting rid of the cheques from the banking system. I would imagine ASX can doubtless keep the whole process of paper written money going while close to the middle of the century at least.
In India, quite a Kerfuffle this week, the power ministry asked the CERC (the electricity regulator) to start the process for market coupling. That caused a huge collapse in the shares of IEX. They slipped 9% In the last 30 minutes of trade alone in the course of last Friday.
Nonetheless, it seems like a weird move it's strange - but oh so Indian, to create a coupled of market is understandable if there's a hugely unwieldy imbalance, but of the 3 players in the electricity field: Indian Energy Exchange (IEX), Hindustan Power Exchange (HPX) and Power Exchange India (PXI)...IEX has 99.9% market share! That's why their shares were falling so rapidly (although they did have a minor bounce back during the course of this week). Nonetheless, it's quite a remarkable blow against the final genius exchange delivered by Jignesh Shah and his FTL (now 63 Moons)
New markets this week, trading volume on ITS exceeded 1.1 million on its first day of operation. ITS is a new MTF launched in Kazakhstan, offering direct access for local investors to multiple overseas markets including NYSE and NASDAQ.
Japan's SBI is looking to set up a carbon emissions exchange.
Climate Impact X (CIX) have launched in Singapore their CIX exchange to level up according to their own claims, carbon market transparency, certainty and liquidity that marketplace traded some 12,000 tons of carbon credits on its first day of trading and is powered by NASDAQ technology.
Finally this week in new markets, Serbia's SEEPEX intraday electricity market will go live in July.
One spectacular deal this week, transformational for NASDAQ. NASDAQ are, as they said in their own words, accelerating their transformation as a leading technology provider to the global financial system with the acquisition of Adenza from Thoma Bravo.
It's a fascinating deal as NASDAQ will power to the top of Tier 2 of Young's Pyramid when this closes, neck and neck with DB1. Adding Adenza (which amounts to the assets merged of AxiomSL and Calypso, major vendors in derivatives and related products) is going to deliver a $10.5 billion stock / cash deal to Thoma Bravo, the seller. And for NASDAQ there's a lot of additional complementary applications (and customers) being brought to the NASDAQ cloud amongst other suites.
The transaction amounts to $5.75 billion in cash and $85.6 million shares of NASDAQ common stock (that was settled of course at the rather customary for these sorts of deals VWAP over 15 consecutive trading days prior to signing). NASDAQ has obtained fully committed bridge financing for the cash portion and plans to use approximately $5.9 billion of debt between signing and closing and those proceeds will then be used to replace the bridge commitment. Thoma Bravo, is going to be in the catbird seat holding an incredible swing position approximately 14.9% of the outstanding shares of NASDAQ.
They'll also get a board seat for Managing Partner Holden Spaht. Now this of course hugely shakes up the NASDAQ shareholder register. Investor AB will now drop down from being 2nd to the 3rd largest shareholder of NASDAQ with 58 million (almost 200,000 shares) and Borse Dubai, Ltd will remain the largest with about 4 million more shares than  Thoma Bravo with 89.3 million shares.
It's a very very interesting deal and being able to brand these products as NASDAQ ought to give them added cachet for buy / sell side and indeed market structure clients both existing and new to the NASDAQ empire. The Adenza cadenza is a fascinating creation absolutely in keeping with the ongoing orchestration of NASDAQ's court composer, Chairman and CEO Adena Friedman.
Meanwhile, having sold mortgage assets to ICE (Ellie Mae $11 billion deal in 2020) and now Adenza for $10.5 million to Adena, team Thoma Bravo must be quite the fans of acquisitive exchanges.
if you're trying to get a better understanding of just why these sorts of deals are being done in the world of financial market infrastructure, pick up a copy of my most recent book "Victory or Death?" Blockchain, Cryptocurrency, and the FinTech World. It's a useful primer on all aspects relating to blockchain, cryptocurrency, FinTech, and the expanding world of exchanges. Pureplay PLY pith. "Victory or Death?" is published by DV Books and is distributed by Ingram worldwide.
Don't forget while you're waiting for your copy of "Victory or Death?" to arrive, check out our Livestream that's on Tuesdays at 6pm London, 1 o'clock New York time - the IPO video live show. Catch the back episodes on LinkedIn and YouTube via "IPO-Vid".
Now online was this week's IPO-Vid #110: "AFM@25, EI@10 Anniversary Spectacular".
Coming on Tuesday, don't miss it 1 o'clock New York time we have got a fabulous show discussing Adam Smith 300 Years On with the man who runs the Adam Smith Institute Eamonn Butler.
Time for 'Finance Book of the Week' now we are having In Defence of Capitalism as the latest addition to our bookshelf building exercise. Rainer Zitelmann was our guest in IPO-Vid #104: In Defence of Capitalism examines the 10 most common objections to capitalism: capitalism leads to hunger and poverty, to rising inequality, to unnecessary consumption, to environmental destruction, and to…all those things the complaint about capitalism which happened to ignore the fact that there's an invisible hand out there that delivers prosperity for everybody. Zitelmann scrutinizes each of these arguments in turn and reveals the critical flaws and debunks them. It's a fascinating, must read, I thoroughly recommend "In Defense of Capitalism" by our guest from IPO-Vid #104 Rainer Zitelmann.
Product news this week, ICE (Intercontinental Exchange) have launched a Washington cap and invest carbon allowance futures contract.
Before everybody gets all 'well, DC needs all the help it can get to alleviate hot air"...bear in mind this is Washington State, Seattle being its most famous city and Olympia the state capitol that is probably a near slam dunk for winning trivia contests.
Elsewhere, Aquis Exchange launched a Dark to Lit Sweep providing easier access to liquidity across both order books. That's part of the ongoing integration of their asset UBS MTF that they acquired at the end of last year.
Eurex is going to be building an EU-based liquidity pool for euros short-term interest rate derivatives. Which I suppose is, well, just a binary either you reckon it's a case of:
1) If at first, you don't succeed. Try, try again (the traditional moniker)
2) Einstein's definition of insanity (aka doing the same thing over and over expecting a different result)
Albeit it has to be said, that quotation actually didn't come from Einstein. Truth be told. It ought to be attributed to sociology professor William Bruce Cameron.
CME Group see opportunities and in China derivatives market. Presumably coming soon then we can expect micro / nano RMB something or other futures for retail, then.
One interesting final message on the whole wondrous world of product this week, from the ICE Benchmark Administration Limited (IBA) are planning to launch ICE Commodity Traceability (ICoT)  service to help cocoa and coffee industries comply with EU deforestation regulation.
For those who thought perhaps post LIBOR IBA might be wondering what to do in the afternoons…This is a most interesting aside, checking and providing ESG assistance while the EU demands provenance on everything and anything. A fascinating sideline to the ICE business and most significantly keeps cocoa and coffee flowing - trust me without the latter you wouldn't want to conceive of how grumpy Exchange Invest production could be of a morning.
In technology news this week, great news from Vermiculus, their micro service based clearing solution has gone live on the Minneapolis Grain Exchange (MGX) ahead of schedule. Congratulations to Vermiculus Chairman Nils-Robert Persson who made a brilliant appearance of this week amongst many guests on our IPO video #110, and also CEO Taraneh Derayati. Taraneh being our guest on IPO-Vid #48: A New Code for Market Structure.
The Vermiculus story is a fascinating one. NASDAQ's tech management allowed another competitor to emerge (before Roland Chai took charge of that franchise) having bought Cinnober…and then customers drove demand for Vermiculus solutions, prompting it to expand so rapidly, that if only they had time, management could write a directory guide to co working in Stockholm, having occupied just about every such space across the city as they have grown exponentially at a prodigious speed.
I'm delighted to see Vermiculus doing so much business - with a burgeoning order book and deliveries rolling along seemingly effortlessly. Another perish IT firm will enjoy a good mid summer's break among Stockholms excellent exchange tech cluster - well done Vermiculus!
It isn't grubby but the little worm which is Vermiculus is wriggling fast - the Minneapolis Grain Exchange CCP now powered (ahead of schedule) with an installation for the latest blockbuster business to emerge from Sweden's exchange tech hub.
Tel Aviv Stock Exchange along with the Israeli Ministry of Finance, successfully completed what they called the Project Eden Proof of Concept (PoC) issuing government digital bond on a dedicated blockchain platform.
The SIX Swiss Exchange didn't have such a good week. They experienced their worst outage for over a decade when the market was essentially shut for 3 hours on one day.
FIA is celebrating, their spin off group has snagged $25.4 million to build their trade data network. A remarkable achievement by the FIA tech arm - well done!
Regulation news this week, I'm going to point you in the direction of just one speech "We've Seen This Story Before" remarks before the Piper Sandler Global Exchange FinTech Conference by SEC chair Gary Gensler in Washington DC on June 8th of this year.
Let's just take a key point, said by the chairman of the SEC Gary Gensler himself: "in a market rife with fraud, abuse and non compliance..The crypto securities markets should not be allowed to undermine the well-earned trust the public has and the capital markets."
"Our capital markets are the deepest, most liquid and most trusted in the world. Tthrough this agenda, we seek to keep it that way."
If you're a crypto exchange, you might interpret that as Gary Gensler whispering in your ear "blood, blood, blood, blood, blood".
Career paths this week, there's been a change of President and CEO at the TFX (Tokyo Financial Exchange) Nobuyuki Kinoshita has resigned as President and CEO. Senior MD Takuo Hirota will assume position of president and CEO forthwith.
The carbon removal marketplace Nori, not yet quite a full exchange, but nonetheless, it's a marketplace. We're gonna include it here. They announced the appointment of exchange veteran Matt Trudeau as CEO, and they also had a $6.25 million funding round led by M13, Toyota Ventures, Placeholder, and Cargill. I'm really delighted to see Matt Trudeau appointed the CEO of Nori and back actively in the parish of exchanges and markets.
LTSE (Long Term Stock Exchange) have announced two key executive hires. They scooped up the former LendingTree General Counsel and Corporate Secretary Lisa Young, she's joining us General Counsel. And Reuters and all manner of other places veteran Bill Hartz is going to be joining LTSE as the CEO of the exchange business itself.
Finally, in jobs news this week, Seffy Zinger is going to be appointed head of the Israeli Securities watchdog replacing Anat Guetta, who stepped down in April after more than 5 years in office.
And I suppose that only leaves us to ponder ladies and gentlemen, what can happen next week in the wonderful world of crypto, given the fact that we've just been through a week where we saw both Biance.US and Coinbase, subjected to extreme legal action from the SEC.
Will the DOJ be following in? Will it be orange jumpsuit time?
And on that mysterious and magnificent note, my name is Patrick L. Young.
I wish you all a great week in blockchain, life, and markets.

LINKS:

ASX Seeking Views From Key Stakeholders On A Potential Move To T+1
The Trade
Australia To Kill Cheques By 2030
Finextra
Power Ministry Asks CERC To Start Process For Market Coupling
The Economic Times
IEX Shares: Market Coupling, Two Other Factors To Affect Stock Of Energy Trading Platform
Business Today
Market Coupling Fear? IEX Shares Slip 9% In Last 30 Minutes Of Trade
Business Today
Trading Volume On ITS Exceeded $1.1 Mln On Its First Day Of Operation
ITS
Japan's SBI To Set Up Carbon Emissions Exchange
Nikkei Asia
Climate Impact X Launches CIX Exchange To Level Up Carbon Market Transparency, Certainty And Liquidity
Business Wire
Singapore's Climate Impact X Launches Global Carbon Spot Trading Exchange
The Straits Times
Serbia's SEEPEX Intraday Electricity Market To Go Live In July
Balkan Green Energy News
Nasdaq Accelerates Its Transformation As A Leading Technology Provider To The Global Financial System With The Acquisition Of Adenza From Thoma Bravo
Nasdaq
ICE Launches Washington Cap And Invest Carbon Allowance Futures
ICE
Aquis Launches Dark To Lit Sweep, Providing Easier Access To Liquidity Across Both Order Books
Aquis
Eurex To Build An EU-based Liquidity Pool For Euro Short-Term Interest Rate Derivatives
DB1
CME Group Sees Opportunities In China Derivatives Market
Regulation Asia
ICE Benchmark Administration Plans To Launch ICE Commodity Traceability Service To Help Cocoa And Coffee Industries Comply With EU Deforestation Regulation
ICE
In Record Time—Vermiculus' Microservice-Based Clearing Solution Goes Live On Minneapolis Grain Exchange
Vermiculus
The Tel Aviv Stock Exchange And The Israeli Ministry of Finance Successfully Completed The Project Eden Proof Of Concept - Issuing A Government Digital Bond On A Dedicated Blockchain Platform
PR Newswire
SIX Swiss Exchange Experiences Worst Outage For Over A Decade
The Trade
FIA Tech Snags $25.4 Million For Trade Data Network
Finextra
"We've Seen This Story Before", Remarks Before The Piper Sandler Global Exchange & Fintech Conference, SEC Chair Gary Gensler, Washington D.C., June 8, 2023
SEC
Carbon Removal Marketplace Nori Announces Appointment Of Matt Trudeau As CEO And $6.25m Funding Round Led By M13, Toyota Ventures, Placeholder, And Cargill
Yahoo Finance
LTSE Announces Two Key Executive Hires
LTSE
Seffy Zinger To Be Appointed Head Of Israel Securities Watchdog
The Times of Israel