196 Exchange Invest Weekly Podcast June 3rd, 2023
The LSE Public Markets Private Delusions, There's an EU Prop Crisis Looming, NASDAQ Secures The Arm Listing, Columbia Soars, And GreeCE Gains
Transcript:

This week in the parish of bourses and market structure:    
The LSE Public Markets Private Delusions
There's an EU Prop Crisis Looming
NASDAQ Secures The Arm Listing
Columbia Soars
And GreeCE Gains
My name is Patrick L Young
Welcome to the bourse business weekly digest
It's the Exchange Invest Weekly Podcast Episode 196
Good day, ladies and gentlemen, this is a very brief reduction of highlights amongst the key headlines from the week in market structure. All the analysis of the many events and happenings from the past 7 days can be found in Exchange Invest daily subscriber newsletter, the unique guide to the bourse business sent daily to your inbox. More details at ExchangeInvest.com
This week, the LSE claims a world first for something that has already been happening in, for example, NASDAQ Private Markets for many years…while the scandal remains that LSE appears to have no coherent plan to grow its public markets.
Meanwhile, where the last Acuiti survey showed a mere 8% of market professionals supported the EU's simply deranged Euro clearing protectionism…that was the good old days of last week for Brussels.
This week an Acuiti report released a damning indictment pertaining to regulatory afterbirth from the MIFID II 'great waste of time' the most pointless regulatory process ever witnessed this side of pure play totalitarianism. In essence, a great void of liquidity could soon be upon the EU and its hapless cronies in the UK where they don't understand their own Brexit process.
The battle for ARM is recounted by Bloomberg - an epic triumph for Adena Friedman's NASDAQ while GPW (Warsaw Stock Exchange) launches an interesting new strategic plan for the years ahead.
There are good numbers for Hellenic Exchanges and Columbia as the Dream Exchange in the USA launched their theme song in advance of their market launch.
Over in Bitcarnage, the international regulatory body IOSCO Sets The Standard For Global Crypto Regulation according to their own hype. The problem is, it almost certainly won't be the sort of de minimis / 'actually you know what you do whatever you fancy, oh, fresh blooded youth of today!' kind of announcement which is what the crypto kiddies really hope to receive in terms of quasi-perma-global-exemption-exceptionalism (with DeFi on top).
I suppose my concern remains just how much "new" stuff do we actually need and what can we do with just clarifying the existing stuff? In that sense, the kiddies have won some form of, at least pyrrhic victory, as the VC-powered ones will probably run out of money before IOSCO can create rules their satellite members will ultimately enact (barring the ambitious few with an initiative of course) who are ahead of the IOSCO movements.
If you enjoyed this excerpt, you may be interested to know that you can read Bitcarnage every day in Exchange Invest. Alternatively, if you want to follow Bitcarnage and the daily update and happenings in the world of crypto and digital assets, then you can find Bitcarnage as a standalone on Substock.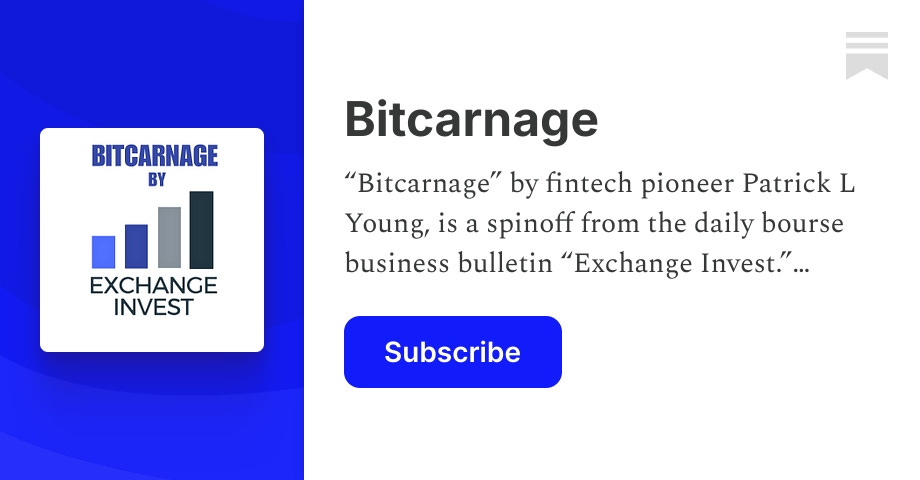 The London Stock Exchange is eyeing what they call the world's first private stock exchange. Ignoring the fact that NASDAQ Private Markets, for example, had a private stock exchange for many years already.
There are key worries of course, in the UK "The proportion of shares in publicly traded UK firms held by domestically based pension funds and insurance companies fell precipitously from 52% in 1993 to under 5% by 2020".
In a fascinating report Murder On The City Express – Who Is Killing The London Stock Exchange's Equity Market? from the Harvard Law School Forum on Corporate Governance
It seems odd the LSEG are so keen to run private markets when they've lost the plot on public ones. That's the sort of millennial delusion we'd expect to be reporting in Bitcarnage, not mature legacy markets.
Meanwhile, over at Acuiti Report Center, a quarter of proprietary trading firms are considering giving up MiFID II licenses to avoid the regulatory burden.
For those who love their standard deviations…Will Mitting's Acuiti research is currently displaying some remarkably long tails away from the lived experience of EU regulators and bringing a harsh dose of reality. Oh, sorry, that's a silly term, of course, reality in Brussels is what Brussels says it is.
However, realpolitik thanks to not being an English word, ought to hit harder in the heart of the sadly adrift Euro-empire.
Looking at the numbers here - last week, the Acuiti research could only muster 8% of market pros believing in the Euro-clearing protectionism delusion. Now the prop firms are quite rightly feeling abused. The trouble with allowing a shambles like MIFID II to be passed has led us to the simply insane IFR/D element which is based on the demented politics of regression and backwardation which is what the precautionary principle leads to.
I mentioned earlier there was a great Bloomberg article this week Nasdaq's Fight With NYSE and London Stock Exchange for Arm IPO. Huge plaudits, to Adena Friedman and her team for scooping this marvelous listing.
Exchange Invest which you too can read go over to ExchangeInvest.com you can pick up subscriptions for only $349 per user per year has often commented in the past on the wonders of the current age which has seen unprecedented competition between the New York giants - to such an extent that the likes of CBOE simply could not compete with the country club duo for listings and single names stocks. It's an interesting discussion of what happened this article, although I'm minded to wonder, was there more magic in addition to the fabulous incentive of $50 million in marketing for the IPO being paid by NASDAQ (which by the way gives NASDAQ a lovely bask of glory too so it's a "win win" for the listing venue and the IPO).
Warsaw Stock Exchange announced a fascinating new strategy for the next four years. Some of the ideas have been rattling around Warsaw for some years. The rich irony is that perhaps Warsaw could do with internal competition but the government-regulatory complex (yes, yes, yes, of course the EU rules…#whatever) would view such an incursion with cold sick equivalence. Anyway, it's a sound plan with several angles for development, which at least shows GPW attempting to get over its past middle income nation phobia that it had reached the limits of growth.
In Canada, TMX Group and Clearstream have announced plans to launch Canadian collateral management. Clearly in process for some time but a first great piece of news under the new chairman Luc Bertrand who I'm sure will do much more to unleash the TMX in coming years.
CBOE is preparing for a European stock markets listings grab.
Two words make me optimistic in this one: Josh Schmitt, the Neo/Aequitas entrepreneurs and Global Head of listings for CBOE and if anybody can help give CBOE the listings power it has to date always failed to achieve (beyond ETFs) where it is of course remarkably successful I believe it is Jos. Jos is of course guest on IPO-Vid previously. You can check that out on YouTube and look for IPO-VID 049: Jos Schmitt: Serial Exchange Entrepreneur.
Incumbent listing venues will be a loser here as for example, Euronext might not lose a listing but we'll see their capacity to lose listing fees somewhat constrained from CBOE's Amsterdam HQ EU venture.
In the ongoing colocations case in India, the National Stock Exchange (NSE) received a refund of 300 Crore from SEBI. NSE getting back $36.25 million from SEBI, but they still have a sequestration downpayment of $97.6 million held by the regulator.
Over in China, CSRC (the national regulator) Vice Chairman Fang Xinghai, during a keynote speech at the 20th Shanghai Derivatives Market Forum has been talking about opening international access to more Chinese ETD markets.
Results this week: Athens, IEX of India and Columbia as well as Tel-Aviv all reported best numbers. Athens showing remarkable growth there. Everybody else was either flat a little bit under the weather apart from Colombia, which saw a hefty profit leap as it sits on the cusp of its tri partite merger with the exchanges in Peru and Chile, which we're expecting to see taking place during the course of this year.
New markets this week the African bourse is planning a commodities growth in seven African nations that AFEX Commodities Exchange is looking to expand to Ivory Coast this year on Ghana in 2024 before setting up and Benin, Togo, Tanzania, Ethiopia and Zambia.
There's also going to be a new agribusiness commodity exchange coming from SOAD (that's a multinational organization across the state of the African diaspora). They're looking to create their commodity exchange as well.
Finally, extra news from Africa, the Zanzibar Stock Exchange is in the offing.
Deal news this week: ASX (Australian Stock Exchange) group own approximately 43% of Yieldbroker which they will be selling in its entirety given that Tradeweb are now taking over the business. ASX had their a A$65 million position and they're ultimately going to receive A$55 million for their position today even though they originally bought 49% and they are now selling 43%. Not the greatest of returns on the capital account, but it somehow looks good compared to the whole CHESS debacle.
If you're trying to understand the business of bourses going forward, the world of blockchain, cryptocurrency and how that impacts the FinTech world, then check out my most recent book "Victory or Death?".
"Victory or Death?" is published by DV Books and it's distributed by Ingram worldwide.
Meanwhile, while you're waiting for your copy of "Victory or Death?" to arrive in the post, don't forget to check out the IPO Video livestream. It's all available the via LinkedIn and YouTube if you search for IPO-Vid and the live shows are going to be up on Tuesdays at 6pm London time, and 1 o'clock New York time.
This week we have an epic show IPO-Vid #108 with Gedon Hertshten talking about Markets For The Next Generation.
Our next show IPO-Vid #109 with Christopher Sturgess discussing "AFM, Africa & Commodities".
Meanwhile, that gives me an opportunity to introduce our Finance Book of the Week. This week's book was written by our IPO-Vid guest #73 James Fok Financial Cold War: A View of Sino-US Relations from the Financial Markets is a fascinating read. Discussing many issues including the inherent plausibility of a long standing linkage to benefit both contemporary superpowers - China and the USA. You can get that in all good bookstores and of course via Amazon and other online retailers.
Product news this week at SGX Group in Singapore is launching Depository Receipts under a direct linkage with the Stock Exchange of Thailand.
The Iran Energy Exchange (IRENEX) have launched their 'Green Power Board' where renewable power plants available to sell their output.
The GFMA has concerns about T+1 risk in the world of stock trading where of course Forex is settled T+2.
Technology news this week: it seems there's a consolidated tape for the bond market coming to Europe at least Bloomberg, Marketaxess, and Tradeweb sign joint venture agreement to provide a fixed income consolidated tape of the EU by adding LSE-backed Finbourne as their technology partner.
Elsewhere BMLL expanded its data coverage to include the Hong Kong Stock Exchange.
Career news this week, the LSEG chief financial officer Anna Manz is stepping down. She's going to become the Chief Financial Officer of Nestle, which is yet another senior executive biting the dust at the LSEG. Seems quite shocking to me losing CFOs within three years of appointment, which would suggest that all is not well at Paternoster Square, but then again, what do I know? After all, I would have thought the largest stock exchange in Europe pulling out of selling it's technology to other bourses was material information but it seems the LSEG is just sails on with…in my humble opinion, somewhat dubious IR policies.
Anna Manz will depart next May, meaning she serves 3.5 years in situ (having started in November 2020). In my humble opinion, LSEG is brewing an ugly situation but you probably gathered that already.
Euronext has appointed Roberto Pecora as CEO of Euronext clearing he joins from Soc Gen's Italian specialist securities clearing/settlement arm where he was CEO, Pecora will drive forward the Borsa Italiana CCP which was quasi-gifted to Euronext via LSEG sale after the Refinitiv nightmare began.
ASX has appointed a chief information officer this week, that's a C suite arrival to mask the many C-suite departures they've had in recent weeks. The trouble is ASX has C-suite regular resignations aplenty then onboards replacements without changing their underlying modus operandi. This is surely the recruitment equivalent of Einstein's definition of uncertainty.
And that brings us to 'Big World', more stats that seem to have received very little publicity and amidst the UK's Brexit loathing media. It has long been recognized the service economy outpaces the UK manufacturing industries and this was always an issue as Brussels did essentially nothing to rationalize services for decades within the EU.
The non-implosion of the UK was widely anticipated by the blob, and indeed the government of the UK and the civil servants of the UK. That non-implosion is usually cherrypicked to suit arguments by those determined to CBOE's post Brexit Britain as a nation in mud huts (qv the New York Lie articles passim) but when it comes to service exports, the UK has enjoyed from 2016-2022 a remarkable real time 17.7% growth, making it the G7 leader in services' growth since Brexit and #DespiteBrexit.
And on that mysterious and magnificent note ladies and gentlemen, my name is Patrick L. Young, publisher of Exchange Invest. Come and subscribe by ExchangeInvest.com if you want to be part of the Exchange of Information.
I wish you all a great week in blockchain, life, and markets. If you've got a market to build, send us a message, and we're happy to advise
LINKS:
London Stock Exchange Eyes World-First Private Stock Exchange Launch By Next Year
City A.M.
A Quarter Of Proprietary Trading Firms Considering Giving Up MiFID II Licenses To Avoid Regulatory Burden
Acuiti
Nasdaq's Fight With NYSE and London Stock Exchange for Arm IPO
Bloomberg
Warsaw Stock Exchange Group Investor Presentation
GPW Group Strategy Warsaw 2023 - 2027
GPW
TMX Group And Clearstream Announce Plans To Launch New Canadian Collateral Management
TMX
Cboe Prepares For European Stock Market Listings Grab
FT
Colocation Case: NSE Receives Rs 300 Crore From Sebi
Northlines
Derivatives' Globalization Gathers Pace
China Daily
Indian Energy Exchange (IEX) Announces Its Audited Financial Results For The 4Q & Year Ended March 31, 2023
IEX India
ATHEX Q1 2023 Financial Results
ATHEX
BVC Group 1Q23 Earnings Results
BVC
The Tel-Aviv Stock Exchange Reports The Results Of The Financial Statements For Q1 2023
TASE
Nigeria Bourse Plans Commodities Growth In Seven African Nations
Moneyweb
SOAD To Create Agribusiness Commodity Exchange For Farmers
Naija247 News
Zanzibar Stock Exchange In Offing
Daily News
ASX Enters Into Agreement To Sell Entire Investment In Yieldbroker
ASX
SGX Group To Launch Depository Receipts Under Dr Linkage With Stock Exchange Of Thailand
SGX
Green Power Board Launched
Financial Tribune
T+1 Risks A Surge In Fails For FX-Dependent Trades, Says GFMA
The Trade
Bloomberg, Marketaxess And Tradeweb Sign Joint Venture Agreement To Provide A Fixed Income Consolidated Tape In The EU
The Trade News
LSEG Chief Financial Officer Anna Manz To Step Down
Reuters
London Stock Exchange Group PLC CFO Anna Manz To Step Down
MarketWatch
Nestle Taps LSEG's Anna Manz As CFO
Reuters
Euronext Appoints Roberto Pecora As CEO Of Euronext Clearing
Euronext
ASX Appoints Tim Whiteley As Chief Information Officer
Finance Feeds