195 Exchange Invest Weekly Podcast May 27th, 2023
There's a new chairman at NZX, Adena Friedman Argues for AI Regulatory Sense, And 63 Moons Hit MCX's Profits
Transcript:
This week in the parish of bourses and market structure:
There's a New Chairman at NZX
Adena Friedman Argues for AI Regulatory Sense
And 63 Moons Hit MCX's Profits

My name is Patrick L. Young
Welcome to the bourse business weekly digest
It's the Exchange Invest Weekly Podcast Episode 195
Good day ladies and gentlemen, this is a very brief reduction of highlights amongst the key headlines from the week in market structure. All the analysis of the many events and happenings from the past 7 days can be found in Exchange Invest's daily subscriber newsletter, the unique guide to the bourse business sent daily to your inbox (Monday-Friday).
More details via our brand new Beta website: ExchangeInvest.com
With a brief update on Young's Pyramid this week tier 1 looking very, very exciting. That's the biggest names of all and the top 2 really fascinate CME is it somewhat becomed ICE? Do they have detail on their side in terms of future profitability? And indeed, no matter what happens with their current contested FTC disapproved as we speak today, future merger plans that strikes me that clarity is going to lift the stock at Intercontinental. More excitingly, still, Hong Kong Exchanges finds itself at the bottom of the group admittedly only 15 billion adrift from the top number (the $65 billion CME Group) and yet Hong Kong Exchanges prospects have never seen better with the RMB counter opening in a month's time, and all sorts of exciting happenings on the Connect platform, with of course, an RMB yield curve coming to Hong Kong soon.
From the top of Young's Pyramid of exchanges we move to Bitcarnage. Slammer Time was one of the headlines we run this week with Elizabeth Holmes now heading to jail on May 30th - check in by 1400 apparently. I appreciate that the 'finger pricking bad' non-tech of Theranos and it's simply bloody fraud has no immediate Bitcarnage relationship.
However, this leads to a handy comparison between two criminal fraudsters, both of whom share upon shown for denial and a determination to fight charges interminably. Thus, it's interesting to compare the numbers the scores on the doors if you like it, of how long, Holmes is not heading to jail for a vast discount at 86% discount to the number of years she was sentenced to. But nonetheless, it still amounts to greater than 11 years. What's going to happen to Sam Bankman-Fried currently on charges which could lead him to be 115 years in jail. Even if he gets an 86% discount law like la Holmes, he's still looking at a long long spell behind bars.
If you enjoyed this excerpt, you may be interested to know that you can read a Bitcarnage every day in Exchange Invest. Alternatively, if you don't want to hop over to ExchangeInvest.com for that subscription, why not visit us on Substack where you can follow Bitcarnage exclusively in its own right. Uniquely giving you insights about the market structure of the crypto and digital asset economy daily.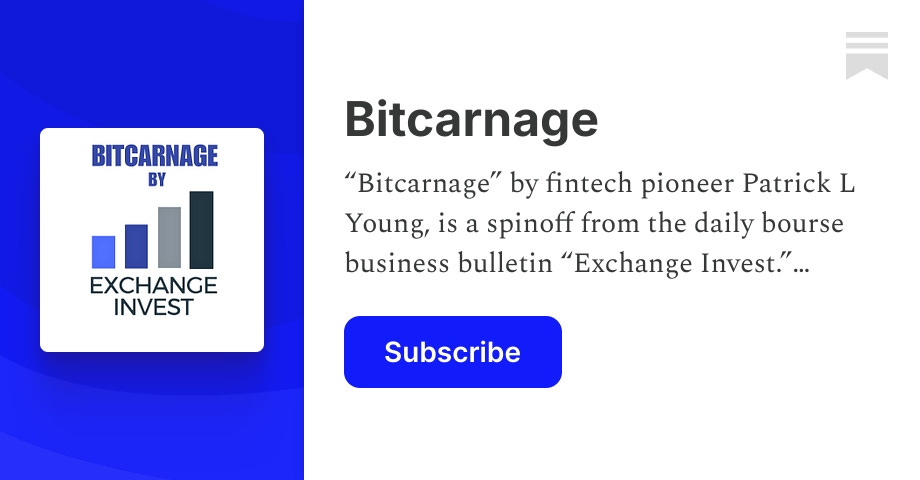 In legacy exchange news this week: Chicago's new mayor Brandon Johnson is already proving bad for business. The message that exchanges are not rooted to any particular city ought to strike fear into the heart of every municipality in the United States of America as the only one I've visited in recent times, which appeared to be efficiently run is Miami (albeit I've heard good things about Atlanta too) but clearly, New York, Chicago, and San Francisco are just three disasters that are making the US a laughingstock for political mismanagement.
There's an ongoing apocalypse, they call it the 'Apocalypse Nearly' for the London Stock Exchange in a Motley Fool article this week.
At the same time, it's very difficult to see where the positives lie for the London Stock Exchange right now, take for example the fact that their latest move involves trying to launch a private market for stocks. We tried to suggest that they've given up on the whole concept of public markets listings.
One person still battling to make equity sexy, I suppose almost to make London Stock Exchange great again, or at least to make London's stock Exchanges great again, is the Aquis chief executive, Alasdair Haynes, who's been talking about his role in boosting the city as he celebrates the 10th anniversary of Aquis Exchange. All the very, very best to Aquis on making it one decade in business.
Meanwhile, the Financial Times (that is the Brussels bugle as we call it, the inhouse newspaper of th Eurocracy bureaucracy. They're under pressure to extend access to the London clearing houses. The driving factor to access the London clearing houses is of course a recent survey by Acuiti. And Acuiti noted that of their respondents, barely 8% actually had any faith in the European Union's protectionist drive to close London's markets out of eurozone clearing. That's a pretty damning indictment all round.
More optimistic staff, Hong Kong's revamped IPO rules and dual-currency trading counter will drive Yuan internationalization, and tech innovation according to Hong Kong Exchanges. And indeed, were minded to entirely agree.
Another area where we're entirely minded to agree was the FT Op-ed this week: Harness The Power Of AI To Tackle Financial Crime, which was written by none other than the NASDAQ Group CEO and chairman Adena Friedman.
It reminded me rather of a 2018 World Traders company annual Tacitus lecture where Nathan Myrvhold of Microsoft gave a great presentation 2018: Cyber-Trade: Will AI Displace Or Enhance Our Work?
Myrvhold at that point in time referred to the "innovation menace" and that's a perfect description of something the media have gone to great lengths to scaremonger about with gusto. Adena carries on the theme elegantly from her own direct NASDAQ experience, noting "While calls for caution and proactive regulation are appropriate, so are the calls for urgency and optimism as we empower industries to start harnessing the potential of the AI advances".
Twice in a week, therefore having of course given that fabulous American University Golden AU ha ha ha..get it. commencement address, Adena Friedman has been the parish queen of mot juste for exchanges.
Singapore Exchanges Group have got some good news with the Shanghai Stock Exchange. They're deepening their partnership with the ETF link connecting Singapore and China.
The Egyptian Ministry of Finance has resumed negotiations to link ECSD with Euro clear. That would of course allowing for offsetting settlement between Egypt and the European Union because the thing here is scratched the surface and Egypt is spectacularly bust post COVID hence the series of sudden pressure deregulations including an upcoming IPO privatization wave. That makes sounds cynical but optimistically we must live in hope that Egypt's shotgun conversion to freer markets and embracing privatization will mimics the magnificent reforms of the David Lange government which transformed New Zealand during the 1980s.
It was a busy week for results in the parish this week all the details were in Exchange Invest Daily - the newsletter no person can afford to be without in capital markets and market structure. For the sake of this podcast let's look at some edited highlights.
Moscow Exchange (MOEX) remains remarkably resilient despite sanctions and the general closing of the Russian economy at least to the west, of course, as we can see from Chinese trade of numbers, some people are still doing a lot of business with Russia. Anyway, Operating Income +6.9%, Net Profit +77% of course, that was year on year back to the dark times for the Moscow Exchange immediately after they were blindsided by Vladimir Putin's rather bonkers invasion of Ukraine.
Similarly, the Warsaw Stock Exchange enjoyed their second best quarterly revenue ever only up slightly to 1.8% from the previous quarter. Sadly, a bit of a decline in Net Profit though -29% due to various expenses.
On the other hand, the most spectacular decline in profit for the quarter for all members of the parish was MCX (Multi Commodity Exchange) of India. Their Net Profit tumbled 85% on what was euphemistically called higher software support charges.
In terms of historically suicidal screw ups, I'm not sure anybody can compete with the surreal arrogance come stupidity of the MCX when they plumped for Tata (TCS) to replace the Financial Technologies systems (now known "63 Moons" which powered the MCX originally) indeed had it not been for the NSEL de buckle 63 Moons financial technologies and Jignesh Sha would have still controlled the MCX (Multi Commodity Exchange) of India itself. Thus, the new board of MCX underwent a rather frankly vindictive move to oust the IT system built by MCX founder Jignesh Sha, and thus everything fell apart in due course when TCS failed to deliver leaving Mr. Shah with the whip hand to extract a monopoly rent for ongoing customer support from MCX. Huge shareholder value deterioration in one quarter alone, as well as management looking embarrassingly incapable.
New markets this week, all about power, first of all, power and emissions is the whole sweep of our interest all across Southeast Asia. An Exchange Led Power Market Will Transform South Asian Power Cooperation, notes Pakistan Today, where there's excitement over an exchange LED power market across borders in South Asia, including Bangladesh, and Nepal, as well as Pakistan once Of course, India which sits somewhat in the middle is able to consent.
Over in Vietnam, they're gonna launch their first exchange for carbon emissions trading by 2028.
Deals news this week, not such a fantastic news for deals nonetheless, the Blackstone, Thomson Reuters consortium sold $3.4 billion worth of LSEG shares at a 5% market discount, giving them a very nice and handy return despite the fact that LSEG shares are still some way off their all time high.
Meanwhile, EEX is entering Lithuania, the world's leading energy exchange signing on in Vilnius by buying AB Amber Grid.
Most exciting deal news of the week, though I suspect it's really UBS, they've been courting funds for the carbon exchange Xpansiv. We've previously noted Xpansiv CBL had been looking at an IPO. It's interesting that they appear to be looking to their original Australian base after a 'nothing to buy here' roadshow with UBS. One of those sorts of interesting practice processes, a little bit of kin to how some people take their thoroughbred horses to the track and leave in a stable on race day before driving at home without actually running. Pour encourager les autres I suppose.
If you're trying to understand the future of finance, then you should be picking up a copy of my most recent book "Victory or Death? Blockchain, Cryptocurrency, and The FinTech World. It's published by DV Books and is distributed by Ingram world wide.
While you're waiting for your copy of "Victory or Death?" to arrive, check out our livestream Tuesday 6pm London time, 1 o'clock New York time - the IPO Video live show. Catch the back episodes on Facebook, LinkedIn, and YouTube via "IPO-Vid".
Now online, the latest show IPO-Vid #107. This IPO vid was with Paul Constantinou & Patrick Kenny, President and Chairman respectively of the Association of Futures Markets (AFM) and looks both forward and back forward 2 weeks to the upcoming Budapest 25th Anniversary Meeting of the AFM and also of course back through an incredible history that is now an organization looking forward to what it can do in the next quarter century.
Coming up next week we've got a fantastic show Markets For The Next Generation IPO-Vid #108. That's going to be with Gedon Hertshten the founder of the Hertshten Group. I think a world famous name across the exchange landscape and exchange traded derivatives. Gedon will be joining us at the same time as usual Tuesdays 1 o'clock Eastern, 6pm London, 7pm Central European Time.

In product news this week, that hugely exciting jewel counter model is going to be launching Hong Kong Dollars and Renminbi. You will be able to trade on your stocks on June 19th 2023.
More than 20 shares representing nearly 40% of Hong Kong Exchanges turnover have applied to have their shares traded in Yuan - that sounds like catnip for Hong Kong Exchanges and this is surely only the beginning of a massive transformation in global stock trading…Not forgetting that the exchange is moving towards a full RMB yield curve trade via Hong Kong Exchanges and Connect in the near future too.
Meanwhile, LME (London Metals Exchange) subsidiary of Hong Kong Exchanges, it's working with Chinese commodities Exchange to launch EV battery metals contracts as demand and prices surge that's with the QME (Qianhai Mercantile Exchange) which is of course, also a subsidiary of Hong Kong Exchanges.
Euronext are going to be launching 'dark' share trading by Q4. Another nail in the profitability of TP ICAP owned Liquidnet it seems.
LCH SwapClear has completed their LIBOR to SOFR transition.
Technology news this week, the dream is over, ASX has finally abandoned blockchain for its CHESS replacement project.
Having created nothing apart from a 2 element Venn diagram involving huge circles depicting "time spent" and "money wasted" ASX has given Australia a reputation for incapacity of execution in line with the worst of Anglo-German physical infrastructure builds over the course of the last decade or so. QV the UK HS2 with rail waste of time (decades and gazillions spent already to save barely half an hour so across bits of England in about 20 years time). And then of course in Germany there was the New Berlin Brandenburg Airport (as discussed by PLY in a FESE after dinner speech some years ago).
Thus without - yet  - the resignation of the remaining numpties of the C-suite that it might be sensible for a company with a sense of collective responsibility or shame to actually dismiss already (Mr. Chairman - Goodbye!) which seemed to be the most appropriate two words in the English language for your tenure right now. ASX has unceremoniously dumped its blockchain ambitions. In other words, the self-professed technology company is…clearly not as IT literate as it likes to hype itself. Rather, it has spectacularly distributed egg across not merely its face but left a sour taste with the parish on every other continent as well as Terra Australis.
No exchange did more to lead the world's market operators through transformation of structure, technology innovation et al than ASX achieved before it's entirely self-inflicted monopoly dark edge regression. The ASX Group has done more to lag behind its parish peers than any sensible person could have thought reasonable when they looked at the exciting prospects for ASX and SFE even a standalones in 2000 A.D. What a tragic SNAFU of GUBU proportions.
Fascinating article in The New York Post this week, raising some interesting thoughts, the headline run China Goes For 'Broker': Digging Into The Possible Concern Over Stock-Trading Apps.
It's very very fascinating article nevermind about TikTok the narrative goes have you given your full personal data to AML/KYC at a Chinese owned broker? Not saying I remotely agree with Charles Gasparino stands here, but it is a very thought provoking article.
The LSE, rare moment of success, they've reported having their latency following the data center migration analyses. ETF order book has seen a 66% reduction in average run-trip latency with outliers down by 80%.
There's also the fact of course having closed down their entire technology sales department for exchange technology. LSE latency of delivery of exchange tech to third parties has recently grown infinitely.
Career paths this week: Stéphane Boujnah has been re-appointed as CEO and Chairman of the Managing Board of Euronext.
Well deserved, Boujnah is a highly effective leader of Euronext and has crafted a much broader business through multiple M&A deals during his first spell in office.
Meanwhile, John McMahon has been named as New Zealand Exchanges chair.
That was precisely as predicted a week earlier in Exchange Invest 2655 on May 10th. All the very very best to James Miller, who took NZX from being somewhat adrift to a much more coherent enterprise during his term. His counsel has been wise in his execution sound. He leaves office with NZX in a much better place than I could have imagined when he joined - such was the aura of decay and defeatism around the exchange. All the very very best to John McMahon in maintaining this momentum.
Finally in career paths this week: Mourad Ben Chaabane has been reelected as president of the Chiness Stock Exchange Board of Directors following their Annual General Assembly.
And that leaves me ladies and gentlemen to ponder, a decentralized conundrum. This week, we had a press release from Forkswap. It trump itself as a Web3 company that builds decentralized exchanges.
Now, there's a conundrum for you ladies and gentleman. How do you build a decentralized exchange? I'm always minded to wonder how you know where you put your DEX given the nature of its definition.
And on that mysterious and magnificent note. Ladies and gentlemen, my name is Patrick L. Young. Thank you for listening to this #195 EI Weekly Podcast.
I wish you all -  as an inveterate builder of markets the world over and publisher of Exchange Invest via ExchangeInvest.com. Have a great week in blockchain, life and markets.

LINKS:

Chicago's New Mayor Brandon Johnson Is Already Bad For Business
New York Post
'Apocalypse Nearly' For The London Stock Exchange
The Motley Fool
We Need To Make Equities Sexy': Aquis Chief Alasdair Haynes Talks Taking On The London Stock Exchange And Boosting The City
City A.M.
EU Under Pressure To Extend Access To London Clearing Houses
FT
Hong Kong's Revamped IPO Rules And Dual-Currency Trading Counter Will Drive Yuan Internationalisation, Tech Innovation, HKEX Says
South China Morning Post
Harness The Power Of AI To Tackle Financial Crime
FT
SGX Group And SSE Deepen Partnership With ETF Link Connecting Singapore And China
SGX
Ministry Of Finance Resumes Negotiations To Link ECSD With Euroclear
Daily News Egypt
Moscow Exchange Announces Results For The Q1 2023
MOEX
GPW Group's Second Best Quarterly Revenue Ever
GPW
MCX Q4 Net Profit Tumbles 85% To ₹5.45 Cr ($654k) On Higher Software Support Charges, Board Declares ₹19.09 Dividend
Mint
An Exchange Led Power Market Will Transform South Asian Power Cooperation
Pakistan Today
Vietnam To Launch First Exchange For Carbon Emissions Trading By 2028
Xinhua
Blackstone, Thomson Reuters Consortium Sells $3.4 Billion LSEG Shares At Discount
Reuters
The World's Leading Energy Exchange EEX Is Entering Lithuania
Amber Grid
AB Amber Grid: The World's Leading Energy Exchange EEX Is Entering Lithuania
The Market Screener
UBS Courts Fundies For Carbon Exchange Xpansiv
AFR
HKEX To Launch HKD-RMB Dual Counter Model On 19 June 2023
PR Newswire
LME Works With Chinese Commodities Exchange To Launch EV Battery Metal Contracts As Demand, Prices Surge
South China Morning Post
Euronext To Launch 'Dark' Share Trading By Q4
Reuters
LCH SwapClear Completes Libor To SOFR Transition
The TRADE
ASX Mulls Abandoning Blockchain For CHESS Replacement
AFR
China Goes For 'Broker': Digging Into The Possible Concern Over Stock-Trading Apps
New York Post
London Stock Exchange Reports Halved Latency Following Data Centre Migration
The Trade news
Stéphane Boujnah Reappointed As CEO And Chairman Of The Managing Board Of Euronext
Euronext
John McMahon Named NZX Chair
BusinessDesk
Mourad Ben Chaabane Re-Elected As President Of Tunis Stock Exchange Board Of Directors
BNN Breaking
Forkswap : A Web3 Company That Builds Decentralized Exchanges
Benzinga