194 Exchange Invest Weekly Podcast May 20th, 2023
Shock New Chinese Regulator, As we celebrate a wonderful Hong Kong Double, While LSEG can't sell you the tech for an exchange, they can open another Centre of Excellence for, er, Technology.
Transcript:
This week in the parish of bourses and market structure:    

Shock New Chinese Regulator

As we celebrate a wonderful Hong Kong Double
While LSEG can't sell you the tech for an exchange, they can open another Centre of Excellence for, er, Technology and best of all we have a golden commencement speech as Exchange Invest celebrates its 10th birthday.

My name is Patrick L. Young

Welcome to the bourse business weekly digest
It's the Exchange Invest Weekly Podcast Episode 194

Good day, ladies and gentlemen, this is a very brief reduction of highlights amongst the key headlines from the week in market structure. All the analysis of the many events and happenings from the past 7 days can be found in Exchange Invest's daily subscriber newsletter, the unique guide to the bourse business sent daily to your inbox (Monday-Friday).
More details at ExchangeInvest.com. Sign up now only $349 per user per year and more significantly, you too can get access to all of our more than 10 years of archive data.
In Bitcarnage this week: no sooner had a raft of US crypto entities settled on a new home overseas than the foreigners started playing up. True the EU passed MICA (the market in cryptocurrency assets regulation) but as hardened pros will know the legislation which exits the Brussels blob may or may not be proximate to the actual regulations which each national supervisory body subsequently enacts. Devil - details, go right ahead and construct a sentence…
Meanwhile, the UK Parliament's Treasury Committee issued a crypto statements suggesting Consumer Cryptocurrency Trading Should Be Regulated As Gambling (Parliament UK). The report goes on to say "Unbacked crypto assets have no intrinsic value, and their price volatility exposes consumers to the potential for substantial gains or losses, while serving no useful social purpose. These characteristics more closely resemble gambling than a financial service, an impression reinforced by the evidence we have received of consumer behavior."
Needless to say this caused a fit of the vapors in the crypto community. Presumably the Thames is now littered with not merely toys, but probably prams themselves. "CryptoUK strongly disagrees with the Treasury Committee's conclusion., and we are both concerned and disappointed by these claims which are unhelpful, false, fundamentally flawed and unsubstantiated. The statement fails to reflect the true nature, purpose and potential of the crypto industry."
There's a huge risk here of course for the future. However, in the here and now - the UK parliamentary committee assessed what is in front of it, right now and decided - wisely - that empty bits/bytes moving between acolytes is gambling. On that one, they are indubitably correct and the here and now and those who disagree are frankly encased with their own lived experience folly. When you analyze cryptocurrency V1.0…it's really tough to disagree on the idea that code on a blockchain such as Bitcoin is nothing more than a token and not something with an underlying value.
The potential is elsewhere…the problem is that from what I see, the "true nature" of crypto has to date mostly been a deranged brotopia with vast amounts of crockery and a moral relativism where the morality itself has been broadly absented from a myopic, entitled world view. That has been generously distributed around the world.
Looking to the future, it could be a huge issue that digital assets may be wrongly assessed as a gambling tool, but then again, where the crypto V1.0 zealots are getting lost is that ultimately, the UK ought to be able to elegantly discern the difference between asset backed items settled on a blockchain as opposed to empty pixels with no actual proven use case.
Moreover, my perma-theory here remains that the idiocy is the notion that somehow the digital/blockchain settled stuff will be in its own 'crypto-centric' space. In reality, the legacy markets hold a lot of cards and will take the new new DLT thingamy and shamelessly absorbed into their systems…leaving crypto still out there awaiting a risorgimento which if it can happen to vinyl and cassettes can doubtless befall the Model T Fords of new age money concepts too. In a decade we won't be talking digital assets and legacy assets, there will be a semi-seamless interoperability between whatever form of ledger is used for settlement and registry.
The good news for the likes of Brian Armstrong and CZ could be that North Korea seems to still like crypto, albeit their custody arrangements seems to have a touch more effective altruism growing out of the barrel of a gun, which might not work for our crypto V1.0 accolytes.
Meanwhile, day by day, I seem to be coming closer to something akin to Don Cupitt of crypto.
If you enjoyed this excerpt, you may be interested to know that you can read this kind of material in Bitcarnage every day in Exchange Invest. Alternatively, if you want to follow Bitcarnage alone - the daily update on happenings in the world of crypto and digital assets, then you can find it as a standalone on Substack.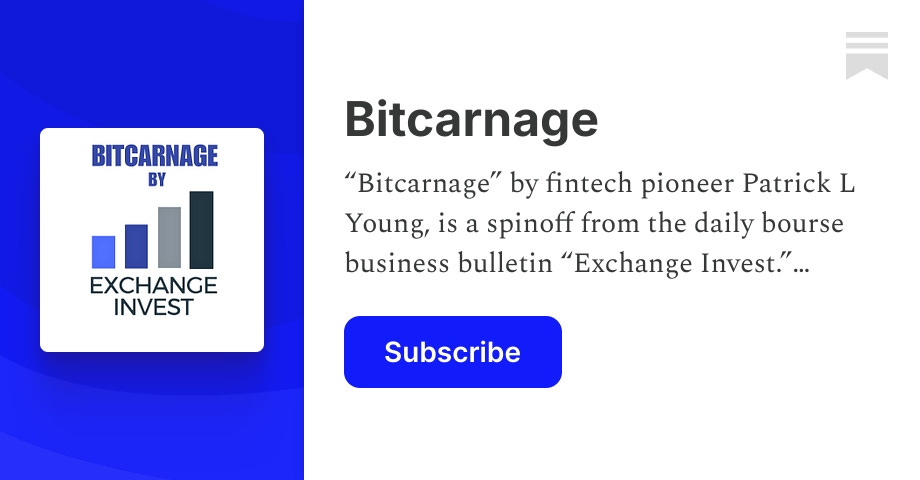 The main news this week, CMEs AGM suffered a shock. Remuneration Committee Chairman Charlie Carey almost came unstuck as a director scraping a 54% mandate while there was a smack in the face of realism to the top of the C-suite when the advisory vote of the compensation of the Company's named executive officers (by the Class A and Class B shareholders voting together as a single class) was conspicuously not approved: 91 and a half million votes for, the better part of 193 million votes against.
I entirely get the concept behind the CME's monopoly milking strategy but it's tough to achieve and be perceived as adding value - thus shareholders became restive. (By the way, I also happen to think the concept of monopoly milking is the ultimate in loserville, narrowminded strategies for the parish as a whole and the CME in particular so thank goodness the shareholders have finally aroused from far too many years of fat dividend slumber).
I wonder if shareholders in LSEG feel the same way about Out of His Depth Dave being teed up for an 8 million pound pay off this year ($10 million) on his 5th year in office, just as he achieves…..er anybody any any any guesses out there? Can you help me? I mean, there must be something he's done. I'm sure…oh whatever.
Elsewhere back in the European Union, BETTER FINANCE have raised serious concerns over the current "trialogues" on EU capital market structure and their impact on the retail investment community.
I am minded to agree here even the notion that €100,000 is a block (Large In Sale) trade is frankly a travesty. At least a gorilla, if you want, not a million that should be frankly a block size is at least 500,000 if not a million. Below that you can trade on exchange for pure transparency. At the point when this pushes the market maker / exchange system into chaos…well, it would be a great idea to be considering that too in the often messy world of exchanges, thus advancing the parish with a bit of blood, sweat, tears, and presumably several consultations  at Brussels level.
Hong Kong introduced us to a trio of exciting news items this week: 2 for Hong Kong exchanges and 1 for Intercontinental Exchange, but all related to the SAR. The Hong Kong Exchange itself is poised to propose trading during typhoons at last, which is great news and going to be part of the legacy of Nicolas Aguzin's story so far as CEO as it's been a driving element of the Aguzin agenda.
At the same time that technological innovation has also been matched by the brilliant news this week that the Hong Kong Exchange has been celebrating the launch of Swap Connect. First trades going through the likes of Tradeweb on Stock Connect etc. in collaboration with CFETS.
This is magnificent stuff - Swaps Connect as a whole new realm for yield curve trading, just as indeed the yield curve has become a thing again after a generation broadly living in only economics textbooks, for Westerners at least, and within the borders of China, India, Turkey and a few other emerging markets for the rest of us equally opening up trading opportunities in Asia.
Good news for ICE Clear Singapore is going to be able to provide automated trading services in Hong Kong.
That was a relatively mundane headline and thank you ICE for maintaining relatively mundane headlines rather than the hyperbole strewn nonsense that we have to put up with from both a lot of exchanges and IGAD. All of the crypto exchanges, all of the time. That mundabe headline has a fascinating underpinning. ICE Singapore can now accept Hong Kong clearing members thus vastly expanding the scope of the ICE Singapore outpost. That's very, very interesting and great news indeed for the whole business of Hong Kong as a financial center.
One financial center that's not looking so good at the moment, Chicago's empty towers threatened the future of finance trading empire, notes of Bloomberg this week.
That's of course, a problem because the 'Windy City' has become the rather battle strewn city of violent crime. It takes a brave investor to buy property in a metropolis hence why the CBOE's building is effectively empty 5 years on from them starting to try to sell it at 400 La Salle Street, despite marking the building down by at least 50% but then again, when you see a 41% rise in crime from 2021 to 2022, which has now been eclipsed by a year to date rise of a further 43% it's not hard to see why investors are a little bit worried about the Greater Chicago area. Especially given the fact that statistics didn't exactly reflect the crime rate of the Vatican City during 2024 Chicago either.
Indeed, CME CEO Terry Duffy has even gone so far as to state that yes, indeed, the CME Group is prepared to leave Chicago if necessary. All that comes against the backdrop of a new mayor and a mayor who thinks that they can introduce a financial transaction tax against the exchanges who are trading in Chicago, who will, I would confidently presume, not be trading in Chicago ever again, or at least not trading from Chicago ever again, as soon as such an FTT would be introduced.
Speaking of taxation, withholding tax on cross-border dividends, and this is another story from Better Finance, continues to be a nightmare for investors in the EU.
A vast single market failure has been addressed by Better Finance which exemplifies the chronic failure of corporate socialist Europe. Where the institutions have run roughshod over the law ('hang the moral precepts!) with "Cum Ex" and "Cum Cum" decimating various governments finance, the average citizen by compared to the institutional investors is crucified for having the temerity to try to actually invest in EU27 on the basis promised by the Single Market and conspicuously never delivered by the laughable chimaera of 'Capital Markets Union' which rather like a cheesy old bar sign or was proclaims 'free drin ks tomorrow' but after a decade has delivered nothing but an expensive, savings damaging, broken promise for investors.
Results this week, some fascinating results…Argentina's BYMA announced incredible incomes jumps of 134%, Gross Margin jump of 254%, Net Income jump of 362, Operating Margins of 52%, and profits rallying as Argentina's crisis strewn economy sees national inflation heading north of 100%.
Not quite the same degree of inflation in India, nonetheless good numbers from both Bombay Stock Exchange (BSE). They saw their net profit rising 24% and  National Stock Exchange of India saw its profit rising 19% year on year.
New markets: the Dream Exchange - the first majority black-owned stock exchange in the US is gearing up for launch that was originally scheduled for 2021 but COVID. And that's gonna be very exciting given the recently signed up to use MEMX technology for their new national market.
Meanwhile, if you're looking for some reading during the course of this late spring, early summer period, don't forget you can still pick up a copy of my book "Victory or Death?" Blockchain, Cryptocurrency and The FinTech World to help you navigate the choppy and exciting waters of both risk and opportunity delivered by the cryptocurrency, blockchain, and fintech revolutions in a world of exchanges.
While you're waiting for your copy of "Victory or Death?" to arrive, check out our livestream Tuesday 6pm London time, one o'clock New York time - it's the IPO Video live show. Check the back episodes on LinkedIn and YouTube via "IPO-Vid"
We had a fabulous discussion this week with Jeffrey Carter, former director of the Chicago Mercantile Exchange and indeed also a very well known pit trader or floor trader there in and he was discussing how his life journey has arc From the Merc Floor To Angel Funding.
Coming up on Tuesday at one o'clock Eastern time, I'm delighted to be welcoming the President and Chairman respectively. Paul Constantinou & Patrick Kenny of the AFM (Association of Futures Markets) which this year are celebrating their 25th Anniversary.
In product news this week: the European Parliament has been pouring cold water on a digital Euro. That might be something to worry about as MICA comes to the floor in terms of cryptocurrency terms.
Meanwhile, the LME is tightening the rules for Nickel handling by warehouses. It's not going to require warehouses to feel their Nickel bags after the recent heist of Nickel where Nickel disappeared and turned out to be stones.
NSE India is gearing up for West Texas Intermediate Crude Oil and Natural Gas Futures. That's against an interesting backdrop where it seems that a lot of Russian investors are managing to move oil and gas into India and suddenly the European Union has woken up to the idea that a lot of those gas products are being processed and subsequently exported into the European Union, which ought to be a no no under current Ukrainian invasion related sanctions.
Technology: the Pakistan Stock Exchange successfully launched their new technology trading system on Monday May 15th That was the second attempt at the upgrade. Parishioners of the exchange market may recall that of course, we covered this in Exchange Invest and on these podcasts previously in October 2021 when "Designated Time Sheduled (DTS)," had such a tortured launch process that the previous trading system (KATS/Karachi Automated Trading System) had to be reinstalled and has been running in the interim until this week.
Accusations that the DTCC stock clearinghouse leaked sensitive data will clearly be a concern for all parties concerned.
The London Stock Exchange have signed an MoU to set up a tech center in Hyderabad in India.
That seems remarkable given the fact that we have to recall there's a facility in Bucharest with 600 tech workers which has some sort of central excellence and then there's a Millennium in Sri Lanka which was the tech hub center of excellence LSE acquired all those years ago to digitize their stock market and kickstart them post SEAQ into something truly modern. Yet in recent times, management parsimony / shortsightedness has led to a huge bleed of Sri Lankan staff, all on rather of a "for want of a nail" basis. So now, we have a whole new campus of a thousand people being mooted in Hyderabad where salaries will start cheaper than London or New York but will rapidly creep up because LSEG is in a hugely competitive market for jobs in that pulsating region.
The fact that LSEG obsesses about adding new "Centres of Excellence" once again demonstrates that Dave is out of his depth and the LSEG board are lost.
The fact remains LSEG can no longer sell technology for exchange matching and settlement because of their own internal inadequacies and what's even weirder is I have yet to see any actual media reporting that beyond the pixels of Exchange Invest. The only source I am aware of having highlighted the LSEG's  withdrawal from selling technology for exchanges, CCPs, and CSDs.
Regulation news this week: big fine for HSBC, they had to pay a $30 million penalty on one level and a $45 million penalty on another in relation to swaps trading.
I suppose you have to sing this as a song you talk outside, you trade inside…in, out, in, out…your spoof at all about. You do the swaps hokey kokey and you turn around… and then the regulator quite reasonably crucifies you.
Career news this week: Lee Olesky retiring from the Tradeweb board at the end of Q2. He's only been chairman therefore for 2 quarters after being a founder and longtime CEO of the platform. Jacques Aigrain is the consummate NED and more importantly, the consummate London Stock Exchange Group insider who's suddenly been launched into the chairmanship having only recently joined the board after the Refinitiv transaction of Tradeweb. A lot of conspiracy theorists might note that Lee Olesky is impeccably capable, and would have caught me at a much more coherent LSEG boss than Out of His Depth Dave, which might of course of coursed unease with the haplessly incapable LSEG C-Suite management structure as currently stands.
China has named Li Yunze, a former banker as party secretary of the newly formed national financial supervision management bureau that regulates dozens of banks, insurers and trust firms. Yi Huiman, chairman of the China Securities Regulatory Commission and Zhu Hexin, Chairman of China Citic Group Corp., where are actually amongst the front-runners anticipated by investors. This came as a remarkable blind side, a incredible decision.
Not sure what it means to the future Chinese regulators, particularly given the fact that the Chinese security regulator saw its budgeted staff salaries and benefits fell by 17% at CSRC during 2023. That's a curious situation.
Elsewhere, Val Mathews is stepping down as Chief Customer and Operating Officer at the Australian Stock Exchange Group  (ASX) which leads me to realize that we could actually run a complete podcast just on recent C-suite turnover at the ASX.
Finally this week in career news after over 40 years in the exchange, PRA and physical trading space focused on commodities, Ian Dudden is retiring from S&P global which he joined in September 2016. His initial Global Agriculture price assessments responsibility morphed to include the global Metals business, ultimately becoming Global Pricing Director, Agriculture. He drove a considerable expansion of the Agricultural business in particular, at a critical time in the evolution of that industry. Three words only I could say their black sea wheat, for example but that's just one of the many achievements today and had.
All the very, very best Ian in his next chapter which he claims is going to be…retirement!
And finally, ladies and gentlemen, while we were celebrating this week our 10th anniversary. Prior to that we've been brainstorming things to do to celebrate 10 years of Exchange Invest. One thought was a big league speech endorsing markets while we were pondering that, Adena Friedman stepped on stage last weekend to accept an honorary doctorate and gave the American University (AU) Business School Graduation Commencement address with a panache, which is a brilliant endorsement of the finest talents across our parish. Adena's speech is pure gold. Check out our transcript on Exchange Invest.com for this podcast, and you can find the link to that speech.
It's absolutely magnificent.
Three wonderful pointers in encouraging the business of trust, she said:
Choose curiosity over judgment
Choose relationships over transactions
Choose abundance over scarcity
Bring it on, this speech amounts to a brilliant synopsis of why we wake up in the morning to bring you Exchange Invest and indeed this podcast and advocate tirelessly for the exchange business while in the background, seeking ourselves to add improvements to the exchange business through building new marketplaces the world over and encouraging existing ones to greater prosperity. Let's face it, exchanges remain the key business model of the digital network era - and indeed, that's why we are optimists of the exchange business and are waking up to build and operate the markets of the future.
Thank you for the inspiration Dr. Friedman, a mot juste speech. Thank you to my team, wishing everyone a wonderful 10th anniversary for the Exchange Invest business which we're going to be celebrating during the course of the year.
My name is Patrick L Young, I want to say those magic words that continue and conclude every possible end to this podcast…
On that mysterious and magnificent note I wish you all a great week in blockchain, life, and markets.

LINKS:
CME Group Shareholders Vote No In On Terrence Duffy Pay, Nearly Oust Director
Crain's Chicago Business
Better Finance Raises Serious Concerns Over The Current "Trialogues" On EU Capital Market Structure And Their Impact On The Retail Investment Community
Better Finance
Hong Kong Exchange Poised To Propose Trading During Typhoons
Bloomberg
Tradeweb Executes First Swap Connect Transactions In Collaboration With CFETS - Becomes First Trading Platform To Support Both RFQ And CTT Execution In CNY IRS
Tradeweb
HKEX Celebrates Launch Of Swap Connect
HKEX
Opening Up Trading Opportunities In Asia: ICE Clear Singapore To Provide Automated Trading Services In Hong Kong
ICE
Chicago's Empty Towers Threaten Future Of Finance Trading Empire
Bloomberg
CME CEO Terry Duffy Says Firm Prepared To Leave Chicago If Necessary
Bloomberg
Withholding Tax On Cross-Border Dividends In The EU Continues To Be A Nightmare For Investors
Better Finance
BYMA Announces Results For 1Q23
BYMA
BSE's Net Profit Rises 24 Pc To Rs 88.61 Crore In March Quarter
The Economic Times
Dream Exchange, The First Majority Black-Owned Stock Exchange In The US, Gears Up For Launch
Finextra
European Parliament Paper Pours Cold Water On Digital Euro
Finextra
LME To Tighten Rules For Nickel Handling By Warehouses
Reuters
NSE Gears Up For WTI Crude Oil And Natural Gas Futures Contracts Launch
The Financial Express
PSX Poised To Launch New Trading System
The Express Tribune
Stock Clearinghouse Leaked Sensitive Data, Trading Firm Says
WSJ
London Stock Exchange Group Signs MoU To Set Up Tech Centre In Hyderabad
The News Minute
CFTC Orders HSBC To Pay A $30 Million Penalty For Recordkeeping And Supervision Failures For Widespread Use Of Unapproved Communication Methods
CFTC
Lee Olesky To Retire From Tradeweb Board At End Of Q2, Jacques Aigrain Elected As Next Chairman
Tradeweb
China Names Li Top Financial Regulator In Surprise Move
Bloomberg
China's Securities Regulator Cuts Total Staff Pay After Revamp
Bloomberg
Val Mathews To Step Down As ASX Chief Customer And Operating Officer
FX News Group