193 Exchange Invest Weekly Podcast May 13th, 2023
Senator Gazza?, ICE Masterclass once again , Record CBOE Profits for their 50th anniversary, And indeed, a similar Happy Birthday at the half century mark to the DTCC
Transcript:
This week in the parish of bourses and market structure:
Senator Gazza?
ICE Masterclass once again
Record CBOE Profits for their 50th anniversary
And indeed, a similar Happy Birthday at the half century mark to the DTCC

My name is Patrick L. Young
Welcome to the bourse business weekly digest
It's the Exchange Invest Weekly Podcast Episode 193
Good day, ladies and gentlemen, this is a very brief reduction of highlights amongst the key headlines from the week in market structure. All the analysis of the many events and happenings from the past 7 days can be found in Exchange Invest's daily subscriber newsletter, the unique guide to the bourse business sent daily to your inbox (Monday-Friday).
More details at ExchangeInvest.com
This week rumours of a Gary Gensler Senate run in his native Maryland may just be wishful thinking amongst the crypto kiddies in the hope their inverse prodigal son might leave them in peace to get their own way meanwhile, John Tuttle has engaged in early discussions on running for a Senate seat in his native Michigan.
Apparently Rich Repetto is giving up the deckchair at the head of the queue for every analyst call. More interestingly, still, the ICE masterclass explained the divine countercyclical, which makes ICE stock more attractive than ever.
Record CBOE profits have dovetailed with their 50th anniversary, as we are also on the cusp of the 50th anniversary of the DTCC who managed T + 0 settlement on the cake, candles and related celebratory paraphernalia. Happy 50th Birthday DTCC and of course CBOE.
In Bitcarnage this week:
Over at Coinbase - a net loss of $79 million for the quarter apparently induced paroxysms of glee amongst investors. I am minded to ask the media reporting this unalloyed outpouring of joy: were there also women knitting baby petticoats just beside the gallows?
The Coinbase quarterly letter by the way read to me uncomfortably like a direct communique from the Messiah while launch of a Coinbase overseas venue in Bermuda doesn't appear to amount to a great deal, at least not right now.
Meanwhile, Binance were accused of money laundering for terrorists, are under sanctions breaking investigations by the US government while they stopped withdrawals when there was a rush for the exit at one point earlier last week.
Meanwhile, SBF demanded that 10 of 13 charges relating to his activities at FTX, which were leveled against him, they should be dropped due to an extradition technicality. In other words, it's been another 'plus ca change' kind of week in Bitcarnage.
If you enjoyed this excerpt, you may be interested to know that you can read Bitcarnage every day in Exchange Invest. Alternatively, if you want to follow Bitcarnage as a standalone, the daily update on happenings in the world of crypto and digital asset markets, then you can find Bitcarnage on Substack.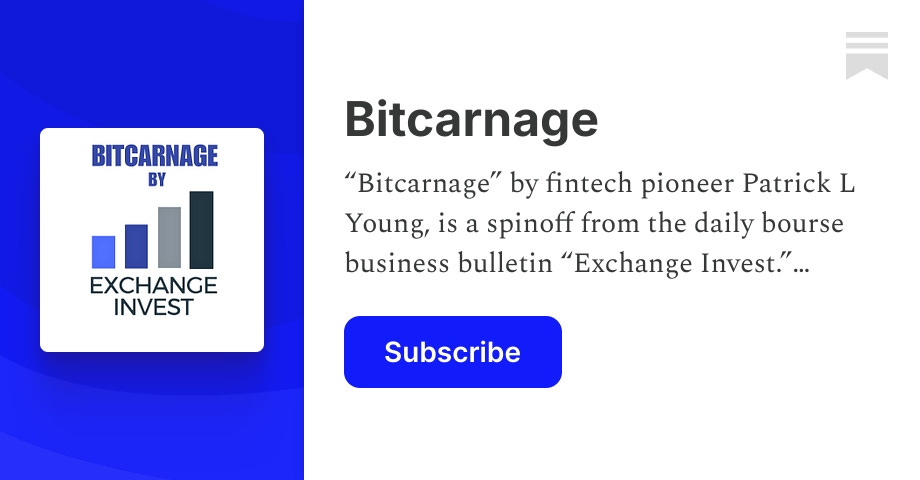 Little brief personal note from me: As you may recall, a team led by yours truly (PLY) helped secure the licence and build the ArawakX crowdfunding / exchange platform headquartered in the Bahamas. As of the end of April, I resigned as an advisor to the exchange due to a recurring non payment of arrears. I do hope the company can survive but given our experience of non payment, it is not alas, clear what the future holds.
Nonetheless, I continue to be involved in new market builds the world over and look forward to continuing to shape the markets of the future.
Back to the headlines this week: DTCC celebrate their 50th anniversary as critical market infrastructure provider to the global financial services industry. Happy birthday to DTCC and indeed as I mentioned earlier, it looks like the cake was delivered T+0. Is that the shape of things to come?
Over in the City of London, they're bracing for new rules to transform London stock markets faltering appeal. Nikhil Rathi, who is of course the head of the FCA, as well as being a former head of the London Stock Exchange division of London Stock Exchange Group has been outlining plan from the UK's main regulator to make the city more competitive. Nonetheless, the problem really seems to me…will the investors actually become more risk on?
Elsewhere Julia Hoggett, who we've been criticizing of late, she's of course Nikhil Rathi's successor as the boss of the London Stock Exchange unit.
She was spot on last week, commenting on the fact that UK firms must pay bosses more. Indeed, unless or until Britain (and Europe) get over the notion that paying for talent is part of business and not merely something that you're allowed to do if it's a football player, then it's a path to historical tourism and downhill economically to become a colder version of Argentina across the continent and the UK itself regardless of who's in or out of the European Union.
Over in India, the Supreme Court has refused to intervene with the case of the High Court verdict which granted bail to the former Mumbai top cop who is involved in the NSE phone tapping case.
Results this week: busy week for results in the parish, all the details were in Exchange Invest daily, the newsletter no person can afford to be without in capital markets and market structure. For the sake of this podcast we're going to look at some edited highlights. All the results were of course in Exchange Invest. Sign up now only $350 per user per year at ExchangeInvest.com.
Intercontinental Exchange (ICE) has reported strong results for Q1 2023.
There were three useful insights from the latest ICE masterclass there investor called precisely while it came 6 years to the day since the excellent Barney Reynolds chaired a Prosperity UK Conference panel in London, where ICE Chairman/CEO Jeff Sprecher made a huge impact alongside the excellent Michael Spencer.
As a footnote, I have to say PLY had the distinct honour of playing backing vocals during the course of that event, which can still be found on YouTube City Stream: Stock Exchange's, Settlement And The Future Of Euro Clearing at the Prosperity conference.
Anyway, back to the future, the no surprise surprise of the Q1 ICE results call (good numbers) was a kind of cri de cieur that ICE still loves flat entrepreneurial kind of businesses that they can see out there and they have an occasional wistful look in the rear mirror to those halcyon days before they bought (and successfully integrated) the world into their vast multibillion dollar exchange group which sits in the top tier of Young's Pyramid.
Second update was the surprising news delivered at the very tail end of the call. Jeff, as always thanked the conference call company staffer (Lauren with a beguiling English accent this time around for the record) and then thanked the man who has always had his towel on the first deckchair to ask a question pretty much in every parish results conference call ever. It seems Rich Repetto is moving on - I must admit I have not heard it'll be interesting to hear where as it seems he may be departing his perch peeking into the parish.
The third snippet is the most bullish for ICE. Essentially sales in the mortgage tech business are helped by higher interest rates leading to a property (and therefore mortgage) issuance slow down. Financial institutions / intermediaries are then more eager to save money and thus may innovate more readily and buy ICE mortgage tech than they might do during 'go go' boom times.
That's a brilliant piece of news for ICE as a group, and it provides essentially the perfect countercyclical to the exchange business. As we all know, while new ETD product can be sold short as easily as bought long. The realpolitik of bear market redundancy is that he/she who asks for new limits for a funky new derivatives product debuting in a sluggish market might as well have tattooed their forehead with glitter to form the phrase please "fire me".
Other results this week: CBOE announced record results for Q1 2023 just as they celebrate their 50th anniversary, net revenue + 13%.
Elsewhere, there were a series of results, all of those were in Exchange Invest. There was also one delay of results, which is quite fascinating, the NSE (National Stock Exchange of India) which after all has had all manner of problems in recent times, they're delaying their financial results being published. They're seeking time to do so until May 15th.
That seems a remarkably odd state of affairs. True enough we can presume, of course at NSE is solvent and so forth (not always a given with every regulated exchange right now) but it does raise questions about just what might be awry even if it is 'only' the organization / management process for the regular accounts.
In new markets this week: it's not so much a new market but it is a whole brave new world. The Northbound Swap Connect will start May 15th In the first stage of mutual access between Hong Kong and the mainland for interest rate swap markets.
The RMB yield curve is going to be available via Hong Kong Exchanges to mainland China, coming soon: launch it for the first stages May 15th. The product announcement of the year for what is the product development of the decade. Really exciting to see the Hong Kong RMB yield curve market develop. The ability to use international GCMs to trade RMB swaps and ultimately the full curve, including Hong Kong futures products will create a phenomenal opportunity and a transformational cash cow for Hong Kong Exchanges.
And of course, that's without factoring in the direct Bond Connect / Equity Connect revenue / opportunity for Hong Kong Exchanges which continues to grow. Full 'north - south' can only add a whole new dimension for corporate fundraising across the world.
Elsewhere in Asia, Indonesia are planning to launch their carbon exchange in the second half of 2023. They're awaiting governance details being hammered out by the regulators which should be published in June.
And finally, my favorite Museum in London, one of my 2 favorite Museums in London, the Victoria & Albert Museum is going to be hosting the launch of the new 'stock exchange for art'.
Artex is going to be offering its first initial public offering for art in an event at the V&A Museum in London on May 30th.
Deals this week: not so many deals happening but one completed deal. Very interesting from the Middle East, Tadawul of Saudi, Arabia Tadawul Advanced Solutions Company Wamid have announced the closing of the acquisition of DirectFN.
If you're looking for some reading to try and fathom better what's happening in the world of finance markets and their structure these days, I recommend my most recent book "Victory or Death?" Blockchain, Cryptocurrency, and The FinTech World. It's a guide to understand effortlessly, painlessly and with a jolly good romping read of how technology is affecting life and markets…20 years on from the original FinTech best seller Capital Market Revolution.
Time to look at those loose strands hanging around which need a spot of perspective whether you are an exchange parishioner, FinTech professional, or anybody just trying to stay abreast of where technology is now driving investments and finance. "Victory or Death?" is published by DV Books and distributed by Ingram worldwide.
Don't forget while you're waiting for your copy of "Victory or Death?" to arrive, check out our livestream Tuesday 6pm London, 1 o'clock New York time - it's the IPO Video live show.
Catch the back episodes on LinkedIn and YouTube via "IPO-Vid".
This week, we had a fabulous discussion with a Philip Roscoe. He's a reader at the historic St. Andrews University in Scotland. He was discussing How To Build A Stock Exchange,. Not the practical nuts and bolts no actually that's what you email the likes of PLY for and talk to me and my team in order to manage to build your marketplaces around the world rather, this was how to build a stock exchange looking at the sociological factors all around it related to Philip's recent excellent book on the topic.
Coming on Tuesday, we got another fantastic show IPO-Vid #106 with Jeffrey Carter. He's going to be talking about his life's journey From The Merc Floor To Angel Funding.
Product news this week: the European Union is seeking more commodity trading scrutiny after the Ukrainian war exposed risks. The EU as always, of course in the rather simplistic politicking mode that it exists in seeking to shoot the traders while failing to understand the market.  #IdiocyAsUsual.
WTI Midland is now being reflected in Platts Brent Complex.
"Platts Dated Brent - the world's most widely-used physical crude oil benchmark has begun reflecting US WTI Midland crude oil."
Elsewhere, BME (Spanish exchange) is in talks with global banks over Euro swaps clearing.
SIX Group's Spanish CCP wants to establish itself as an alternative venue for onshore clearing of a Euro related derivatives by 2025, which is of course the date when the European Union hopes to desperately shoehorn Euro clearing on to the continent in a ludicrously protectionist measure which I think harms fundamentally the euro, the Euro zone, and indeed the European Union. Let alone the banks there and there abouts.
Technology this week: NASDAQ have released the first of a series of new white papers on market infrastructure modernization. Defining your market infrastructure modernization strategy is now available to download from the NASDAQ website.
Meanwhile, LSEG have selected OpenFin for the delivery of workspace platform to customer desktops.
Regulation news this week: it's worth looking at ESMA and the related issues pertaining to the withdrawal of recognition of 6 Indian Clearing Corporation, something we mentioned briefly last week, India lamenting the loss of their CCP recognition.
In career paths: the story all about the Senate to fascinating possible candidates. US SEC chair Gary Gensler may run for a seat in a Maryland. Unconfirmed rumors that the Baltimore native Gary Gensler might be looking at the seat which is being left by the retiring Senator Ben Cardin.
That is totally unconfirmed, as I say, and seems possibly more like a sort of crypto dream rather than necessarily a plausible run at the moment for all we know.
However, there are actually tangible moves in Michigan, New York Stock Exchange senior executive John Tuttle is considering a run in his native state albeit his plans are at an elementary stage.
An interesting sight point there is that the retiring Michigan Senator Debbie Stabenow used to employ the current CFTC Chairman Rostin Behnam in her private Senate office.
Over in NZX, John McMahon has been reappointed as an NZX Director. It's great to see an experienced hand able to return to serve on the NZX board as an independent NED. I'm also left to wonder might this be a prelude to John McMahon's elevation to the Chairmanship too, as James Miller's (very productive) term has now reached its conclusion, but it's being temporarily extended due to the previous incoming candidate Chairman Rob Hamilton being unable to take up the position due to an inquiry into the Crown Casino group that is in Australia, which broke late last year.
Great news from TMX, they announced the election of directors and that of course means the confirmation that he's back ladies and gentlemen, this is great news Luc Bertrand formerly the boss of the Montreal Exchange, by far the most visionary person that will list the most visionary Canadian in Canadian market structure I believe. He is going to now take over as Chairman of TMX and I hope that's going to unleash an incredible process of growth in the TMX group.
Elsewhere CME has elected their slate of directors, Terrence A. Duffy back on for another term alongside well, all the usual suspects. There was one slight blip they're concerned about executive remuneration bubbled to the surface last year and thus, while there's an attempt to keep the Terry gravy train going, they are nonetheless paying lip service to investor angst. Otherwise the CME politburo was returned without a hitch.
New chairman for the Canadian Exchange board of NASDAQ Mary Anne Wiley is stepping up succeeding Michael Foulkes who chaired the board since 2018 and is retiring due to term limits.
That leaves us ladies and gentlemen with an interesting insight this week. The US Mint's 2022 Biennial Report to Congress, which was released just last month included the shocking news that it now costs more than a dime to mint a nickel - 10.4 cents to be precise.
And on that mysterious and magnificent note ladies and gentlemen, my name is Patrick L. Young, builder of markets the world over, publisher of Exchange Invest - "The Exchange of Information".
I wish you all a great week in blockchain, life, and markets.

LINKS:

DTCC Celebrates 50th Anniversary As Critical Market Infrastructure Provider To The Global Financial Services Industry
Business Wire
City Braces For New Rules To Transform London Stock Market's Faltering Appeal
Evening Standard
London Stock Exchange Chief Calls For UK Firms To Pay Bosses More
The Guardian
SC Refuses To Interfere With HC Verdict Granting Bail To Ex-Mumbai Top Cop In NSE Phone Tapping Case
The Economic Times
Intercontinental Exchange Reports Strong Q1 2023
Intercontinental Exchange Approves Q2 Dividend Of $0.42 Per Share
ICE
Cboe Global Markets Reports Record Results For Q1 2023
Cboe
NSE Delays Publishing Its Financial Results
The Hindu Business Line
HKEX Welcomes Launch Of Swap Connect
Yahoo Finance
Indonesia Plans To Launch Carbon Exchange In H2 2023
Financial Post
Time To Invest In The Art Market? New 'Stock Exchange For Art' To Launch At The Victoria & Albert Museum This Month
The Art Newspaper
Tadawul Advanced Solutions Company Wamid Announces Closing The Acquisition Of DirectFN
Zawya
EU Wants More Commodity Trading Scrutiny After War Exposed Risks
Bloomberg
WTI Midland Now Reflected In Platts' Brent Complex
Houston Chronicle
BME In Talks With Global Banks Over Euro Swaps Clearing
Risk.net
Market Infrastructure Modernisation
Defining Your Market Infrastructure Modernization Strategy
Nasdaq
LSEG Selects Openfin For Delivery Of Workspace Platform To Customer Desktops
Finextra
ESMA: EU Market Regulator Withdraws Recognition Of 6 Indian Clearing Corporations
The Economic Times
US SEC Chair Gary Gensler May Run For Maryland Senate Seat
Coingape
New York Stock Exchange Executive Considering Senate Bid In Michigan
Politico
John McMahon Re-Appointed NZX Board Director
NZX
TMX Group Announces Election Of Directors
TMX
Nasdaq Announces New Chair Of The Canadian Exchange Board
Nasdaq