192 Exchange Invest Weekly Podcast May 6th, 2023
Hong Kong Exchanges profits soar 28% as Hong Kong is open for business once again, NPM seeks to go T+10 from T+forever, Euroclear's Curious Windfall
Transcript:
This week in the parish of bourses and market structure:    
Hong Kong Exchanges profits soar 28% as Hong Kong is open for business once again
NPM seeks to go T+10 from T+forever
Euroclear's Curious Windfall
And we ask the question: what do the Taiwanese, Malaysian, Israeli and even Colombian CCPs have that LCH, ICE Clear London, LME Clear et al do not?
Welcome to the bourse business weekly digest
My name is Patrick L. Young
It's the Exchange Invest Weekly Podcast Episode 192
Good day, ladies and gentlemen, this is a very brief reduction of highlights amongst the key headlines from the week in market structure. All the analysis of the many events and happenings from the past 7 days can be found in Exchange Invest's daily subscriber newsletter, the unique guide to the bourse business sent daily to your inbox (Monday-Friday).
More details at ExchangeInvest.com
This week in Bitcarnage, let's start by quoting a Binance's statement that's from Biance US delivered by Twitter.
"The hostile and uncertain regulatory climate in the United States has introduced an unpredictable operating environment impacting the entire American business community. We are focused on creating a safe platform where our customers can participate in the digital asset economy."
Last week's Exchange Invest Bitcarnage newsletter - all the issues are available now on Substack as a separate standalone, that reported Binance was back in Russia, slightly less than a month after being sued by the CFTC in the good old USA. Then Binance dropped the Voyager deal, potentially losing a $10 million good faith deposit and leaving itself open to paying a reverse termination fee. A remarkable volta face and what will be deemed another victory for the SEC, which had been fighting the Binance takeover through the US court system.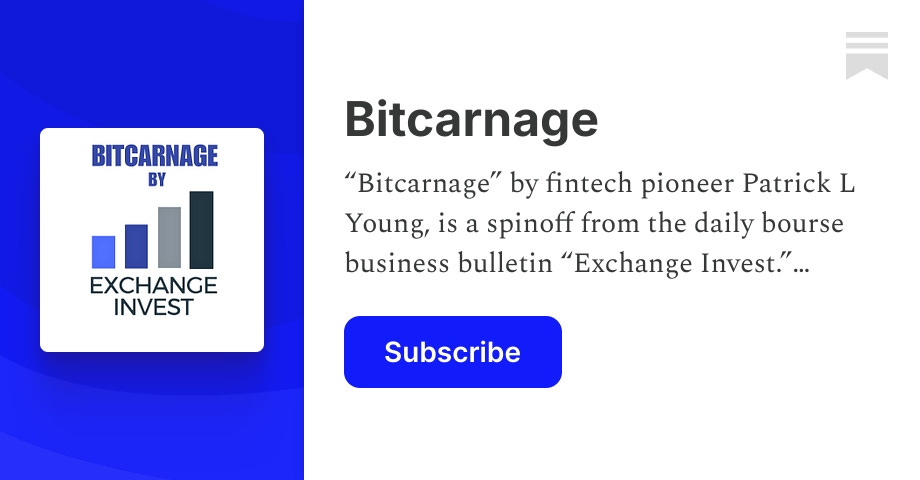 Leaving aside that the Voyager bankruptcy judge is now perhaps the most exasperated person in all of America, this looks like another regulatory flounce which will draw attention to the crypto crackdown of 2023. However, the ability to proclaim 'the US government drove us out' narrative is only part of the story.
Binance has been talking the talk for a while about doing regulation and has a huge core of patsies, er, has a large cadre of experienced regulatory folk, many with government backgrounds, bearding their process…er, responsibly, helping combat crime and raise AML/KYC standards. Nevertheless, at its core, the firm was very, very reluctant, late moving participant in the move towards endorsing crypto regulation in any shape or form. One of its few arms with full regulation was of course Binance.US but questions have been raised for months over the governance of that organization with talk of some curious happenings, including large money transfers, which raised shrieks of for "4-FUD."
Thus, Binance.US has struggled with issues of just how independent it actually is from a parent's supposed to keep it at arms' length. Bloomberg has pointed out that Binance.US Tech Work Is Parceled To A Crew In Shanghai. Having 20% of the Binance.US payroll in China is pretty much a distributed gauntlet in the face of the Washington DC elected polity. At the same time, given all the paranoia about Sino-influence, rumors this week, we're robustly denied that CZ himself has been a member of the Chinese Communist Party. Whatever "4-FUD" may be true in certain cases. Nevertheless, when it comes to Sino-influence having 20% of your payroll in mainland China, that means that questions are inevitable in the US and ultimately Binance having a US arm leaves it at risk even more than it was after the first round of CFTC charges. Therefore a statement last week by CFTC Commissioner Johnson Stating There Is No Path Forward In The Binance Lawsuit as reported CNBC looks like a severe understatement. (In other news, William B. Travis believes he can see a means to keep things on an even keel at the Alamo.)
Moreover, note that in the past week Bloomberg has been a remarkable cheerleader for CZ/Binance where Reuters have long been dropping exclusives which meant a wall of "4-FUD" on social media. Now it seems all arms of the media may be turning on Binance even Forbes in which Binance apparently still retain a 20% stake. The New York Times wants a cheerleader of crypto lovies (like SBF) even published the story Binance Faces Mounting Pressure As U.S. Crypto Crackdown Intensifies that will doubtless have the conspiracy theorists reckoning the deep state is anti-CZ Corp.
What does this all mean? Given Binance.US is a minority business on the balance sheet of the Binance empire and given the long tentacles of Binance in a lot of frontier markets plus the Russian story of last week, it strikes me CZ is on the cusp of abandoning the US. The Voyager deal was raising so many hackles, it was untenable. Bianance has already cut and run in Australia during the course of April - wherever his mobile bunker is currently for CZ I fear (yes "4-FUD" me down that the mood is feeling a teensy touch of victimisation) at wherever Binance HQ may be. In the USA CZ has lawyered up and it looks like Binance is digging in for a big fight but it strikes me Binance is about to simply dump the US business.
When pressure became to grip in the past month as I noticed, Binance closed its Australian operations. Is it better to be under legal threat from the US, or to cut and run back to Dubai (or perhaps even Paris)?
So don't be surprised if Binance ceases to have any American footprint soon - the gamble that President Macron's France / EU as bulwark between the US and elsewhere crypto edition may soon be tested - expect that too to crumble rapidly.
If you enjoyed this excerpt, you may be interested to know you can read Bitcarnage everyday in Exchange Invest. Alternatively, if you want to follow a Bitcarnage alone, the daily update and happenings in the world of crypto and digital assets, you can find Bitcarnage as a standalone on Substack.
The main meat of the stories of the week, the blame storm is on and everybody is wrong.
The London Stock Exchange shamefully having ignored its exchanges in the Refinitiv race for years now - has blamed the UK Government.
Herman Hauser, the inspired entrepreneurial founder of ARM, a big chip company now listing in the US and a megadeal blamed Brexit but given he's not listing ARM in the EU27 rather, he's listing it in the US, as I noted, that story looks like a means to keep his remoaner neighbours off his back in leafy Cambridge where he lives.
Then the UK said it was kind of gonna deregulate a bit but ultimately, nobody is focusing on the City of London having a risk off non equity culture nowadays and that needs to change, which requires all the people blaming each other to move forward and support enterprise markets deregulation as a blanket issue and lower taxation. None of these are in the agenda right now in the UK and the blame storming is only harming the City of London.
In Africa, the Ghana Stock Exchange and PAPSS as well as PAPSS and ASEA, PAPSS (Pan African Payment and Settlement System) have signed an MoU with an exchange Ghana and also with the African Stock Exchanges Association (ASEA). Bring on the possibility that that MoU will advance cross border payment for stock exchanges in Africa.
Ireland is fretting about how US listings (the same thing that's affecting the London Stock Exchange at the moment) is going to cost Ireland some €250 million in lost taxes. The Times noted in the headline: Stock Market Can Be Home Of National Champions.
It's a degree of navel gazing about the Irish Stock Exchange, which frankly wasn't so evident before Euronext bought it - and that is not to criticize Euronext's investment in Dublin, but rather to call out the apathy of the Dublin blob failing to support their stock exchange for years.
Meanwhile, at least Dublin has kept a listing of Kingspan which is dumping London to move to New York to garner mandates from the Biden infrastructure boom, on the other side of the Atlantic, following on from CRH and Flutter.
Speaking of Flutter, their subsidiary Betfair received a £300,000 penalty for offering bets on Sweden's Under 21 Football League (that amounted in local currency to 4 million Swedish krona.
Other investigations, the CBI have opened an investigation into suspected misuse of funds at MSEI (Metropolitan Stock Exchange of India).
In results: it was a frantic week for results in the parish, all the details were in Exchange Invest Daily (day by day) the newsletter no person can afford to be without in capital markets and market structure. For the sake of this podcast let's look at some edited highlights.
The Hong Kong Exchanges have romped home with awesome results beating analysts' estimates posting 28% jump in Q1 profit on rising investment income, strong derivatives trading, slightly lackluster across the stock franchise, but nonetheless, proof that Hong Kong Exchanges are definitely open for business in the new post-COVID environment in the SAR and indeed, giving us a very very exciting gateway towards the expansion of the Connect System.
One slight negative, post Nickel nightmare, the LME was alas the sub par reporting element here. Income down 12% at LME itself and 13% at the CCP following a 14% decline in trading volume with Nickel nightmare legal / professional fees (Oliver Wyman's report et al) contributing to LME operating costs soaring 19%.
In other results this week, I'm going to pick one set, fascinatingly, privately owned, of course amongst the cabal of what 64 banks are there are there abouts on some exchanges, Euroclear's profits are soaring but actually that's a kind of artificial inflation due to all of the Russian sanctions issues which are allowing all sorts of payments to pile up on the balance sheet of the Brussels-based clearing and settlement organization.
In deals this week: Deutsche Börse has hit the headlines as well as producing not bad results for the first quarter, they've made a €3.9 billion (that's $4.3 Billion) acquisition bid. They're looking to try and buy Simcorp.
That's a very interesting possibility because essentially, the race is on for somewhat a synchronous subscription services in the Deutsche Börse empire. DB1 is now establishing a separate conflict of interest silo based around their previous controversial purchase of the ISS conflict of interest machine, which will therefore be rolled up alongside Simcorp and other assets.
ASX dropped the bombshell that Yieldbroker is under a bid from a subsidiary of Tradeweb in Australia. ASX have received a notice of a meeting because they hold a 49% stake in the interest rate platform dating back to 2014 during the Elmer Funke Kupper CEO era of ASX. Yieldbroker have received an office offer from Tradeweb Markets of A$125 million ($82.5 million). Given ASX paid $65 million for the stake 9 years ago, it's far from a success but then again compared to the CHESS debacle 'only' losing a few million Australian dollars over 9 years (let's not even worry about the cost of capital) looks almost like an unmitigated success for the Australian exchange monopolist.
If you're trying to understand where the profits are going to be coming from in the future of digital markets, you need to read my most recent book "Victory or Death? Blockchain, Cryptocurrency, and The FinTech World. That is published by DV books and distributed by Ingram worldwide.
While you're waiting for your copy of "Victory or Death? to arrived, check out our live stream, Tuesday 6pm London time, 1 o'clock New York time - the IPO Video live show. Catch the back episodes on Facebook, LinkedIn, and YouTube via "IPO-Vid". We had an epic discussion this week in IPO-Vid #104 with Dr. Rainer Zitelmann, he was discussing his latest book and what a great title it has: "In Defence of Capitalism" something we all need to participate in ladies and gentlemen.
Coming this week, Philip Roscoe, Sociological Researcher in Economics and lecturer in Scotland. He's going to be discussing How To Build A Stock Exchange from an altogether different angle. That's coming on Tuesday at 6pm London or indeed 6pm Edinburgh and St. Andrews time, which is of course 1 o'clock Eastern time, New York in the USA. Catch IPO-Vid via LinkedIn, YouTube, and Facebook.
Product news this week: the VIX owners CBOE where they were celebrating their 50th anniversary this week, and they're planning more short term products after a one-day 'Fear Gauge' launch. So all manner of VIX spin offs are going to be happening.
TISE (used to be the called the Channel Island Stock Exchange still base in the Channel Islands British Overseas Territory) have launched the private markets offering.
Liquidnet are joining forces with TP ICAP Midcap to provide block liquidity in small and mid-cap entities.
That's a fundamentally sound idea if Liquidnet can make it work using the core block model in the SME listed markets. It's easy to forget that amongst a heap of data apps, once upon a time, there was a fundamentally great idea at Liquidnet. The problem was management stubbornly believed nobody else would notice that Liquidnet had a 5 basis point monopoly in the space.
Technology news this week: May 8th launch day for the Stock Exchange of Thailand (SET) and the Thailand Futures Exchange (TFEX) plan to implement their new trading system developed by NASDAQ. All the very best with that.
Meanwhile, NASDAQ Private Markets have launched their premier private company stock Transfer and Settlement Solution (T&S).
An excellent idea, the opportunity and private company settlement is absolutely immense as I've been saying for a decade. Here NASDAQ appear to be focusing on the thorny side of T+forever (90 to 120 day norms) in private PE/VC rounds, often reducing that to as briefly as 10 days is the aim of NASDAQ private market. Excellent stuff.
Elsewhere in tech news, Exchange Data International have introduced email alerts for the Worldwide Equity Corporate Actions. Of course, EDI CEO Jonathan Bloch was our guest on IPO-Vid #65.
The curious conundrum of CCP recognition leads our regulation stories this week. As of the end of April by the way, Indian CCPs are no longer recognized in the European Union by ESMA, but it's good to see ESMA adding 4 new exchanges around the world to their mutual recognition operation:
Bursa Malaysia Derivatives Clearing (Malaysia);
Taiwan Futures Exchange Corporation (Taiwan);
Cámara de Riesgo Central de Contraparte de Colombia (Colombia);
Tel Aviv Stock Exchange Clearing House (Israel).
However, that of course leaves us with a glaring omission.
It's great that ESMA has recognition agreements in place with Australia, Brazil, Canada, Hong Kong, Japan, Mexico, South Africa, South Korea, Singapore, Switzerland, UAE, USA, plus now Colombia, Israel, Malaysia and Taiwan…but can anybody take the EU/ESMA seriously for as long as it ignore the world's largest, most cosmopolitan financial center and refuses to recognize the series of massive UK CCPs?
The EU diminishes its credentials and credibility at the altar of its fundamentally political, protectionist machinations.
Career paths this week: MCX have slumped in share price after their CTO Shashank Sathe surprisingly resigned.
The Tel Aviv Stock Exchange have got a new, very high profile chairman in Israel Eugene Kandel previously served as chair of Israel's National Economic Council and as an economic adiviser to Prime Minister Benjamin Netanyahu.
We haven't heard from Sam Bankman-Fried for a while but last week he suffered a hammer blow to his life under de facto house arrest at his parent's place in California.
The FTX liquidators have chosen to close SBF's Favorite Game Storybook Brawl, as Bloomberg reported.
It's another sign of the remarkable SBF ability to turn assets and liabilities, Storybook Brawl was a minority platform, which peaked at 2,770 players (source: Steam) in September 2021, 6 months before FTX bought it. When SBF bought his fave game (he was actively playing it just hours before the police arrested him in Nassau Bahamas for instance). Unfortunately, Storybook Brawl offered many spontaneous user uninstallations as soon as as FTX purchased it.
Storybook Brawl players numbers were around 817 before it was bought by FTX and those dropped to 331 during the course of the month of April (presumably also they may have lost SBF as a player given the new constraints on his computer use?) Sam Bankman-Fried ones claimed "Storybook Brawl" could be a champion of "ethical" crypto gaming. Nope, I don't understand what that means either.
Even if he was able to play it before, it seems John J. Ray III ahead of any judicial impositions on technology usage by the co founder and former CEO of FTX has sentenced SBF to spend a lot more time with Snake on his eminently non-smart phone.
In a remarkable socialist twist for the effective altruism movement, the SBF acquired via FTX "Storybook Brawl will closed down on May 1st: "Gamers of the World, Unite!" anybody.
And on that mysterious and magnificent note, ladies and gentlemen, my name is Patrick L Young creator of markets worldwide, publisher of Exchange Invest and a Bitcarnage Substack. All newsletters you can reach online, including via ExchangeInvest.com.
I wish you a great week in blockchain, life, and markets.
And as a final footnote, let me add Long Live the King!
I hope it's a wonderful coronation across the forthcoming weekend.


LINKS:
LSE Blames Chaos In Downing St For Arm Snub
This is Money
GSE, PAPSS Partnership Will Propel Market Expansion – Analysts
Ghana Web
Lure Of US Listings To Cost Ireland €250m In Lost Taxes
The Times
Betfair Issued £300k Penalty For Offering Bets On Sweden's U21 League
SBC News
CBI Opens Investigations Into Suspected Misuse Of MSEI Funds
Sunday Guardian
HKEX Beats Analysts' Estimates As It Posts 28 Per Cent Jump In Q1 Profit On Rising Investment Income, Strong Derivatives Trading
South China Morning Post
Euroclear Profit Soars As Payments From Russian Sanctions Pile Up
Financial Times
Q1/23: Deutsche Börse Group Starts The 2023 Financial Year With Further Significant Growth
DB1
Deutsche Börse Makes €3.9 Bid For SimCorp
Finextra
ASX Receives Notice Of Meeting From Yieldbroker To Vote On Proposed Sale
ASX
VIX Owner Cboe Plans More Short-Term Products After 1-Day Fear Gauge
Bloomberg
TISE Launches Private Markets Offering
TISE
Liquidnet Joins Forces With TP ICAP Midcap To Provide Block Liquidity In Small And Mid-Cap Equities
Yahoo Finance
SET, TFEX To Debut New Trading System
Bangkok Post
Nasdaq Private Market Launches Premier Private Company Stock Transfer And Settlement Solution
Yahoo Finance
Exchange Data International Introduces Email Alerts For The Worldwide Corporate Actions Service
EDI
ESMA Recognises Four New Third Country CCPs
ESMA
MCX Slumps After CTO Shashank Sathe Resigns
Capital Market
Tel Aviv Stock Exchange Picks Economist Kandel As New Chair
Nasdaq